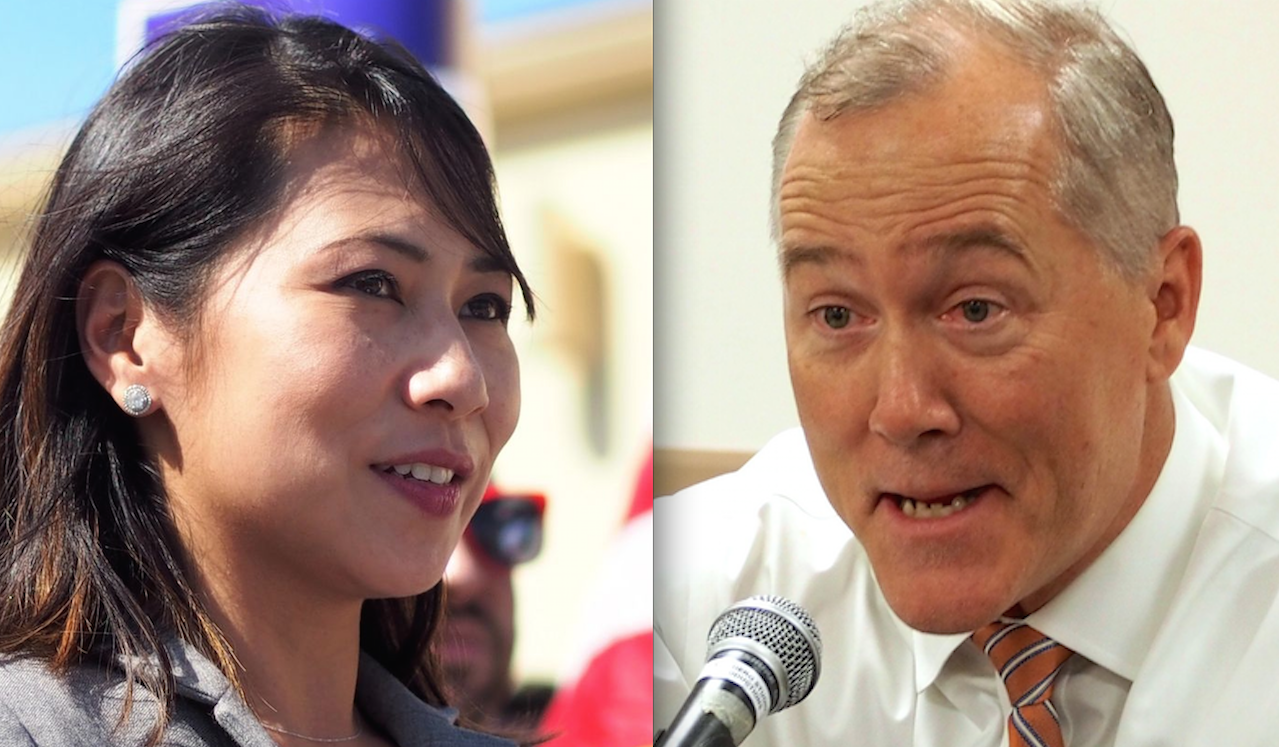 Republican state Rep. Mike Miller is starting his campaign within striking distance of Democratic U.S. Rep. Stephanie Murphy.
A new poll from St. Pete Polls taken Thursday shows Murphy with 47 percent of voter support and Miller with 46 percent, with just 7 percent undecided. Miller's competing to unseat Murphy from her Congressional District 7 seat.
The poll puts the gap between the congresswoman and the state representative, both from Winter Park, inside the poll's margin of error of 4.7 percent.
Miller, the two-term state lawmaker, easily won a contentious primary to run in CD 7, which covers Seminole County and north and central Orange County stretching through downtown Orlando. Murphy is the freshman member of Congress who won an upset victory in 2016 in a district that Republicans had held forever, then easily brushed past a left-wing challenge in the Democratic primary Tuesday.
Both parties desperately want this district, which is now solidly purple but trending toward a slight Democratic lean in voter registration. National Democratic and Republican organizations and donors will be weighing in heavily heading toward the Nov. 6 election.
StPetePolls, commissioned by Florida Politics, conducted a random telephone survey of 435 registered voters Thursday.
According to the poll, Murphy actually has a lead in Seminole County, the district's most reliable Republican base, while Miller leads in Orange County, where the district's Democratic base is strongest. Murphy leads among Seminole County voters 50 to 44, while Miller leads in Orange County 48 to 43.
Miller's House District 47 is entirely inside Orange County, while Murphy has been representing both counties for the past two years.
Each has strong favorability ratings in both counties, with Murphy having an edge with stronger name recognition. Overall, 50 percent of the voters said they have favorable opinions of the congresswoman, while 29 percent said they have an unfavorable view, and 21 percent have no opinion. For Miller, 42 percent said they have a favorable opinion of him, 24 percent said they have an unfavorable opinion, and 34 percent have no opinion.
The poll shows Murphy solidly leading Miller among independent voters: 57 percent favor her, 34 percent favor him. Otherwise, both of them are holding within their parties. Murphy has 78 percent of Democrats' votes in the poll; Miller gets 77 percent of Republicans.
Within the small demographic subsamples, there weren't many significant differences between the two, but there were two groups showing dramatic preferences: 88 percent of black voters want Murphy; 68 percent of young voters, under age 30, want Miller.