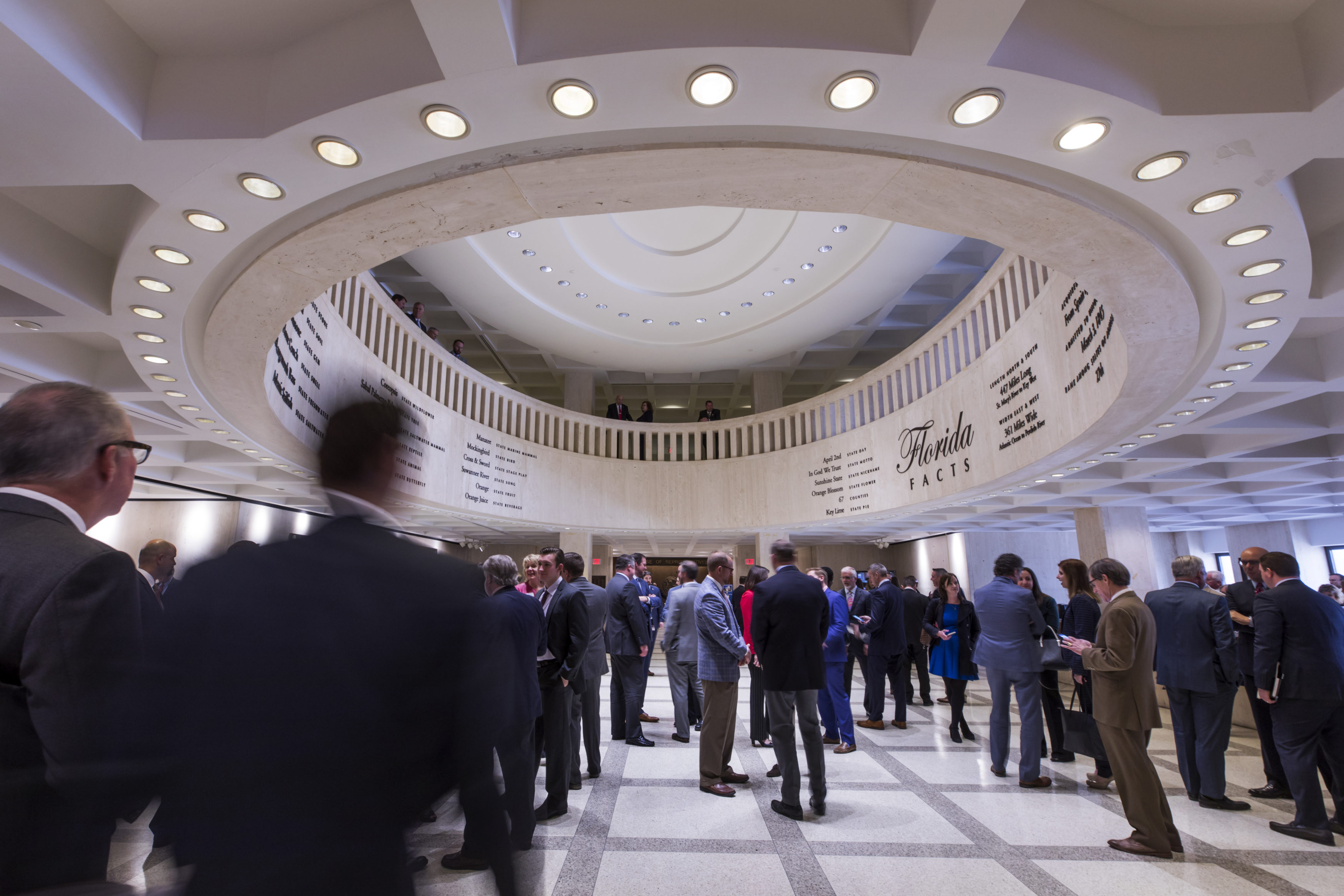 Lobbying compensation reports are in for the second quarter, and the usual rankings have been shaken up among the state's top-earning lobby firms.
After several quarters leading the pack, Ballard Partners has slipped to second place in legislative lobbying compensation while Southern Strategy Group ascended to the top spot. It doesn't hurt that the firm was able to wrestle away a contract to represent Pinellas County, either. That alone will boost the firm's annual take by $158,000.
All told, Southern Strategy Group earned an estimated $2.34 million in legislative lobbying fees in the second quarter of 2018. That's a slight boost from Q1, when the firm's lobby corps brought in an estimated $2.32 million, and ties SSG's estimated earnings for the second quarter of last year, which included the second half of the 2017 Legislative Session.
Florida lobbyists report their pay in ranges for each client, except for those that pay more than $50,000 a quarter. Florida Politics uses the median number in each range to estimate lobbying compensation.
Those ranges show Southern Strategy Group had 88 clients chipping in $5,000 apiece, 58 clients at the $15,000 level, 20 at the $25,000 level, seven at the $35,000 level, a pair at the $45,000 level as well as three principals that broke through the top end of the pay ranges firms use to report their pay.
Those big fish were real-estate investment group The Vestcor Companies, which paid $85,000 in Q2; self-driving car corp Waymo, which chipped in $55,000; and Prescribed Pediatric Extended Care, a chain of ambulatory medical centers headquartered based out of Tampa.
If each of their 176 paying clients gave the top dollar in their reported pay ranges, Southern Strategy Group could have earned up to $3.18 million in fees last quarter.
Southern Strategy Group's current roster of government affairs experts includes George Anderson, Brian Bautista, Laura Boehmer, Paul Bradshaw, Matt Brockelman, David Browning, Kevin Cabrera, Edgar Castro, Kelly Cohen, Rachel Cone, Ralph Eric Criss, Nelson Diaz, Christopher Dudley, Mercer Fearington, Allyce Heflin, Deno Hicks, Gail Matillo, Jerry McDaniel, James McFaddin, Seth McKeel, Paul Mitchell, Sydney Ridley, David Shepp, James C. Smith, Jim Smith and Monte Stevens.
Though its three-quarter reign at the top came to an end, Ballard Partners was only a hair off the tally recorded by the new king of the hill. The shop raked in an estimated $2.32 million in fees from its 158 paid legislative clients, three of which checked in well above the $50,000 limit on range reporting.
The University of Florida's teaching hospital, Shands, topped their list with $84,000 paid, followed by the Council of Florida Medical School Deans at $75,000 and medical software company Automated Healthcare Solutions at $60,000.
Including Brian Ballard, there were a score of lobbyists working under the firm's banner last quarter, including Michael Abrams, Brady Benford, Carol Bracy, Bradley Burleson, Ana Cruz, Chris Dorworth, Mathew Forrest, Jan Gorrie, Christopher Hansen, John Johnston, Todd Josko, Donald Payton, Monica Rodriguez, Katherine San Pedro, Justin Sayfie, William Turbeville, Wansley Walters, Amy Young and Stephanie Zauder.
The Q2 performance is a bit down from last go around, when Ballard hit an estimated $2.5 million in pay, though depending on the actual value of each contract, the firm could have been in the top spot last quarter with a maximum of $3 million in lobbying fees.
Still, ceding the top spot in the Florida list likely doesn't miff the team all too much considering the rapidly growing client roster since they opened up shop in Washington early last year.
Ron Book's self-titled firm once again was the No. 3 earner for the quarter and would easily take the crown if firms were ranked on an earnings-per-lobbyist basis, since Book, Rana Brown and Kelly Mallette are the only government affairs experts on staff.
The firm would earn the top spot if there was a list of pay per client too, as its legislative report included five principals cracked the $50,000 mark in Q2, including three that hit the six-figure mark.
Those contracts included $125,000 from K.A.S. & Associates, $100,000 apiece from Performance Title Services and Title Clerk Consulting Company, $90,000 from Ashbritt and $55,000 from the Miami Project/Buoniconti Fund to Cure Paralysis.
The firm's median earnings estimate for the three-month stretch came in at $1.83 million, or about $21,000 per paying client for those curious. The quarterly haul could have topped out at $2.24 million.
Following Book & Co. was Capital City Consulting, which showed $1.59 million in earnings in its new legislative report. That's a tad lower than the $1.7 million it reported in Q1, however that quarter included the entirety of the 2018 Legislative Session.
The Q2 team of Jim Boxold, Justin Day, Megan Fay, Ken Granger, Nick Iarossi, Dean Izzo, Ashley Kalifeh, Andrew Ketchel, Ron LaFace, Daniel Newman, Scott Ross, Chris Schoonover and Gerald Wester juggled the needs of 135 clients during the quarter, and each report was rife with recognizable names.
Though CCC didn't report any clients breaking the $50,000 mark, it did have several listed in the pay higher ranges. Health insurer Aetna topped the client sheet with an estimated $45,000 in Q2 payments. Five principals followed at the $35,000 level: The Everglades Foundation, Florida Association of Health Plans, Jacksonville Greyhound Racing, the Palm Beach County Sheriff's office and RAI Services Company.
Another 18 showed up in the $20,000 to $30,000 range, followed by a score of clients in the $10,000 to $20,000 bracket and dozens more paying up to $10,000 to retain the firm in Q2 — if each of Capital City Consulting's clients paid the max in their reported range, earnings could have topped $2.15 million for CCC's legislative lobbying efforts.
Coming $500,000 behind CCC was another surprise: Corcoran & Johnston.
It's been quite a while since the firm headed up by Michael Corcoran and Jeffrey Johnston was a top-5 earner, and it's been since the second quarter of 2017 that the firm reported more than $1 million fees. The new report easily bests that previous high watermark too, clocking in at an estimated $1.07 million.
The named partners, along with Anita Berry, Matt Blair and Amanda Stewart, listed 75 paid clients and another 15 who received some pro bono advocacy in its new legislative report.
The report was buoyed by a couple big contracts, none moreso than the $105,000 they received from Ramiro Companioni, a Tampa man who has been fighting to get a claims bill through the Legislature to get the rest of an $18 million he's owed by the City of Tampa. Companioni was hit by a city water department truck in 1996 and the $18 million judgement — the largest personal injury verdict against Tampa ever — was handed down in 2004.
Also cracking the $50,000 mark, but only by $2,000, was Fontainebleau Florida Hotel, a Miami Beach resort owned by Turnberry Associates, itself controlled by the Soffer family. Corcoran & Johnston reported one client in the $45,000 bracket, 13 in the $25,000 range, 22 at an estimated $15,000 apiece and 21 that paid $5,000.
The maximum possible legislative lobbying pay the five-person firm could have received last quarter is $1.25 million.
Coming only slightly behind Corcoran & Johnson was Greenberg Traurig, the sixth and final firm to earn more than $1 million in lobbying pay last quarter. It's $1.05 million falls short of the $1.24 million in boasted in Q1, but nonetheless brings the million-dollar-quarter streak up to 11 in a row for the international firm.
Topping the Q2 legislative report were a trio of insurance industry clients that paid an estimated $45,000 each: Bankers Life Insurance Company, Heritage Property & Casualty Insurance Company and Humana Medical Plan. Showing up one bracket down were ArtCan Group, Centauri Specialty Insurance, GrowHealthy, Guy Carpenter & Company, Risk Management Solutions and the Seminole Tribe of Florida.
Greenberg Traurig also showed a quartet of contracts worth $25,000 apiece, followed by 29 at $15,000 each and nearly three dozen in the up to $10,000 pay range.
The second-quarter legislative team — David Ashburn, Fred Baggett, Kerri Barsh, Agustin Corbella, Hayden Dempsey, Elizabeth Dudek, Leslie Dughi, Fred Karlinsky and Barry Richard — could have reeled in a maximum of $1.35 million in legislative pay last quarter.
Falling just short of the $1 million club was GrayRobinson, which earned an estimated $975,000. Their Q2 report ends a five-quarter streak of million-dollar hauls. Rounding out the top-10 earners were The Rubin Group at $906,000, Metz Husband & Daughton at $755,000 and Johnson & Blanton at $745,000.
The combined rake of all registered legislative lobbying firms last quarter was $32.6 million, which represents is a slight increase from the Q1 total.