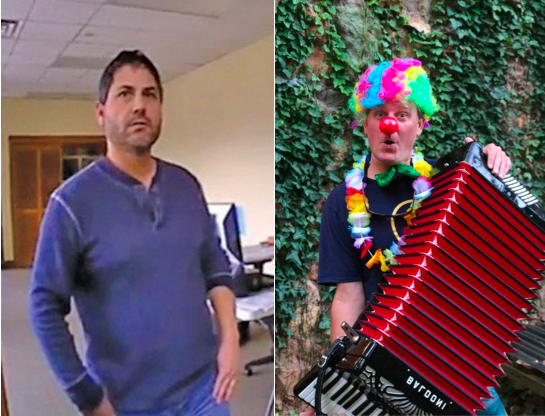 The individual behind robocalls targeting Andrew Gillum previously has been involved in racist attacks against California U.S. Sen. Dianne Feinstein and former President Barack Obama and harassed the family of murdered University of Iowa student Mollie Tibbetts.
But now, he's facing protests by accordion-wielding clowns outside his Idaho home.
Virginia entertainer Justin Beights, a resident of Charlottesville, says he wants to fight back against the hate that's smeared his own hometown by ridiculing racists where they live, and racist attacks on Gillum may fuel further interest in his anti-Nazi campaign.
"I want people to join me in ridiculous and nonviolent and relentless ridicule of their pathetic use of our First Amendment rights," Beights said.
Racist Robocalls
Scott Rhodes, the podcaster behind the Road to Power website, made national headlines and briefly took over the dialogue in Florida's gubernatorial contest by funding robocalls belittling Gillum, Florida's first black major party nominee for governor
The robocalls feature a narrator — supposedly Gillum — speaking in a thick accent, espousing "I's be the mayor of Tallahassee" and proposing houses be replaced with mud huts after hurricanes. The robocalls also make mention of Republican Ron DeSantis' recent "monkey this up" gaffe, with the narrator saying "he ignorant."
But as racially charged as the language on the audio recording sounds, it's neither the first nor necessarily the vilest rhetoric released by Road to Power. In fact, Rhodes has increasingly found ways to inject white nationalist rhetoric into the mainstream political conversation.
Rhodes' group came out in favor of white nationalist Patrick Little's U.S. Senate campaign in California by funding robocalls calling incumbent Feinstein a "traitorous Jew" and an "Israeli citizen pretending to be an American," which earned the group international attention and condemnation.
Idaho newspaper The Spokesman-Review carefully chronicled Rhodes' inflammatory rhetoric since his move to the state from California.
Last December, police in Sandpoint, Idaho said Rhodes handed out flyers attacking city leaders, putting CDs with racist audio in cars at a local high school and had been mailing anonymous letters harassing minorities in town.
And the Sandpoint Reader also reported Alexandria, Virginia police believed Rhodes had made harassing phone calls to Mayor Allison Silberberg and other city officials.
Rhodes foray into Florida politics with the Gillum calls was greeted with bipartisan condemnation. DeSantis spokesman Stephen Lawson told Politico the calls were "absolutely appalling and disgusting." Gillum spokesman Geoff Burgan called them "reprehensible" in The Tallahassee Democrat.
But so far, Rhodes has wallowed in the attention. When MSNBC host Joy Reid today called out the group for the Gillum robocalls, Rhodes on the alt-right social media channel Gab referenced a past Road to Power podcast where he'd called her by a racial slur.
Fighting Hate with Whimsy
The rise to prominent for Road to Power comes alongside a growing white nationalist movement in America, perhaps most exemplified by the Unite The Right rally in 2017 in Charlottesville, Virginia, where marchers carrying tiki torches and Nazi flags marched the streets allegedly in protest of the removal of a statue of Confederate general Robert E. Lee.
Charlottesville clown Beights says he grew angry a year later when, after Charlottesville denied a permit for another Unite The Right rally, city officials were besieged by calls from Rhodes.
"Should someone do something about this?" he asked on Facebook. He applied with the city to instead hold a "Festival of the Schmestival" as an anti-hate event, but the city denied the permit, fearful it would spark the deadly protests that occurred around Unite The Right.
But now, Beights turned his attention squarely at Rhodes. He's organizing an Oct. 9 event outside Rhodes' home (on West Pine Street in Sandpoint), where he wants clowns with accordions putting a message of non-hate on full blast.
"When he decided to mess with my hometown, I decided to get involved," Beights told the Bonner County Daily Bee. "I figured I would use my First Amendment rights to do the same thing that Scott Rhodes has been doing all across the country."
Beights looks to set a world record for the length of a mass accordion-playing performance — 9 days, 9 hours and 9 minutes.
On that front, perhaps Rhodes' targeting of Gillum will spark interest in the clowning world. Florida until recently served as home to the Ringling Brothers and Barnum & Bailey Circus and remains home to one of the largest concentrations of professional clowns in the country.
All he really wants is to make sure the clowns can play Carly Rae Jepsen's "Call Me Maybe."
No matter if anyone playing has much experience at the accordion. Even if it's no good, he figures compared to the dissonance of Rhodes' antics, it will be music to the nation's ears.
"I'm trying to change the way we view people like Scott Rhodes, Patrick Little, Richard Spencer, etc.," Beights said.
"We give them too much respect when we treat them like members of a movement that have an ideology. We need to put them in the same category as those that believe in Bigfoot, Flat Earthers and other groups that could qualify as mentally ill."