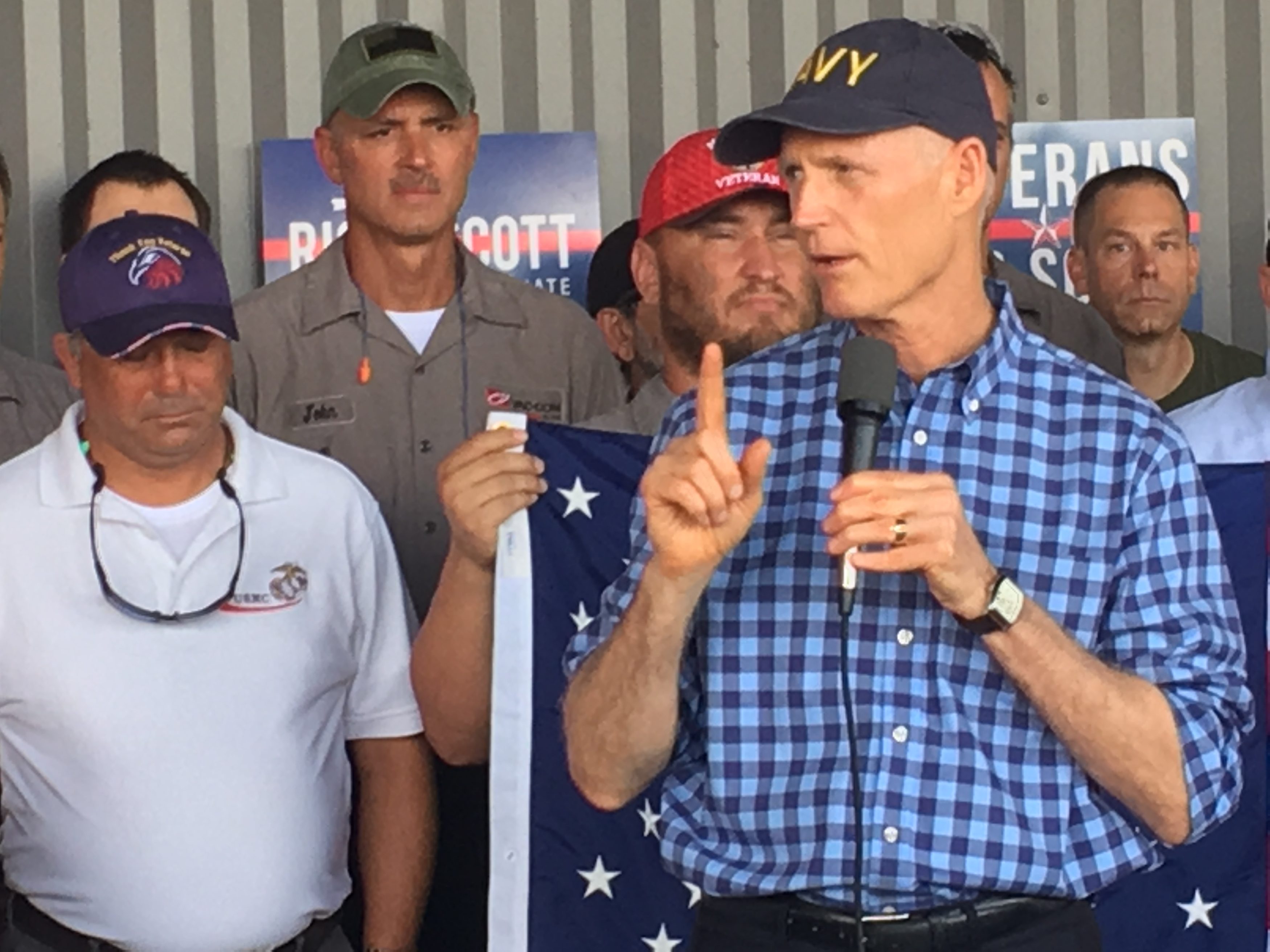 In Green Cove Springs Monday morning, Gov. Rick Scott introduced supporters under the banner "Veterans for Scott," a group that will likely include hundreds of veterans across the state who support his Senate bid, with staging opportunities for local markets.
However, a week after the primaries, talk hasn't been so much about the race for Senate as it has the race to replace Scott in Tallahassee.
Democratic nominee Andrew Gillum has benefited from a week of coverage including controversies spawned by Republican opponent Ron DeSantis (the "monkey it up" statement), and at least one corollary controversy to the out-of-state racist robocalls disawowed already by a DeSantis spox.
DeSantis has defended his use of the questionable phrase, and left it to a spokesman to issue an official regret for the robocalls' existence. And Gillum, a frequent Scott critic over the last eight years, was in the unique position of lauding Scott Sunday in Jacksonville.
"Gov. Scott, on his Twitter feed, in his own voice," Gillum noted, "decried that tactic and that tool. I would expect Mr. DeSantis to do the same in his own voice."
We asked Scott to address the racial controversy that has thus far occluded the race to replace him.
"First off, it was a poor choice of words," Scott said regarding DeSantis' use of "monkey this up."
[Scott had called the choice of words "inartful" last week.]
"I talked to Ron DeSantis. I know he doesn't mean any ill will toward anybody. It's wrong that people did the robocalls," Scott said. "I don't want any division in this state."
Scott began to extol the success story narrative of the last eight years; we then asked the Governor if he was worried that the campaign devolving into racial politics could compromise said narrative.
"I'm going to talk about my message," Scott said. "I don't want division. I tell every child 'you could be the Governor. You could be the President. You could be anything'."
"That's what my mom told me growing up," Scott said.
Whether Scott believes DeSantis can deliver that message of inclusivity is, as yet, an open question.