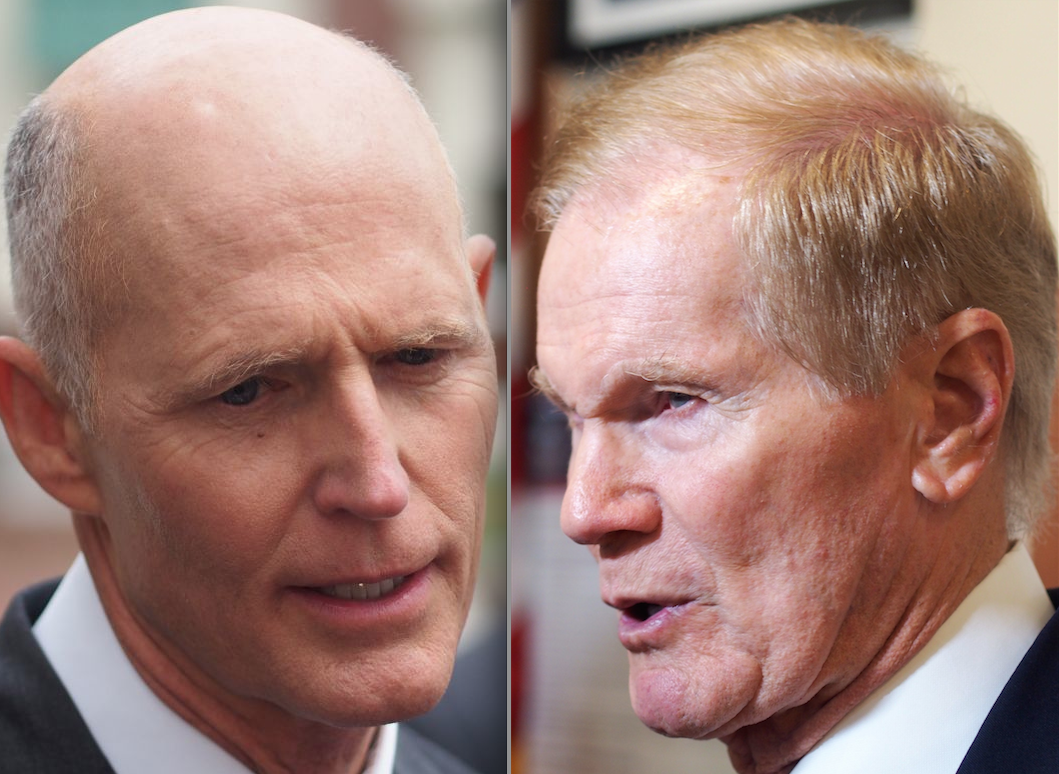 It's been close all along, but now Florida's U.S. Senate race is officially a dead heat.
Democratic incumbent Sen. Bill Nelson and Republican Gov. Rick Scott are tied, according to the newest Quinnipiac University poll.
Released Wednesday, the survey gives each 49 percent, with an astonishingly low two percent of voters surveyed telling pollsters they don't know (or don't want to say) whom they're voting for in the Nov. 6 election.
"The campaign is a prototype of our nation's political environment: Democrat Nelson carries women and black voters, while Republican Scott wins among men and white voters. The key in close elections like this one often lies with independent voters. So far, Sen. Nelson has the edge with this swing group. The candidate who holds those voters in November is likely to win," says Peter A. Brown, assistant director of the Quinnipiac University Poll, in a news release.
Indeed, 56 percent of independent voters told Quinnipiac pollsters they prefer Nelson, and 43 percent said they prefer Scott. Otherwise, Nelson took 89 percent of the Democratic support, and Scott, 92 percent of the Republican support in the survey.
And the poll suggests, there is precious little margin for change: 92 percent of the voters say their minds are made up. That was true regardless of their current choice.
The poll was conducted from last Thursday through Monday, with live telephone surveys of 785 likely Florida voters, using both landline and cellphones. Quinnipiac puts the margin of error at 4.3 percent.
Just as Quinnipiac reported Tuesday with its poll of the Florida Governor's race, President Donald Trump is not a significant factor in the race for U.S. Senator in Florida, at least with 46 percent of those polled. Another 26 percent say their Senate vote is mainly to support the President, while 25 percent say their vote is mainly in opposition to Trump.
Nelson received a "favorable" rating from 48 percent of those surveyed, and an "unfavorable" rating from 42 percent. Scott's was favorable with 49 percent; with 47 percent unfavorable.
While not on the ballot in 2018, 44 percent of Florida likely voters approve of Republican U.S. Sen. Marco Rubio; 47 percent disapprove.