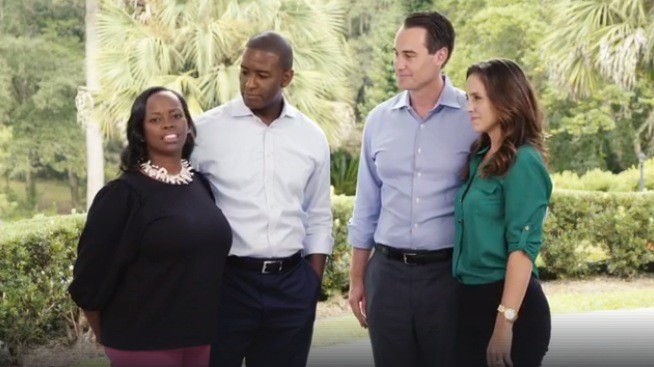 Democratic gubernatorial nominee Andrew Gillum on Thursday chose a rival from the primary, Winter Park businessman Chris King, as his Lieutenant Governor.
Gillum and King bonded on the campaign trail to the degree that they mulled a joint ticket when each campaign appeared to lack traction.
Now, of course, Gillum has the nomination — and the joint ticket is a reality.
I competed with @AndrewGillum for 18 months.

Here's what I learned:

Andrew never, ever gives up. He never quits — and he'll never quit on you. pic.twitter.com/ECRuVInUQ1

— Chris King (@ChrisKingFL) August 31, 2018
Gillum had an array of candidates to consider, including state Rep. Amy Mercado (who would have had Central Florida and Puerto Rican appeal), Gwen Graham (who garnered 31 percent of the vote in the primary, with appeal in rural areas especially), and state Sen. Lauren Book (minority-leader pro tempore of the party).
Yet Gillum has chosen a candidate who, though he never caught fire with Democrats looking at the top of the ticket, ran an ideas-driven campaign that moved the conversation forward on issues key both to progressives and young voters.
Clearly, the Gillum campaign bets that the race to win the governorship can be won by consolidating the party's left flank.
Democrats, including at least one who was in the LG discussion, lauded the pick.
"It's hard to imagine the 2018 ticket getting any better for Florida Democrats, but it just did. With Chris King as his running mate, Andrew Gillum is shaking up this race and giving voters something to believe in. Best gubernatorial ticket I've seen in my lifetime," asserted Rep. Carlos G. Smith Thursday after the pick was reported.
CFO candidate Jeremy Ring likewise lauded the King pick: "Over the course of this last year I've gotten to know Chris King well and it's no surprise to me why soon to be Governor Andrew Gillum wanted him to be part of this ticket. From bringing fresh leadership and innovative ideas throughout this campaign to his work to build a better Florida for everyone as an entrepreneur, Chris is exactly the type of person Tallahassee needs and will be the Lieutenant Governor Floridians deserve."
Even before Gillum rolled out the King pick via Facebook Live, the campaign website GillumKing.com was already live as of 9:20 a.m. Thursday, complete with an aspirational message.
"Join Andrew Gillum and Chris King today," the page states. "This is a movement for Florida's future."
Gillum noted that he had "prayed about" the Lieutenant Governor pick, and "leaned into wanting to choose an individual who could be governor … a partner to help lead this state."
Gillum and King, along with their wives, addressed Democrats, with Mrs. King and Mrs. Gillum vowing to hit the trail together to make the case for the Democratic ticket. What is clear: the families will be co-branded through the election.
"This is not a political marriage, a marriage of convenience," Chris King said, noting that he cares for Gillum, a "champion" for working families across the state.
From gun violence to criminal justice, King said, he and Gillum believe that the state can do "better."
"My heart is really full," Mayor Gillum said. "This race is about where we want to go as a state."
Statements after the Facebook Live wrapped reinforced the symbiosis. Gillum lauded King for "new and dynamic leadership … innovative policy ideas and business acumen." And King vowed the ticket would "stand up to the divisive politics of Ron DeSantis and Donald Trump … offer Floridians a new vision that lifts people up, brings us all together and unites this state."
Though few forecast a Gillum/King ticket when both were polling in single digits throughout much of the primary slog, Florida Democratic Party chair Terrie Rizzo spoke to the new consensus.
"Gillum and Chris King represent the future [of] our state: energetic, innovative, and ready to fight for Florida's working families," Rizzo noted.
Beyond ideological alignment, there are practical considerations regarding loyalty between the two men.
King was one of Gillum's biggest defenders during the primary, coming to his defense during one of the Democratic debates when the FBI probe into Tallahassee City Hall. Gillum has maintained throughout his candidacy that he is not a target of the investigation and that the city government itself is not under investigation, just an "individual."
DeSantis, the Republican nominee, picked Rep. Jeanette Nuñez as his running mate Thursday. Minutes after she was picked, reporters unearthed a "#NeverTrump" tweet of hers from 2016.
Screenshotted this. This could disappear like those receipts did yesterday. pic.twitter.com/l8popvwI01

— AG GANCARSKI (@AGGancarski) September 5, 2018
Nuñez's relative fealty to Trump notwithstanding, Democratic chair Rizzo notes the stark difference between the two LG picks.
"The contrast between the Gillum-King and DeSantis-Nuñez ticket could not be greater. Chris King is a progressive entrepreneur with innovative policy ideas to move us forward — while Jeanette Nuñez is a long-time Republican insider and lobbyist," Rizzo said, citing differences on abortion rights and Medicaid expansion between the two.