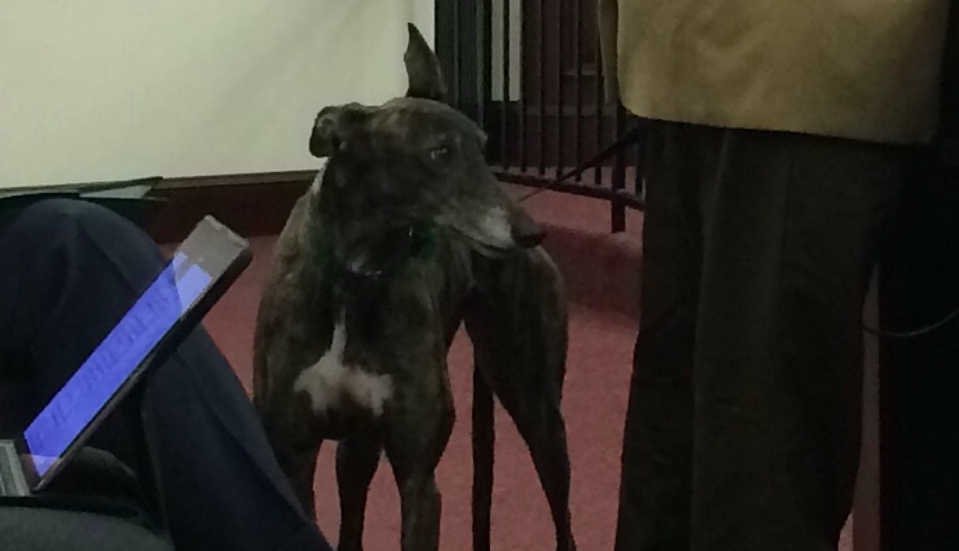 In light of a recent industry guest column regarding state gambling data, voters should ask themselves whether they can believe anything the greyhound industry says.
Earlier this week, the Florida Department of Business and Professional Regulation released new data on gambling at Florida racetracks. According to this report, betting at Florida dog tracks fell by 6.4 percent in the most recent fiscal year, compared to the previous year. Gambling on live races fell even more, by a precipitous 7.1 percent.
In part, this decline is due to significant drops at key dog tracks. For example, racetrack betting fell by a catastrophic 11.2 percent at Palm Beach Kennel Club, arguably the flagship facility for the entire industry. Similar drops occurred at Sanford Orlando Kennel Club (8.8 percent), Sarasota Kennel Club (10 percent and Pensacola Greyhound Track (27.3 percent).
These are signs of an industry in its death throes. According to state records, Florida dog tracks lost a combined $34.8 million on racing in 2016, the most recent year for which the data is available.
Everyone knows that greyhound racing only continues today because of the state dog racing mandate, which requires that gambling facilities hold races in order to offer more profitable forms of betting. This mandate has effectively become a subsidy program for greyhound breeders, who are profiting from a product the market no longer wants.
The aforementioned guest column is designed to mislead and confuse. It wrongly attributes this state data to our campaign. It also attacks the state data, referring to an "incomplete financial analysis" and "propaganda." Finally, it links to a spreadsheet created by a Massachusetts gambler, who claims the amount bet on races originating at Florida dog tracks is more than the state reports.
If the industry wishes to dispute this state data, it can take up its cause with the Division of Pari-Mutuel Wagering. As a policy matter, there is certainly some money bet in other states, via simulcasting, on races that originate at Florida tracks. Those bets originate in other states and are taxed in other states.
The Division is specifically responsible for accounting for and protecting state revenues related to taxable pari-mutuel activities conducted in Florida. As you may be aware, government agencies are not exactly in the habit of letting tax revenue owed to them under state law slip away. For that reason, the state's numbers remain more credible than those of an out-of-state professional gambler.
The industry uses these out of state bets to fabricate an imaginary monster, the "Advanced Deposit Wagering" internet gambling bogeyman. The industry uses this rhetorical trick because it needs a platform to argue that greyhound racing isn't dying. It's a tough task, because every single shred of actual data shows a consistent and perpetual decline. In fact, according to state data, gambling on dog races at Florida tracks has fallen in 25 of the last 26 years.
However, facts are stubborn things.
In reality, just 9.3 percent of all greyhound racing bets were made over the internet in 2015, according to actual records from the states themselves. While we are responding to this point primarily due to the series of false allegations made by the other side, it remains the case that the alleged preferences of bettors in other states have no bearing on the choices of Florida voters.
This is an intentional strategy dog race promoters are using to try to save their cruel industry. If possible, they deny the facts about the way greyhounds live. If that doesn't work, they invent their own facts and rationalize their behavior. Let me provide a few examples:
— When the state releases data that shows a further decline of the industry, industry promoters release an unsourced spreadsheet from an out-of-state gambler and misrepresent the state data.
— When it becomes clear voters oppose greyhound confinement, industry promoters say that greyhounds are "only" confined for 18 to 20 hours per day, and that's acceptable because dogs sleep a lot. Apparently they believe dogs like to live in cages.
— When news organizations report on the 483 greyhound deaths that have been reported to the state since 2013, industry promoters deflect by saying that other dogs die too, so apparently these deaths are acceptable.
In a little more than fifty days, Florida voters will head to the polls to decide the future of greyhound racing. I believe they will no longer tolerate this cruelty, or the trickeration being used to enable it. I'm convinced they will vote Yes for the dogs on Amendment 13.
__
Carey Theil is Senior Advisor to the Protect Dogs-Yes on 13 campaign.