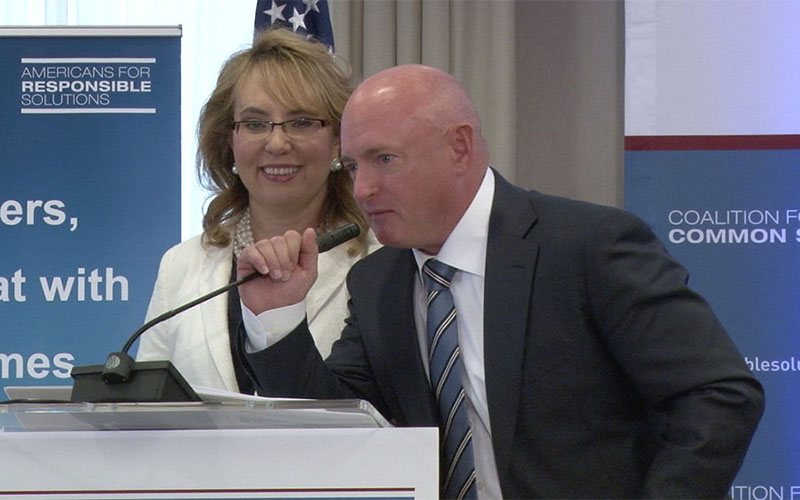 Giffords, the national gun safety organization co-founded by former Democratic U.S. Rep. Gabrielle Giffords, announced its endorsement Thursday of the re-election bids of Democratic U.S. Reps. Ted Deutch, Stephanie Murphy, and Debbie Wasserman Schultz.
The group also endorsed Democratic U.S. Rep. Val Demings, though Demings was re-elected in 2018, defeating her only opponent in the Aug. 28 Democratic primary.
The organization, founded by the former Arizona congresswoman shot in 2011 during an assassination-turned-mass-shooting, and her husband, retired NASA astronaut and retired Navy Captain Mark Kelly, was created to support candidates who support gun law reforms.
"America experienced three of the deadliest mass shootings in modern history in just the past year. Over 38,000 people in our country were killed by a gun. Florida has not been immune to this deadly crisis: somebody is killed by a gun in Florida every three hours," Giffords stated in a news release issued by her organization. "Despite this devastating reality, the gun lobby has used its cash and influence to stifle any attempts to pass laws on Capitol Hill to make our schools, streets, and communities safer.
"The members of Congress we are endorsing today acknowledge the devastating toll of our nation's gun violence crisis, and they are working to combat it. Their leadership will be critical for our next victories in Congress to save lives and prevent future tragedies," she added.
The endorsement announcement noted that Demings and Murphy both have strong ties to the Orange County community response to the 2016 Pulse nightclub massacre in Orlando; and Deutch and Wasserman Schultz with the Broward County community response to the February massacre at Marjory Stoneman Douglas High School.
In the Nov. 6 election, Murphy faces Republican state Rep. Mike Miller in Florida's 7th Congressional District, representing much of central Orange County and all of Seminole County
Deutch faces Republican Nicolas Kimaz in Florida's 22nd Congressional District in northern Broward County.
Wasserman Schultz faces Republican Joe Kaufman and a couple of independent candidates, including Tim Canova, her Democratic primary nemesis in 2016, in Florida's 23rd Congressional District in central Broward County.