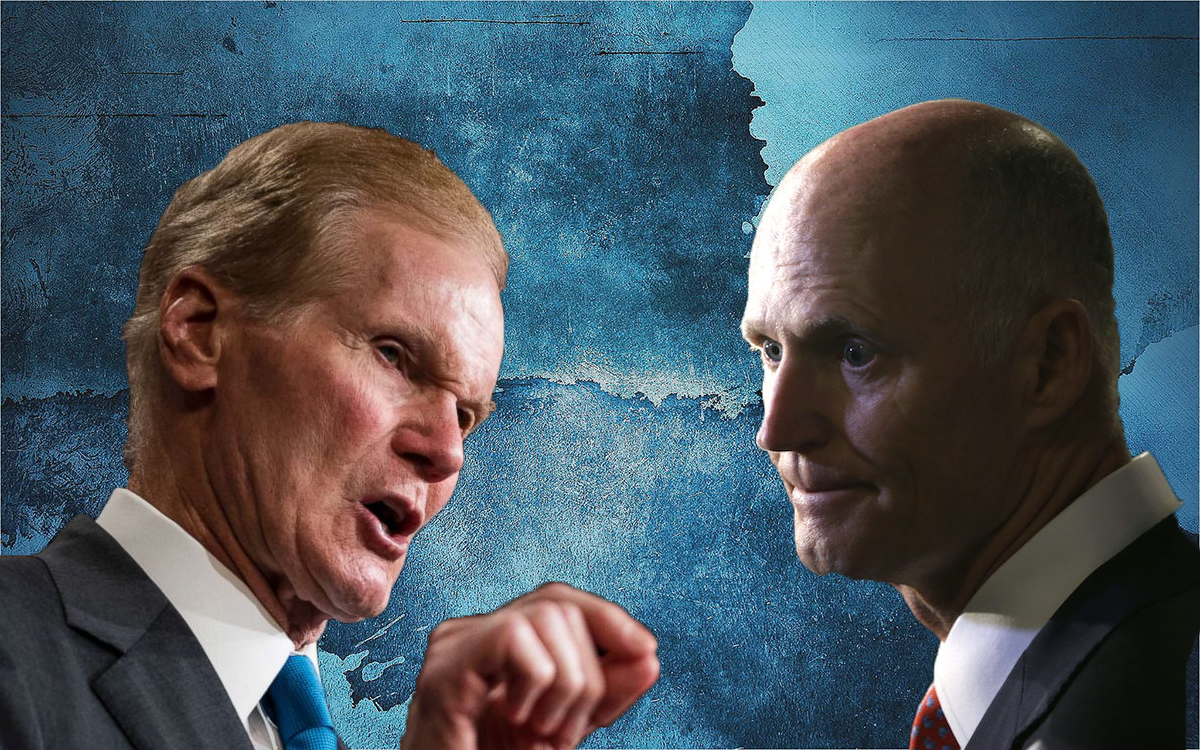 In the tight race for U.S. Senate, Bill Nelson and Rick Scott — for the sake of millions of Floridians — need to take part in a statewide, televised face-to-face debate.
Few can disagree that debates can be critical; they not only give candidates the best shot at making their respective cases, but voters also get an unfiltered opportunity to compare and contrast the two before heading to the polls.
And one forum that fits the profile perfectly (and is already planned) is "Decision 2018: Before You Vote," the latest variant of the successful series from the nonpartisan nonprofit Leadership Florida, partnering with the Florida Press Association.
"Before You Vote" is currently set for about a month from now, Oct. 23 at Broward College, beginning 7 p.m.
Both Nelson and Scott need to commit to this debate — prearranged since March — as the best and only statewide televised forum in a crucial race that has attracted national attention.
Here's why: A statewide consortium of 10 major network affiliates is dedicated to picking up the event, blanketing every Florida market. It is the same partnership that produced the highly acclaimed 2016 U.S. Senate debate (held at the same venue) pitting incumbent Marco Rubio against challenger Patrick Murphy.
Observers praised that forum as a serious, substantive and modern model for such events — which is precisely why Nelson and Scott need to take part.
Right now, the only so-called "debate" currently under consideration is from Telemundo, with coverage in select markets limited to Miami, Ft. Myers, Tampa, West Palm and Orlando. It will not be a statewide consortium.
Another event, this one from CNN, is being referred to as a "debate" by the Scott campaign, but Nelson's campaign acknowledged it will review other possibilities, including the one to be hosted by CNN.
However, CNN.com has no mention of any Florida debate or forum. Also, while CNN has a national reach, it is only available for those with paid cable. People watching via antenna will not see it.
On its website, News4Jax does refer to the CNN event as a "debate," offering tweets from both campaigns admitting such. They say Scott agreed to the forum — going as far as calling it a "debate" on Twitter — but no mention of it from Nelson.
Again, the News4Jax event (even if it does happen) will offer limited TV reach.
Leadership Florida, their partners FPA/WPBF and Broward College, bring both a history and a stellar reputation for producing professional and highly regarded debates.
Moderators and panelists for the LF debates are all Florida-based journalists, who offered the most in-depth and comprehensive knowledge of the race and critical issues. As for timing, the LF/FPA debates are strategically scheduled to serve as the last word before Election Day.
Also, both Florida-based and national journalists have sought credentials for the Oct. 23 event and C-SPAN, as in the past, has expressed keen interest in carrying the debate.
Along with an extensive reach and prestige, the event will also have high-quality talent behind the camera.
Executive Producer Phil Alongi, a 25-year veteran of the NBC network, is producing this show — as he did the Rubio/Murphy debate in 2016. Alongi is also a technical producer for the Republican National Convention, as well as coordinating all media covering it.
The bottom line — and it cannot be stressed enough — is that Scott and Nelson need to DO THIS DEBATE.
Simply stated, it's a solution where both campaigns (and voters) will benefit.