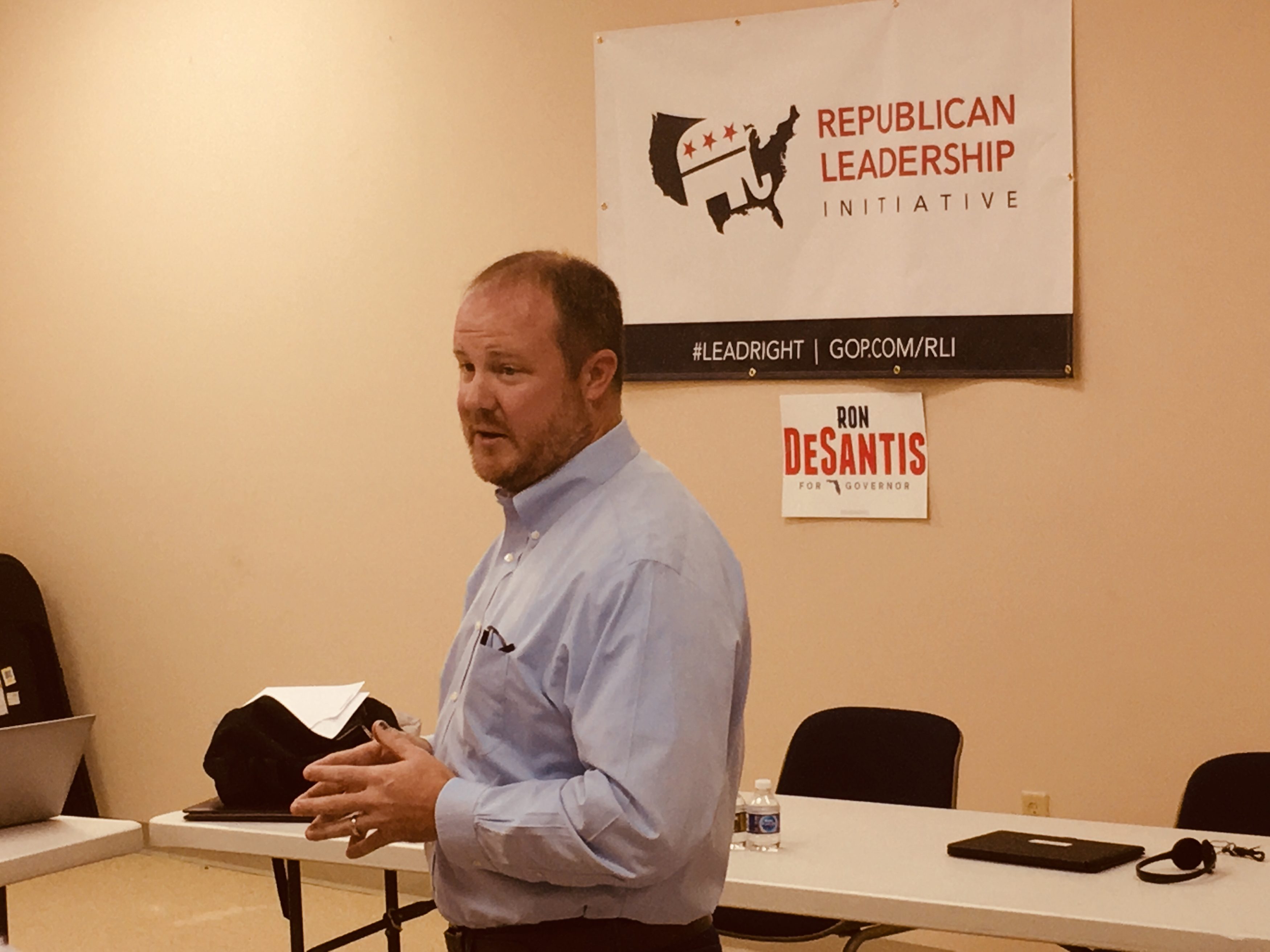 The Republican ticket this year continues to message against the "socialism" on the Democratic side, and Agriculture Commissioner hopeful Matt Caldwell was no exception Saturday.
Speaking to a handful of Republican activists at the Jacksonville HQ for the Florida GOP, the Fort Myers area lawmaker warned of the "outright socialist" Democratic ticket, drawing comparisons to Venezuela, Cuba, and California.
Caldwell laughed when Florida Politics asked if that comparison was valid.
"I do think that socialism is a dead end street," Caldwell said. "While I don't think that Andrew Gillum would like to see empty store shelves and people starve in the street, that is ultimately what it comes to. It works against human nature. Everytime we've seen it tried, it failed."
Caldwell described Gillum endorser Sen. Bernie Sanders as "an avowed socialist" dedicated to a "European socialist model" with Gillum having "embraced it wholeheartedly."
Caldwell definitely sees the battle between R and D this year as a ticket, and he defended his party's standard bearer, Ron DeSantis, who has been mired in controversy that began with his warnings after the primary that electing Gillum would "monkey this up."
DeSantis is "not a racist," Caldwell said.
"That's manufactured controversy for the sake of a political campaign," Caldwell said, with the left looking to "make hay" of it.
The election, Caldwell said, will be based on "turnout."
"Each side's trying to get its voters to show up," Caldwell said. "There are not a whole lot of voters who are going to be undecided" about the "contrast between a socialist system and the free enterprise system we've got … that's made Florida a huge success story … with strong pro-market policies [that] benefit everybody on the spectrum."
Despite the slow rollout of a political platform from DeSantis, Caldwell isn't worried, describing him as a "sharp individual" who served in Congress.
"You don't get a degree from Harvard and Yale if you're a slouch. I think he'll do an excellent job and the ticket's in strong shape," Caldwell said.
One drag on the ticket in early polling: a consistent NPA break toward Gillum, with the most recent survey from Rasmussen showing a 54-29 NPA preference for the Democrat.
"NPAs are the folks who are up for grabs," Caldwell noted. "But the folks who are going to be making calls and knocking on doors aren't talking to the supervoter Republicans. They're talking to the voters who don't participate every time and to NPAs who have shown that maybe they're open to talk about the message."
"There's more than enough of them out there to win," Caldwell said, noting the GOP statewide winning streak over the last two decades.
The conversation moved finally toward the Ag Commissioner race, including the potentially complicating issue of medical cannabis.
Fried, a lobbyist for the increasingly well-capitalized companies in the sphere, has contended that smokable cannabis should be offered to medical patients — a position now so firmly ensconced in the Democratic orthodoxy that even Sen. Bill Nelson espouses it.
Caldwell, who voted for the implementation legislation, thinks smoke is a draw too far: "…smoking is not a medicinal delivery system…[the smoking lawsuit] is just a fig leaf for full recreational use…"
Though it's uncertain if the issue of medical cannabis will move voters in November, what's clear is that polls show voters more closely align with Fried's position on the issue. 66 percent believe that medical patients should be able to smoke cannabis, while 24 percent align with the Caldwell position.
Polling between Fried and Caldwell is much closer, however; per St. Pete's Polls, Fried is up by 1.8 percent.
Despite Caldwell not being where Fried is on the issue, he noted that he introduced the Charlotte's Web legislation in 2014, which allowed low-THC cannabis, establishing precedent for the current system of medical cannabis.
Caldwell reiterated his contention that the smokable cannabis debate really is a smokescreen for the "recreational marijuana" push, one that he said "should be left up to the voters."
"What convinced me to be involved in 2014 before any Constitutional amendment was passed," Caldwell said, was "the kids with seizure disorders" and "their parents who [had to] break the law to travel to multiple states to get CBD oil so their kids could live."
"That's why I helped write the bill to make that legal," Caldwell said, noting that he was the only statewide candidate to have that level of involvement in the bedrock legislation.
"This is really a discussion about particulars, not the larger issue, which is that people need to be able to have access to medical cannabis for legitimate medical reasons. I'm going to look to push forward as far as I can based on the evidence," Caldwell said, noting that it's still federally illegal.
"As long as it's still federally illegal, nationally chartered banks aren't going to mess around with this," Caldwell said, noting that they could be accused of "money laundering" by authorities.
The workaround: using a "state-chartered bank," which allows for the argument that it's "intra-state commerce" to "avoid that net."
Rescheduling cannabis, Caldwell said, would allow for a re-appraisal, both in terms of research of what the plant can do, and working through the current financial regulations.
"It really is crazy that marijuana is Schedule 1 while cocaine and heroin are Schedule 2," Caldwell noted.
When asked to appraise current Commissioner Adam Putnam's performance in the job, one performed while campaigning for months ahead of the August primary, Caldwell allowed that while "mistakes were made" regarding background checks on the concealed weapons program, that they should be seen in context.
"It's a huge office," Caldwell said. "A challenge when you've got 3,400 employees."
Meanwhile, the "interest level" regarding the concealed weapons program was high, moving from 400,000 licenses in 2010 to two million today.
"The interest spiked exponentially," Caldwell notes. "It looks like from the outside that they really struggled with catching up with that interest and processing it well."
Caldwell promises a "day one" review of the program should he be elected, saying "nobody that doesn't qualify for a license should be given one."
Caldwell also sees the water issue — including algae blooms and the Everglades issues — as one that the state is solving despite the "harangues" of activists, with it being his "signature issue" in the House.
"We've built more projects in the last four years and are going to be build more projects in the next decade than the last 40 years combined," Caldwell said.
"It's an engineering problem. You put eight million people in the Everglades and its not going to react the way it [would] in 1845."
"I will count it as a personal failure if we don't have real progress on the Everglades problem in the next four — hopefully, eight — years. If there is a number one priority," Caldwell said, "it will be water policy."