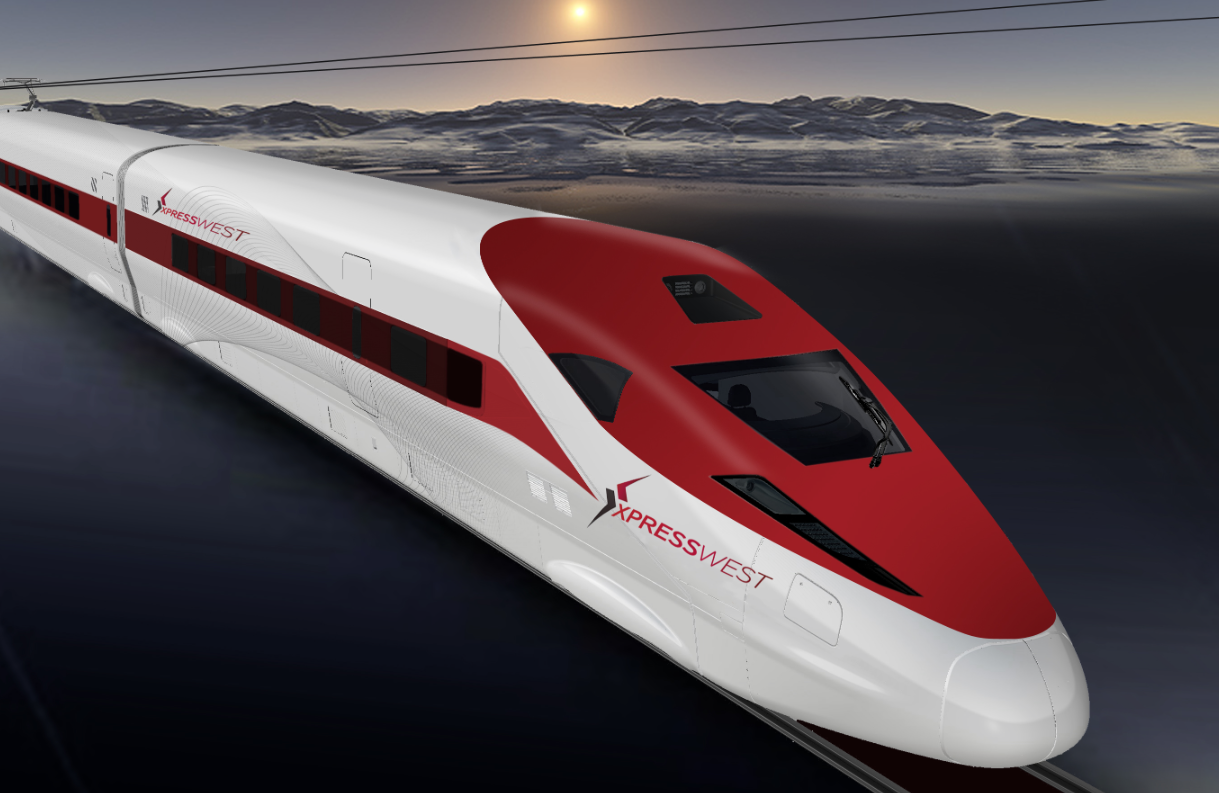 Brightline, the operator of the private passenger train service in South Florida with approval for high-speed trains into Orlando and longer-term vision to  Tampa, announced Tuesday it is buying the project of a proposed high-speed train to link Las Vegas and Southern California.
Brightline, long known as All Aboard Florida, announced Tuesday it has reached an agreement to buy XpressWest with rights to develop a federally approved corridor from California to Las Vegas. Brightline also announced it is acquiring 38 acres next to the Las Vegas Strip for the construction of a station and mixed-use development.
Brightline will take over the development, construction, and operation of the project and work with federal and local transportation officials, the company announced.
"Brightline's model is setting a new standard for train travel in America," Patrick Goddard, president of Brightline, stated in a news release issued Tuesday. "Today's announcement is an important milestone for our company as we reimagine transportation between these major metropolitan areas. We look forward to working with the region's stakeholders to make this vision a reality."
The proposed California-Nevada line would be only the second privately funded express intercity passenger rail in the United States, following Brightline's Florida rail line that currently links Miami, Fort Lauderdale, and West Palm Beach, with development underway for a route from there to Orlando.
XpressWest, formerly known as DesertExpress, has received federal approval to develop a 150-mph private passenger train line linking Las Vegas to Victorville, Calif., a city still a good 80 miles northeast of Los Angeles. However, Brightline notes the proposed Victorville station is only a "30- to 45-minute drive" from Southern California's "Inland Empire", the largely independent metropolitan area of San Bernardino and Riverside, which itself has an estimated population of 4 million.
XpressWest also planned to eventually extend a line from Victorville into the Los Angeles metropolitan area, and Brightline includes that intention in its announced plans.
"Brightline is changing transportation in our country by connecting heavily trafficked corridors that are too long to drive and too short to fly," Wes Edens, co-founder and co-chief executive officer of Fortress Investment Group, the money behind Brightline, stated in the news release. "Our experience in Florida is proving that private-sector investment has a meaningful role to play in developing transportation infrastructure. We're excited to bring Brightline's world-class and convenient travel experience to Southern California and Las Vegas."
The company did not release information about the terms of the purchase.
The announced purchase comes just three weeks after Brightline secured Florida state permission to sell $1.75 billion worth of federally authorized private equity bonds, though money from that is exclusively reserved for development of the Florida train service.
The Florida project has been controversial, particularly for many people in the ride-over communities of Florida's Treasure Coast. Martin and Indian River counties are suing in federal court to stop the federal financing of the West Palm Beach to Orlando leg.
The XpressWest project has been in plans for many years and once expected to break ground on construction by 2012 but has yet to do so. The Wall Sreet Journal is speculating Tuesday that the Brightline purchase could "breath new life into a long-delayed project."
Brightline said it expects to break ground next year and begin offering service as soon as 2022.
The first phase of the corridor is expected to be built on a right-of-way within and next to Interstate 15, traversing 185 miles with no at-grade or pedestrian crossings in the sparsely populated desert area of southern Clark County, Nevada, and northern San Bernardino County, California.
At-grade crossings have been the key concern of opposition along Florida's east coast, where there are scores of at-grade crossings for the Brightline train's proposed route to Orlando.