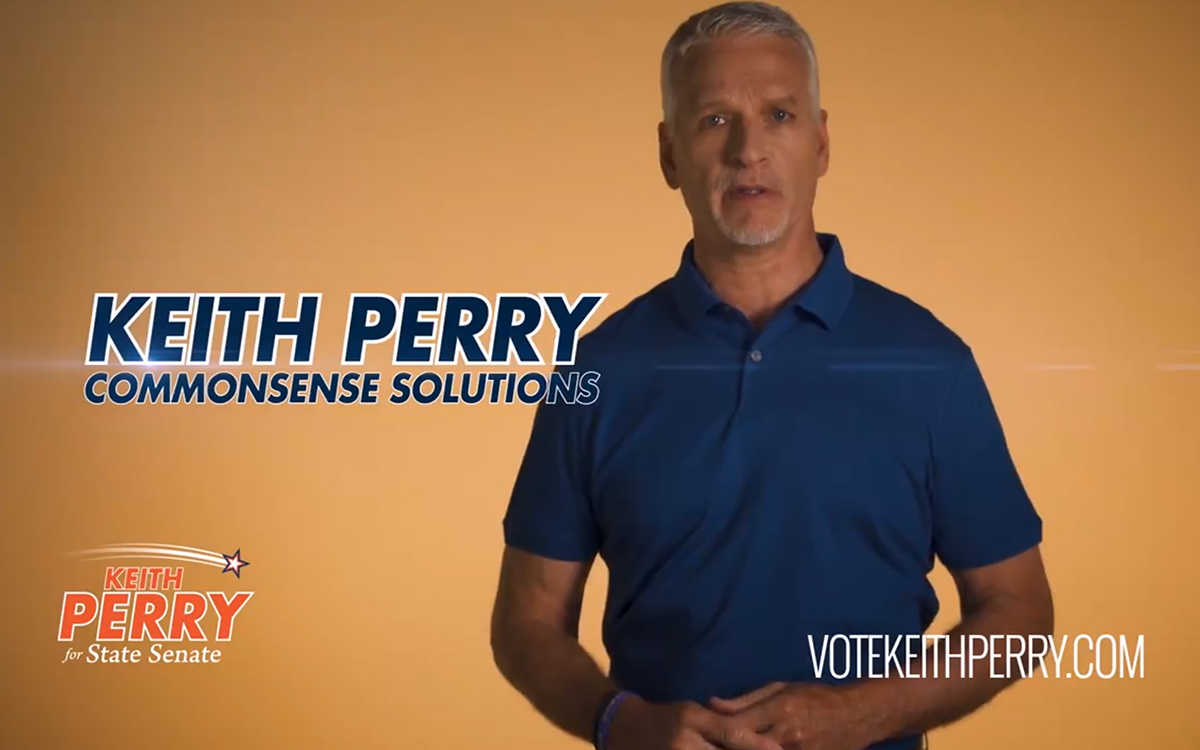 Gainesville voters will decide in November whether to change the governance of their municipal utility and Sen. Keith Perry, a Gainesville Republican, has been using advertising – some say deceptively – in a push to get the measure passed.
The utility, Gainesville Regional Utilities, is currently under the control of the Gainesville City Commission, but the referendum would transfer its governance to a new panel.
That would include five members, appointed by the City Commission, who could serve up to three four-year terms.
The measure has been panned by city commissioners, as well as the area's only Democratic member of the Legislature, Alachua  state Rep. Clovis Watson.
Despite the opposition, Perry has made posts on social media claiming that Gainesville City Commissioners Harvey Ward and Adrian Hayes-Santos had joined him in backing the referendum.
Each post included a video ad paid for by the Florida Republican Senatorial Campaign Committee, the well-stocked GOP affiliated committee chaired by incoming Senate President Bill Galvano that's charged with supporting Republican state Senate candidates.
"It's over 90 degrees out, but GRU is turning up the heat," a narrator says in the ad. "Soaring residential rates. Highest commercial rates. Over $700 million wasted on a disastrous biomass plant. 18,000 can't pay their bills. The city commission's solution? Raise rates again."
Perry then takes over, asking, "How much more cash will GRU burn? Choosing between air conditioning and groceries? That's nonsense. We need more common sense. We need to hold the city accountable."
While no commissioner is singled out by name in the video, Perry did name Ward and Hayes-Santos in the text accompanying a pair of posts including FRSCC-sponsored video. Both posts have been viewed 5,000-10,000 times each.
"Enough is enough, the City Commission recently approved a GRU rate increase. Commissioner Harvey Ward and Keith Perry are fighting back. Like and share if you think GRU and the City Commission needs more accountability," Perry wrote in a Sept. 14 post.
That drew the ire of Ward, who published his own post shortly after the Facebook ad went live saying, "Either Sen. Keith Perry's campaign team doesn't clear things with him before they run them OR he is lying."
"He's running a campaign spot now that implies I support this foolishness he's been trying to perpetrate on the people of Gainesville with GRU for years," Ward continued. "Let's be clear: I do not support that referendum or Sen. Perry's re-election campaign."
Ward later posted a screenshot of a message he sent to Perry's official Senate email account.
"In a recent campaign ad (attached) you/your campaign imply that Ward and I are working together on your GRU referendum. You know this is not the case. Every Gainesville City Commissioner opposes this referendum, including me," he wrote in a Saturday email. "Please take the ad down as you know it to be untrue."
As of Tuesday morning, both ads were listed as "active" according to Facebook's ad archive.
Ward also posted links to the donation page for the campaign against the referendum, "No GRU Authority," as well as a donate link for Perry's Democratic challenger in his re-election bid for Senate District 8, Gainesville physician Kayser Enneking.
The GRU referendum was put on the ballot after a 2017 bill (HB 759) by Newberry Republican Rep. Chuck Clemons was cleared by the Legislature and signed by Gov. Rick Scott.
Perry shepherded that bill's Senate companion, and had sponsored similar bills in the 2014, 2015 and 2016 Legislative Sessions, when he was a member of the House.
Perry is one of several incumbent Republican state senators facing a serious challenge in the fall, however his campaign and committee accounts are flush with about $525,000 banked between them, with an additional $425,000 worth of "in-kind" support, mostly from FRSCC.
Enneking, meanwhile, has about $234,000 left to spend between her campaign and committee accounts after a costly Democratic primary. She has also received about $145,000 worth of "in-kind" support, mostly from the Florida Democratic Legislative Campaign Committee.
SD 8 covers all of Alachua and Putnam counties as well as the northern half of Marion County. It is one of a handful of districts that became more favorable to Democrats after the Senate map was redrawn ahead of the 2016 elections.
Despite Democrats holding an 8-point lead in voter registrations in the redrawn district, Perry scored a comfortable victory over two years ago as the seat was narrowly carried by President Donald Trump. Both SD 8 and the GRU question will be on the November ballot.