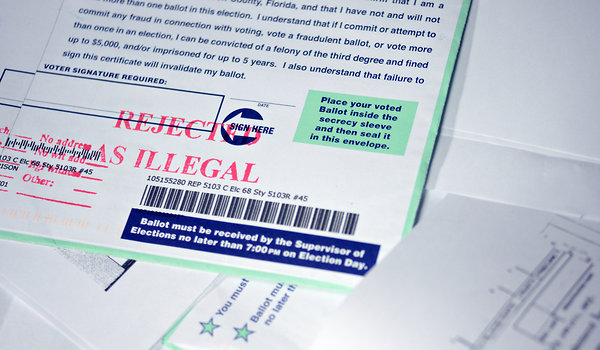 Vote-by-mail ballots offer convenience to those using them, but an ACLU of Florida report released Wednesday shows that some ballots are more likely to be rejected than others.
The ACLU study, "Vote-By-Mail Ballots Cast in Florida," shows a higher rejection rate in the 2012 and 2016 general elections for mail ballots than those cast in person, with ballots cast by younger and minority voters more likely to get rejected.
Howard Simon, executive director of the ACLU of Florida, asserted that the report makes an "enormous contribution," in light of Florida's "uncertain history in election administration."
Ideally, public policy and voter behavior would be adjusted based on the facts of the report, Simon said, findings of which already have been presented to elections officials on the state and county level.
"Vote-by-mail is becoming increasingly popular in the state," Simon noted, with almost 29 percent of ballots in 2016's general being mailed in.
However, there are "problems" with the process as currently constituted, and voters should be aware of such and take action to protect their vote, he said.
University of Florida Political Science program chair Dr. Daniel Smith, who authored the report, noted that voting by mail isn't growing at the same rate as in-person voting, but is growing nonetheless.
"Vote-by-mail is not going away," Smith said, noting its popularity in both major parties.
Smith said reforms to the process in recent years, both in the legislative and judicial spheres, allow "curing" of ballots with signature omissions or mismatches.
However, the cure did not reduce the rejection rate — which is around 1 percent, 10 times the likelihood of a rejected in-person ballot.
"We're talking about tens of thousands of people who have their vote-by-mail ballots rejected," Smith said, spotlighting disparities that adversely impact "younger voters, not the very old or infirm."
Four percent of all ballots cast by 18- to 21-year-olds were rejected in 2016, Smith said. Their signatures could look different from when they pre-registered at 17 years old, he speculated.
That cadre of "18- to 21-year-olds cast 9 percent of vote-by-mail ballots in 2016, but had 31 percent of their votes rejected," Smith said, calling it a "major concern" regarding their disenfranchisement.
Almost 2 percent of African-Americans and 1.8 percent of Hispanics voting by mail in 2016 found their ballots rejected, Smith added, incidences that increased from 2012 to 2016.
White voters, meanwhile, saw a decrease in rejections over the four-year interval.
Rejection rates vary from county to county. Orange and Miami-Dade are among the rejection leaders.
Pinellas County, meanwhile, has a tenth of 1 percent of votes rejected, a stark contrast from other large counties, including neighboring Hillsborough.
Pinellas is singularly devoted to civic education and rectifying signature anomalies, Smith said, with 86 percent of flagged ballots approved in the end.
Individual voters are urged to ensure their signatures match what's on record, while supervisors of elections bear the burden of improving the curing process and the voter education process.
"The problem is we don't have any real standards across the counties for the process of curing," Smith said.