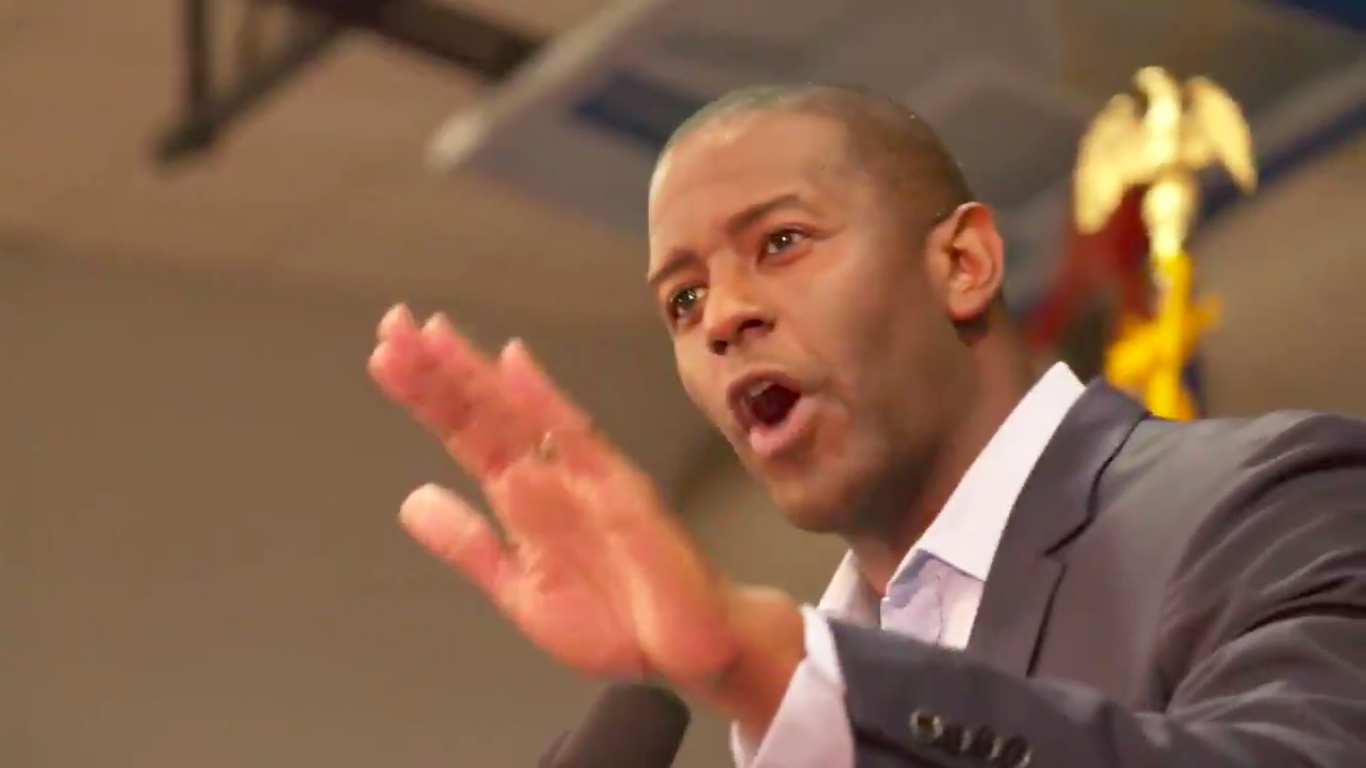 Yet another poll is showing Democrat Andrew Gillum leading Republican Ron DeSantis in the Florida gubernatorial race.
Gillum, the Tallahassee Mayor, has a 9-point lead on DeSantis, 54-45 percent, according to a survey released by Quinnipiac University on Wednesday.
Notably, Gillum's edge is well outside the 4 percent margin of error. The lead is Gillum's largest yet.
Female and independent voters boosted Gillum ahead of DeSantis in the survey. Women went for Gillum 59-39 percent. Independents, 56-40 percent.
Both DeSantis and Gillum are performing well among party voters, according to the Quinnipiac poll. Republicans sampled picked DeSantis 90-9 percent. Democrats backed Gillum 96-2 percent.
Black voters overwhelmingly supported Gillum in the survey, going for the African-American candidate 98-2 percent. White voters, on the other hand, backed DeSantis 53-45 percent.
With a bit more than a month left until Election Day, Floridians are not fickle. In the Quinnipiac poll, 94 percent of likely voters surveyed who picked a candidate said their mind is made up.
Peter Brown, the assistant director of the polling outfit, pointed to measures of overall favorability of each candidate in explaining the results of the poll.
"When asked whether they view each of the candidates favorably or unfavorably, Gillum's rating is 24 percentage points positive, and DeSantis' score is 5 points negative," Brown notes. "At this point, Gillum's biggest asset is just that voters like him better."
He added: "DeSantis is spending a lot for TV commercials, but they don't seem to be effective."
Gillum — once the underdog in a crowded five-way Democratic primary — has consistently led DeSantis since the Aug. 28 election.
On Tuesday, an NBC and Marist College survey put Gillum up 5 points on DeSantis, a lead just outside the 4.7 percent margin of error.
A Rasmussen poll released last week gave the Tallahassee mayor a 6 percent edge on DeSantis. Another poll from Florida Atlantic University released last week had the race much closer, with Gillum up just 2 points on DeSantis. On Monday, the results of a University of North Florida survey had Gillum up 4 percent.