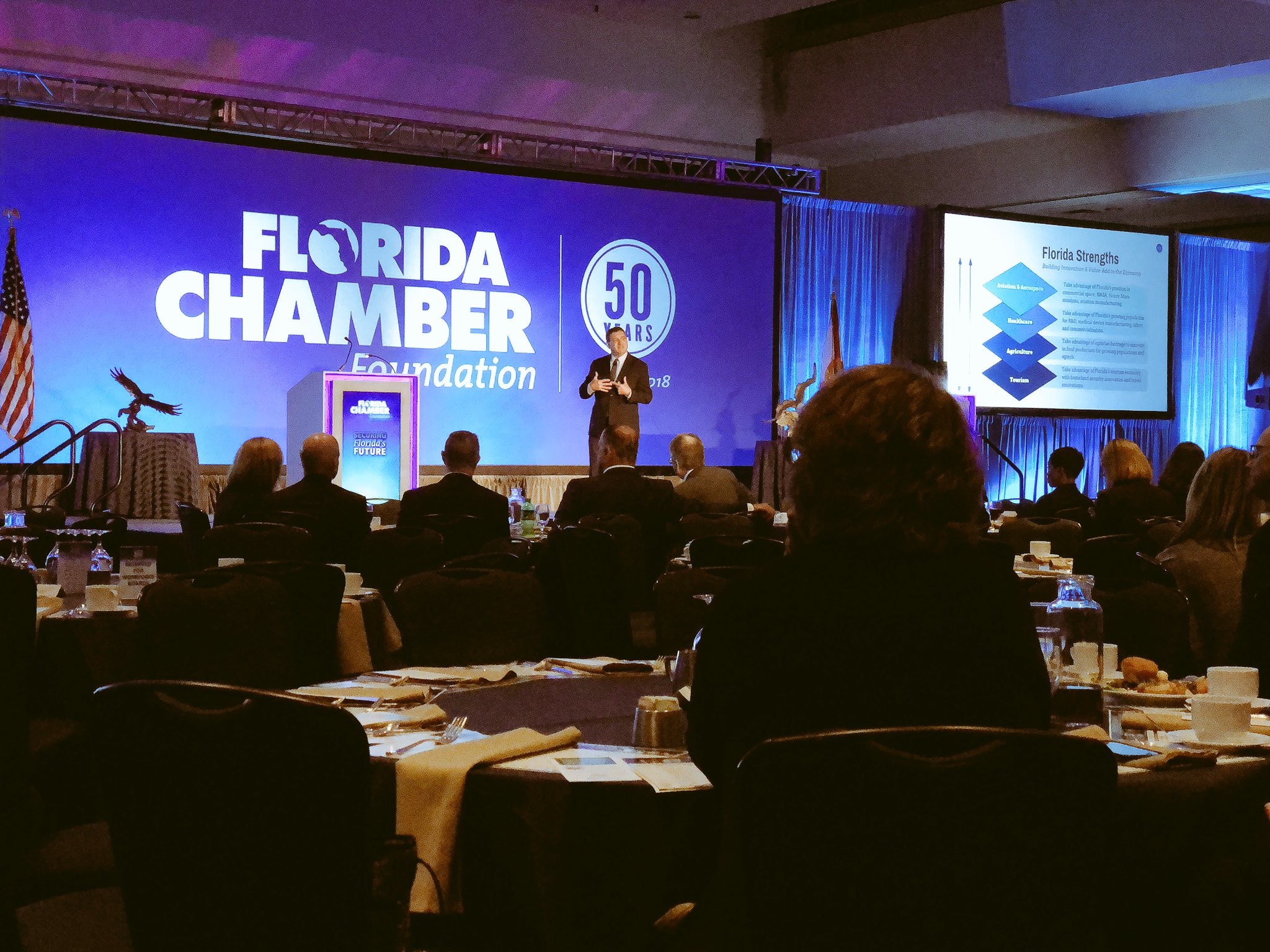 Florida needs to add 1.7 million jobs by 2030, according to new Florida Chamber of Commerce research, but "disruption and transformation" present some unique challenges to meeting that goal.
"Eighty percent of the jobs in 2030 don't exist today," said former Enterprise Florida chief Gray Swoope, who now heads VisionFirst Advisors. "What are we doing? We don't know what these jobs are."
During his remarks at the Chamber's 2018 Future of Florida Forum, Swoope touched on technologies such as autonomous vehicles that will usher in new economic sectors worth billions, but they will also affect other industries in unforeseen ways.
"Automation is a disruptor," Swoope said, relaying an example. "Most car accidents are due to human error. How will this change things? The biggest source of organ donors is car accidents. We haven't even thought about that."
Among the highlights of the Florida Chamber's "Florida 2030" research project was data showing that Florida is adding 1,100 new residents a day and that those people are younger and more diverse that the state's current population.
And the majority of those new residents are moving to metro areas – in 12 years, 90 percent of Floridians will live in cities. Population decline, not just deceleration, is coming to the state's rural areas. Helping develop all corners of the state evenly could help the exploding populations in the Interstate 4 corridor and South Florida from exacerbating stressors in those areas.
"Some people say these rural places are in 'the middle of nowhere,'" Swoope said, referring to Sebring. "Really, those places are in the 'middle of everywhere.' They're an hour and a half from Tampa, they're an hour and a half from Orlando."
No matter how Florida chooses to address these challenges, Swoope said, rapid changes are coming to the state's economy.
"Once the solid rocket booster is lit, it is going somewhere," he said. "It's lit."
Swoope said some the changes Florida needs to make to be ready for the next decade are workforce development and investing in more high-tech industries such as aviation and aerospace or advanced manufacturing.
Either way, the state needs a plan and it needs to implement it, Swoope said.
"The grade-A implementation of a C plan is better than no implementation of an A plan," he concluded.