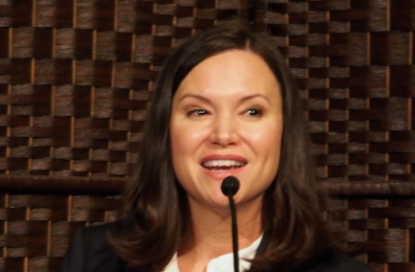 The Florida Chamber of Commerce announced Friday it was endorsing Republican candidate Ashley Moody for Attorney General.
The group made the announcement during a live stream on the Florida Chamber's Facebook page and followed up with a post on Twitter.
We are proud to announce our endorsement of @voteashleymoody for Florida's Attorney General #Sayfie #FlaPol

We look forward to seeing her continue her good work as part of the Florida Cabinet.

— Florida Chamber (@FlChamber) September 28, 2018
"I believe that I am meant to do this, and can do this, and will make you proud of your support," Moody said in a speech accepting the endorsement.
Bob Grammig, chair of the Florida Chamber Board of Directors and a partner at Holland & Knight law firm, introduced Moody before she spoke at the event.
Moody spent three years as an associate at Holland & Knight's Tampa office before her time as a judge.
Chamber board member and former House Speaker Will Weatherford of Weatherford Capital was on hand as well, along with Florida Chamber President and CEO Mark Wilson.
Moody also made comments about the importance of Florida's criminal justice system, with words that could have applied to the ongoing debate over the nomination of Brett Kavanaugh to serve on the U.S. Supreme Court.
"The strength of the system hinges on its fairness and balance. And the credibility of opinions issued is only as strong as people give them viability because they know the system is fair."
The former judge and prosecutor also issued a jab at her opponents in the race, Democratic opponent and state Rep. Sean Shaw and non-party affiliated candidate Jeffrey Marc Siskind.
"This is not the time in Florida to have someone at the helm as chief legal officer, top prosecutor, who has never prosecuted a case."
Recent polling shows Moody with a slight lead in the race. A survey in late August had her leading Shaw by three points, while a poll earlier this month pegged Moody's lead at just two.
Shaw recently made multiple announcements on the team surrounding him, naming members to his "General Election Finance Committee," as well as adding former Gwen Graham and Alex Sink staffers to his campaign.