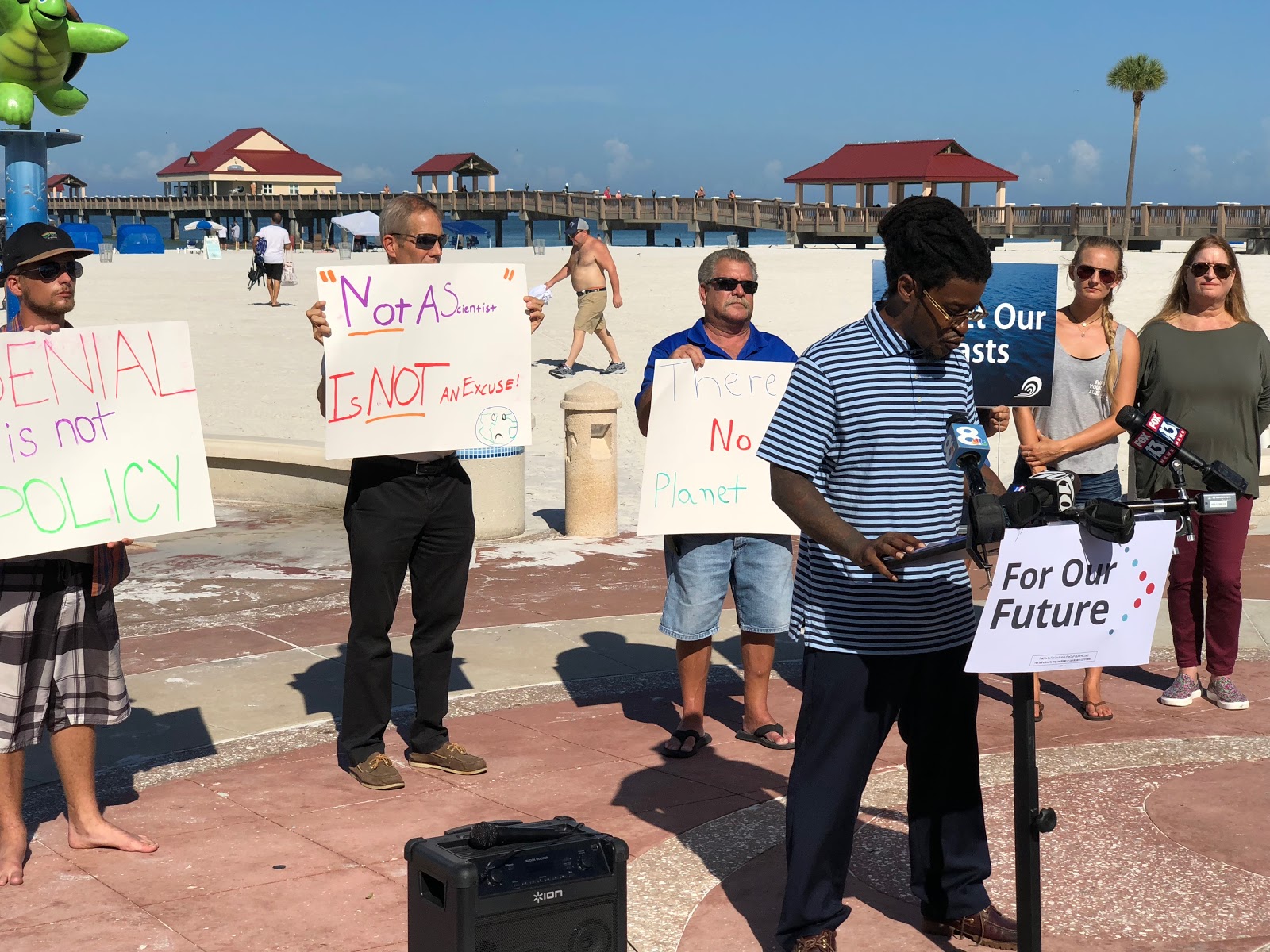 A group of local environmentalists and community activists are asking Gov. Rick Scott to accept responsibility for what they describe as his poor environmental record they say worsened the ongoing red tide crisis plaguing Florida's Gulf coast.
"Our elected leaders have not only done nothing to help us, but they are making the problem worse," said Susan Glickman, Florida Director of the Southern Alliance for Clean Energy Action Fund.
"Warmer weather is making the problem worse. But we have a governor who has denied climate change. He reduced monitoring, he reduced water standards, he reduced enforcement, and we're all bearing the burden."
Red tide began in Southwest Florida this summer and has since made its way to Pinellas County beaches where dead fish and toxic air continue to drive locals and visitors away from the beaches and leave businesses belly up.
Activists with the Suncoast Surfrider Foundation and Sierra Club rallied at Clearwater Beach's Pier 60 Thursday condemning Scott for accepting top dollar donations from industries representing polluters.

Activists claim Scott, who is running against incumbent Bill Nelson for the U.S. Senate, is avoiding the topic, pointing to an event in Venice at a Cuban restaurant in which he left through a back door after being booed by voters angry with his environmental policies.
That includes, they say, cutting spending for the Florida Department of Environmental Protection and Scott's decision to place nutrient testing in waterways in the hands of the state rather than the more strict federal Environmental Protection Agency.
The administration says the state's nutrient testing wasn't watered down. Florida was developing its own, more comprehensive standards for our lakes, rivers, streams, springs and estuaries and the EPA approved those standards, Scott's office said.
On Florida DEP funding, the budget under Scott's administration actually increased $300 million, Scott's office said.
"We don't need more of Governor Scott's leadership in the Senate, and we don't need his style of leadership in the Governor's house. Both Scott and DeSantis (Republican gubernatorial candidate) value corporate profits over citizens' health and our environment. We need leadership that will protect our environment and think about citizens of the future," said David Harbeitner with the Suncoast Sierra Club.

For his part, Scott is repeatedly including the descriptor "naturally-occurring" in any announcements related to red tide. The outbreaks, fueled by an excess of the nutrient K. Brevis, is naturally occurring, but scientists note it can be exacerbated by increases in pollution and blue green algae. Discharges heavy in blue green algae have become prevalent in Lake Okeechobee.
Scott has announced a host of funding measures and policy recommendations to mitigate effects and prevent future outbreaks. He's committed $14 million in state funds so far for things like research, fishery rehabilitation and possible treatments like pumping ozone into affected waterways to kill red tide and a new form of treatment using specialized clay.
He also asked the state to create a special group to study red tide and called on the Florida Legislature to include funding in next year's budget for additional research.
Late Thursday, Scott's administration announced another $3 million specifically for Pinellas County's red tide clean up efforts.