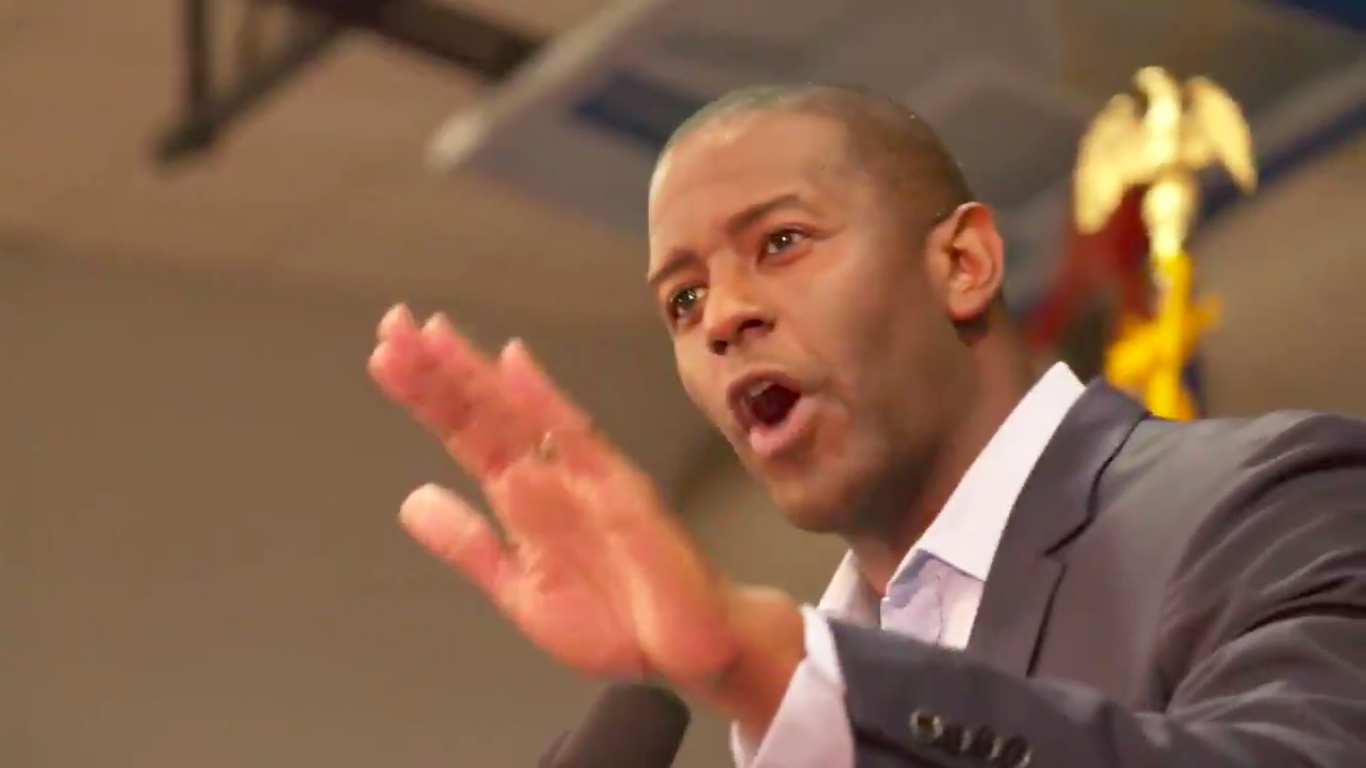 A new poll conducted last week by the Florida Chamber of Commerce shows Democratic gubernatorial nominee Andrew Gillum has increased his lead over Republican opponent Ron DeSantis to 6-points
The poll, conducted Sept. 19 through Sept. 24, found the Tallahassee Mayor and his Lieutenant Governor pick, Orlando-area businessman Chris King, with a 48-42 percent lead over the former Congressman, who is running alongside state Rep. Jeannette Nuñez.
The lead represents a 2-percentage-point increase for Gillum, who led 47-43 percent in the Chamber's prior measure, which was conducted Sept. 6 through Sept. 9. Unlike the last poll, the new results fall outside the poll's margin of error of plus or minus 4.4 percentage points.
The late-September poll was conducted prior to the Chamber offering DeSantis it's "firm endorsement" Thursday in Orlando. During the Republican primary for Governor, the Chamber was an unwavering supporter of Agriculture Commissioner Adam Putnam, and their 2018 Future of Florida Forum opened with a video celebrating the two-term cabinet member's career.
Of the remaining 10 percent of respondents, 6 percent said they were still undecided, while 2 percent said they were backing Reform Party gubernatorial nominee Darcy Richardson and Nancy Argenziano.
Thanks to the support of President Donald Trump, DeSantis steamrolled Putnam in last month's primary election by more than 20 points. On the Democratic side, Gillum defied most polling to defeat former Congressman Gwen Graham and several other contenders by a slim margin.
Gillum has led in most polls since the title card was set, though most of his polling leads have fallen within the margin of error. The RealClearPolitics average of all public polling for the general election matchup shows Gillum with a 4.5 percentage point lead over DeSantis.
One of the policy proposals DeSantis has hammered Gillum on – the latter's plan to raise the corporate income tax from 5.5 percent to 7.75 percent to raised $1 billion in funding for public education – was supported by a supermajority of Florida voters.
Overall, two-thirds of voters approved of the plan and 28 percent were opposed. It was most popular among registered Democrats, who favored it by an 85-11 percent margin, while NPA's were in favor 71-27 percent and a plurality of Republicans also gave it the green light, 48-44 percent.
The new results were in spite of Floridians believing the state was on headed in the "right direction" by a margin of 47-37 percent. Other measures of note: Trump's job approval rating was underwater by 5 points, while U.S. Senate contenders Bill Nelson, the Democratic incumbent, and Gov. Rick Scott were plus-5 and plus-4 respectively.
The poll also found other statewide Democrats in the lead, with Democratic Ag Commissioner nominee Nikki Fried leading Lehigh Acres state Rep. Matt Calwell 42-37 percent; Democratic Attorney General nominee Sean Shaw leading Republican nominee Ashley Moody 35-33 percent; and sitting CFO Jimmy Patronis tied with former Democratic Sen. Jeremy Ring 38-38 percent.