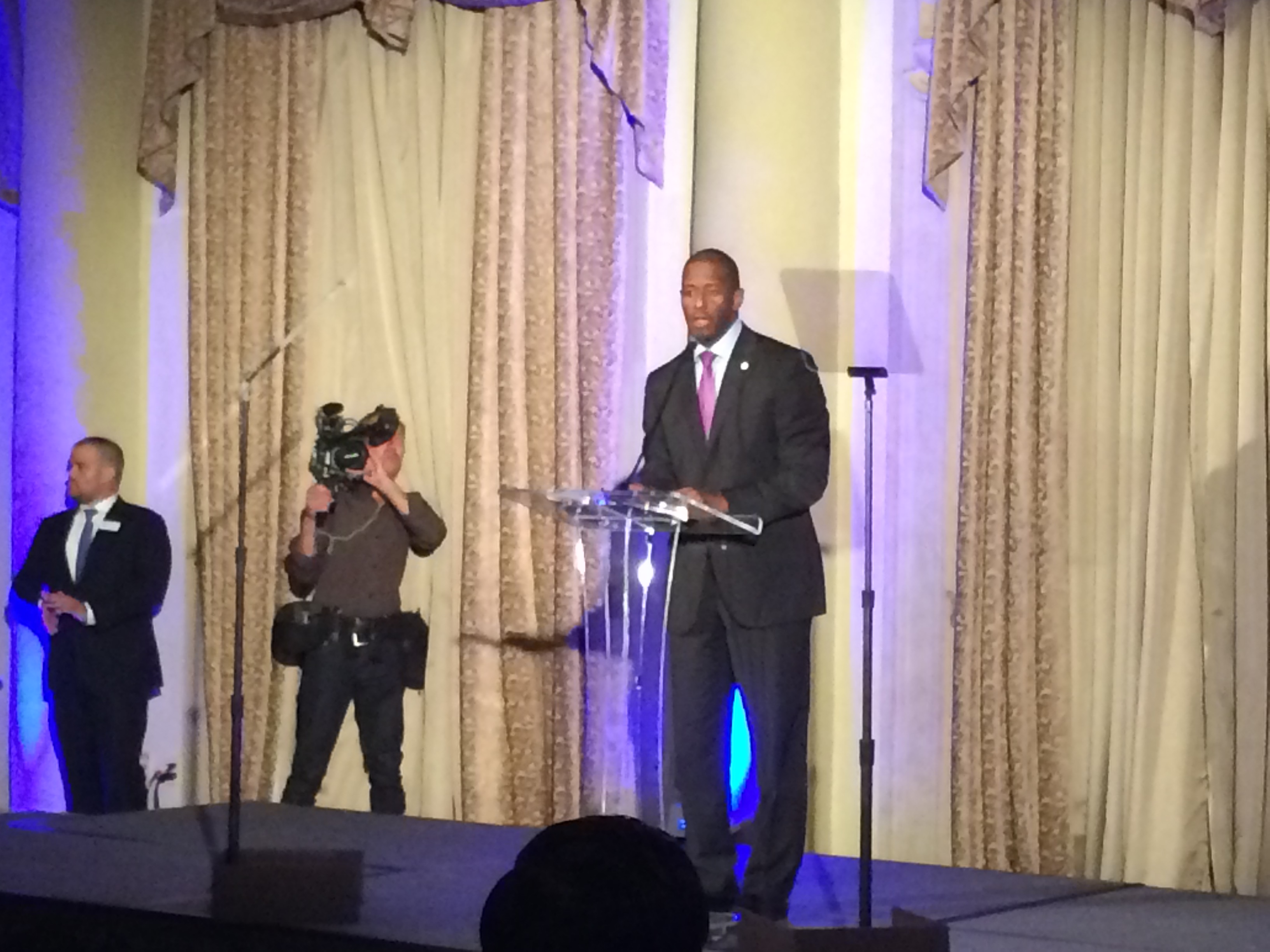 Andrew Gillum, the Democratic candidate for Governor, delivered a rousing speech Saturday night in remarks at the Miami-Dade Democrats' Blue Gala in Coral Gables.
Gillum was one of several speakers on the night but arguably earned the best reception of them all as he talked about his race against Republican nominee Ron DeSantis.
The current Mayor of Tallahassee was introduced by Democratic mega-donor Tom Steyer, who pumped up Gillum's primary campaign and has pledged millions more for the general election.
"What he's doing is talking straightforwardly and bravely on the issues and not ducking," Steyer said of Gillum.
"We have an opportunity to do something we haven't done in 20 years," Gillum added.
"We have an opportunity to flip this state blue. And, by the way, when we flip this state blue in 2018, we're going to flip this country blue in 2020. And it's going to start right here in the state of Florida."
Gillum also referenced recent polls showing him in the lead. But he argued those numbers don't mean much.
"The only poll that matters is the one on Election Day, which means we've gotta get out there, we've gotta organize, we've gotta vote. And we've gotta vote like our lives depend on it."
But despite his modesty regarding his apparent lead in the race, Gillum sounded confident he'll be able to finish on top.
"We've got the firepower and the energy and the momentum to get this thing done," Gillum asserted.
"We're going to win this race by being willing to go everywhere and talk to everybody. But y'all, we cannot take this thing to granted."
He also called out his GOP counterparts for deciding to bar the press from their Saturday night event, the 2018 Victory Dinner, where several statewide candidates were slated to appear.
"They decided to close the doors to the press," Gillum said of the Republicans.
"They kicked them out, didn't want them to know what was being said, what was being done, what plans were being plotted. But more importantly, they don't have a vision for the future of the state of Florida, and didn't want these cameras to capture the fact that they have no vision, no north star."
As his voice escalated, the Democratic candidate closed out his speech with a call to arms to those in attendance, along with a promise to his supporters.
"My name is Andrew Gillum. I'm the Mayor of Tallahassee, Florida. And the next time I greet you, I will greet you as the next Governor of the great state of Florida. God bless you. Let's bring this thing home everybody."
Those comments were met with a standing ovation from the Democratic crowd, followed by chants of "bring it home."