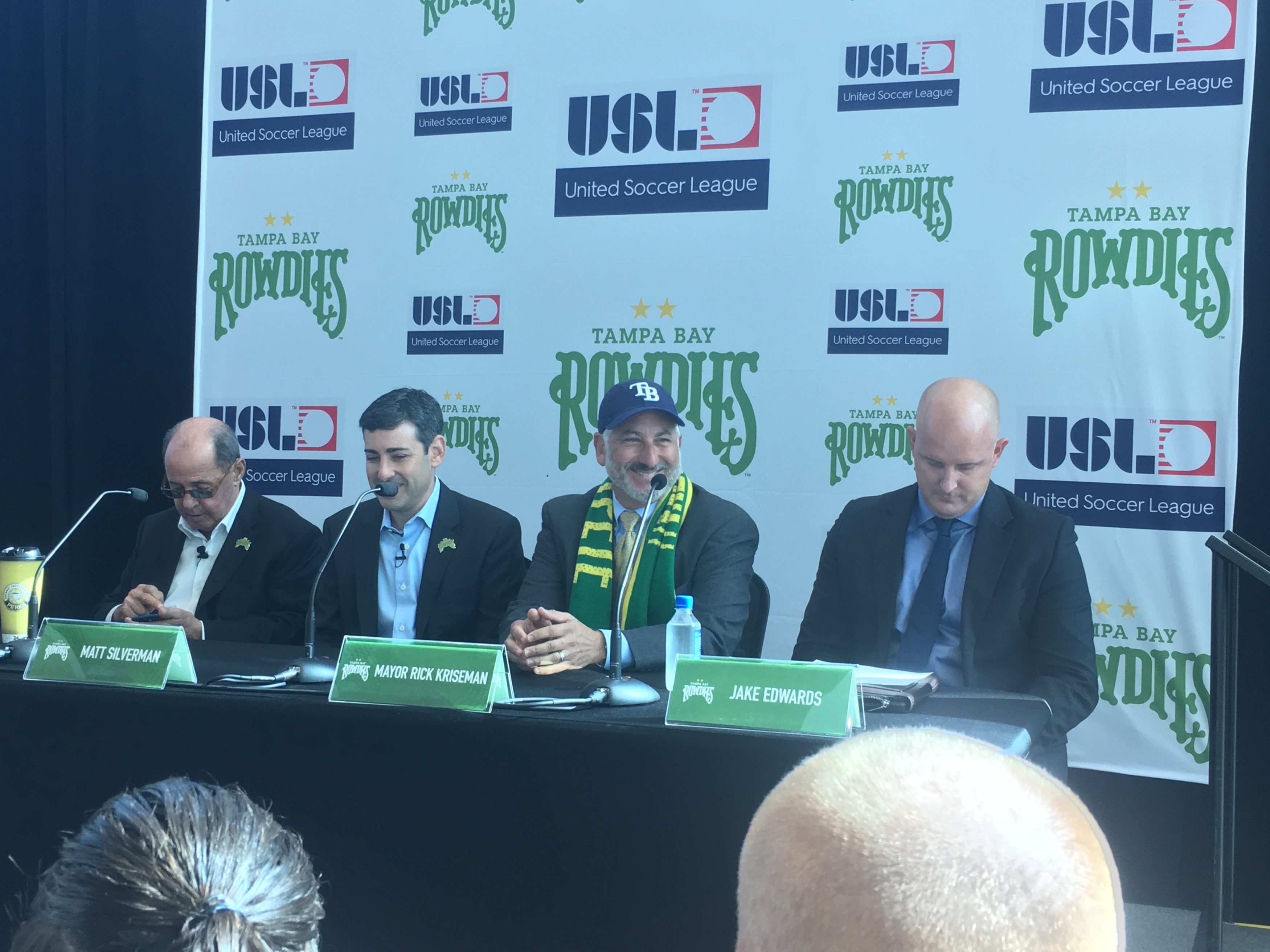 The Tampa Bay Rowdies will continue playing soccer in the United Soccer League for at least five more seasons, the team announced Tuesday. Owner Bill Edwards is selling the team to the Tampa Bay Rays and made the five year guarantee a stipulation of that sale.
Edwards did not disclose his selling price or additional terms of the sale. The two teams will finalize the sale at the end of this year's soccer season, which ends October 14. Tampa Bay Rowdies Vice President and Chief Operating Officer Lee Cohen will remain with the club.
During a press conference at Mahaffey Theater discussing sale, Rays President Matt Silverman said the team's purchase had nothing to do with its quest to build a new baseball stadium in Ybor City that could cost as much as $900 million.
"There is no connection," Silverman said. "The Rays are committed to our ballpark plan in Ybor. They're going to be committed to the Rowdies playing at Al Lang. The Rowdies and Rays are two proud organizations, each with unique cultures that we will nourish."
Silverman said there would likely be some efficiencies put into place and the teams will likely cross promote, but that each team will be managed separately.
After news of the sale broke Monday, speculation immediately started about what the move meant for both teams. Some wondered if the Rays purchase signaled trouble ahead for the Rays and their Ybor stadium dreams. The Rays had tried to build a stadium at the Al Lang site a decade ago, but that plan was shot down by voters who rejected public funding to build the new stadium.
The city of St. Petersburg owns Al Lang Stadium where the Rowdies play their matches. The Rowdies have a 25 year lease with the city to operate Al Lang Stadium voters approved with 87 percent of the vote last May. That contract will transfer to the Rays when the sale is final.
Big 3 Entertainment, which Edwards owns, will continue operating non-soccer events at the stadium. Edwards said he expects to host between 10-12 events each year.
"For me today is a glorious day because the franchise and the future of this franchise is secure," St. Pete Mayor Rick Kriseman said."The commitment to the community is secure and the investment in the community is secure."
Rowdies games attract about 5,500 fans per game to downtown St. Pete. The team directly and indirectly serves nearly 13,000 kids age 3-19 through local youth clubs and athletic associations.
Major League Soccer uses the stadium for Spring Training.
The Rowdies had been planning an $80 million renovation to Al Lang Stadium as part of the teams quest to earn a Major League Soccer expansion team. Edwards said he didn't know if the Rays would continue that process. Silverman declined to answer questions after the press conference.
A Rays spokesperson said Silverman might be available to answer questions later Tuesday.