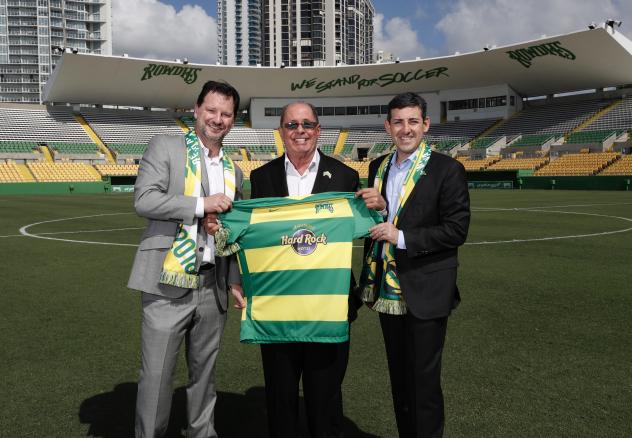 Imagine moving to St. Petersburg in 2018.
You'd be forgiven to think that this — the incredible mix of living, working, and playing — has always been this way.
That there are always cranes in the sky marking the future arrival of some luxurious development. That there seems to be a craft brewery on every corner. That so many restaurants are opening an owners' most pressing problem is finding enough cooks and waiters to staff them.
But as anyone who has lived in the town once known as St. Petersburg but now casually referred to as the 'burg, it has most decidedly not always been this way.
Beach Drive was a misnomer more appropriately designated "Crappy Motel Drive." Proper citizens did not stroll along Central Avenue unless they did not mind being propositioned by a lady of the night. The Vinoy, a crown jewel of downtown St. Petersburg, sat shuddered while the homeless employed the space currently occupied by Marchand's as a makeshift indoor volleyball court.
While there is some debate about when the first renaissance of St. Pete began — was it when the Vinoy reopened or when the city decided to build a baseball stadium? — there's no doubt that the city has gone through not one, not two, but at least three booming periods of development. The only factors slowing down growth were the Great Recession of 2008 and the not-so-great tenure of former Mayor Bill Foster of about the same period.
If there is one consistency throughout this entire quarter-century run, it has been Tampa's envy of St. Petersburg. That place on the other side of the bridge, once designated America's next great city, has spent the last three decades sending delegations to St. Pete to "learn" what made St. Pete so great while Tampa continued to struggle.
None other than Patrick Manteiga, one of Tampa's most prominent boosters, wrote in a column published at about the same time of his daughter's wedding about how he saw 10,000 people walking around downtown St. Pete for no other reason than what was usually there — museums, the Saturday Morning Market, and dog-friendly restaurants.
To draw visitors, St. Pete did not need a sports team or a special event.
In other words, St. Pete did not build it, and they still came.
Tampa's fortunes began to turn under the back-to-back mayorships of Pam Iorio and Bob Buckhorn. The former filled a lot of potholes, fixed a lot of sewers and other such mundane things (that City Hall is supposed to do), laying the groundwork for the swagger Buckhorn has brought to the city.
Yet despite all of the best efforts of Buckhorn and other Tampanians … despite all the ground ceded by neo-regionalists, including the newspaper that changed its name in an attempt to sell more Sports Authority ads in Hernando County … despite the losing campaign of Rick Baker, St. Pete's most ardent defender … despite all of this and more, St. Pete was still the Athens to Tampa's Sparta.
Until this year.
2018 will go down in regional history as the year the Tampa-St. Pete rivalry finally ended and not in a way anyone could have foretold when Dick Greco and David Fischer were mayors of their respective cities.
The truth is Tampa could not beat St. Pete. So it bought it. Or acquired it. However you want to say it.
Consider the most recent developments:
— The USF St. Pete campus reintegrated into the mother campus in Tampa.
— The Vinoy Renaissance Resort & Golf Club purchased by Tampa Bay Buccaneers owner Bryan Glazer.
— The Tampa Bay Rowdies sold by last-man-standing-up-for-St. Pete Bill Edwards to the owners of the Tampa Bay Rays, who salivate about moving to Ybor City the way a graduated high school senior can't wait to move to a college dorm.
These are the big, headline-grabbing stories. Undoubtedly, there are countless smaller stories in which Tampa money bought St. Pete resources.
All that's left of an independent St. Pete is Jeff Vinik purchasing Sundial and Richard Gonzmart opening a restaurant in the Grand Central District.
Face it, St. Pete, this was the year Tampa came over to St. Pete's house and grabbed its remote control.
We've been owned.
Believe it or not, I, for one, welcome our Tampa overlords.
If you travel enough to visit other mid-major American metropolises, you quickly realize how far the Tampa Bay region is in categories that don't include "days of sunshine" in their criteria.
We need the Viniks, Glazers and Gonzmarts to do more business and to invest in St. Petersburg.
Them doing so is probably the best way to make sure St. Pete's renaissance continues.