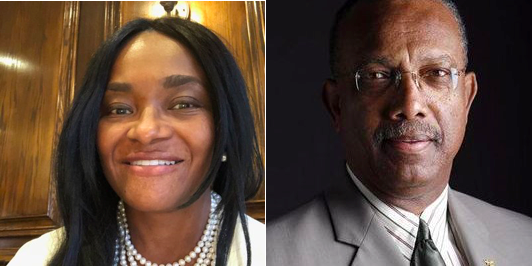 Democratic state Senate candidate Kathy Lewis says it stunned her to see Hillsborough County Commissioner Les Miller on a host committee for her opponent, incumbent Tom Lee.
"It's one thing to not be for me," Lewis said, "but he's actively working against another person in his own party."
For his part, Miller says his relationship with Lee goes back years to before either served in the Legislature. Meanwhile, Lewis remains a stranger to him.
"The first time I heard her name was a couple weeks ago when I put down my name to say I would support Tom Lee," Miller said. "Someone asked why I would do that when there is an African-American woman running? I said, there is?"
Miller said Lewis should have spoken to him months ago, before she filed to run, if she expected an endorsement. He likely still would have supported Lee, he said, but he would have learned what she stood for.
"I would have talked to her and found out what she was doing," he said. "I would try to get her to understand you pick the particular races you want to run in. "
But Lewis said she did call Miller's office some time in March, while she still sought out endorsements during the Democratic primary. She beat Joy Gibson in August. Lewis only got through to Miller's assistant, she said, and never got a call back.
Miller, a county commissioner since 2010, said his loyalty to Lee cemented when both were lawmakers. He was in the Senate 2000-06 after being in the House 1992-2000. He actually rose to Democratic Leader in both the House and Senate.
Lee, now a Thonotosassa Republican, was first in the Senate 1996-2006, finishing as President in 2004-06. He returned to the chamber in 2012.
During Miller's time in the Senate, he said Lee was instrumental in helping negotiate the funding process and getting local projects funded. The men's relationship continued as Miller rose to Senate Democratic Leader and Lee to Senate President.
But placing that loyalty over the chance to turn a race competitive in a 'blue wave'-year sounds misguided to Lewis. "It makes me see how the Democratic Party has so many problems," she said.
The group 90 for 90, which helps minority candidates win office and supports Lewis, said Miller should back Lewis, or at least stay out of the race.
"Maybe its local power politics, but at some point you are with the party or you're not," said Ferguson Reid Jr., who runs the national group.
And Reid remains equally distressed that The Democratic Black Caucus of Florida won't back Lewis, the only black candidate challenging a Senate incumbent Republican this year. He wonders if Miller played some part in that.
Miller, though, thinks the problem remains that Lewis never introduced herself to the powers that be.
"To say the Black Democratic Caucus isn't supporting her because I support Tom Lee, that's not true," he said. "They don't know who she is."