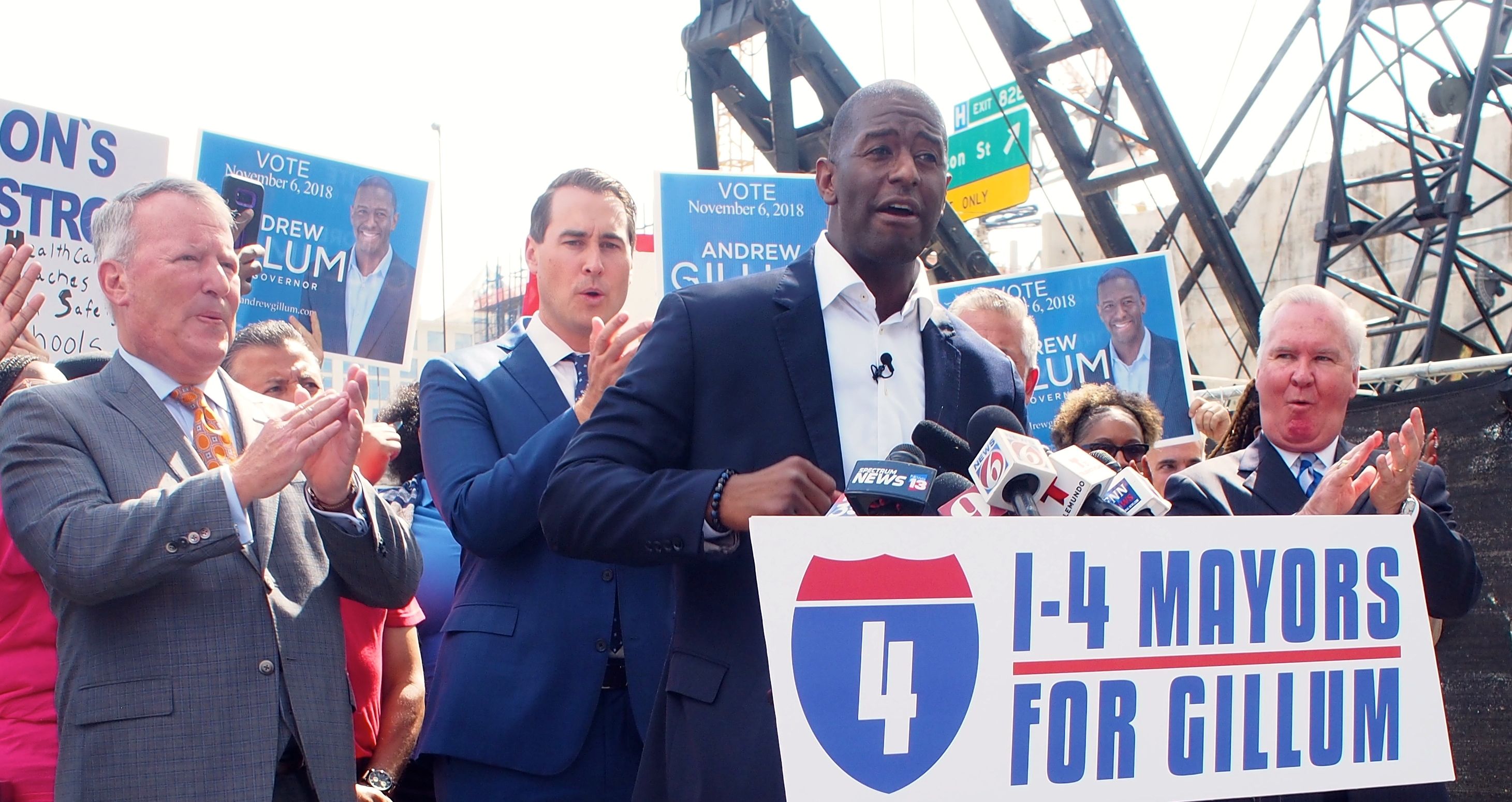 The three mayors of major Interstate 4 cities came together in Orlando Thursday to endorse Tallahassee Mayor Andrew Gillum's bid for Governor because they're all Democrats, they're all mayors, and they all want to see more investment in mass transit.
As Orlando Mayor Buddy Dyer, Tampa Mayor Bob Buckhorn and St. Petersburg Mayor Rick Kriseman gathered with Gillum and his running mate Chris King beneath the seemingly never-ending I-4 construction in downtown Orlando, Gillum pledged he, too, wants what those three mayors have pushed for, to see trains running between their cities.
It's an issue that unites Dyer, Buckhorn and Kriseman: a train that does not unite their cities.  Gov. Rick Scott canceled the planned Orlando-to-Tampa Bay high-speed rail system in his first year in office when he turned down $2 billion in federal stimulus funding.
Gillum got on board.
"They know as well as I do that when Barack Obama tried to send us more than $2 billion for high-speed rail, what did our current governor say? He said no. Can you imagine the number of people who could have gone to work, the jobs that could have been created across the I-4 corridor?" Gillum said. "We, instead of building more lane miles, could have moved thousands of people a day across the I-4 corridor to go to work, to play, to see friends, and to grow the economy of the central part of Florida.
"It's my belief we deserve a governor who is going to act in the interest of all the people in the state of Florida, and it would have been in the best interest of the people of our state to build high-speed rail in this corridor," Gillum said.
The press conference led the mayors to discuss the reasons they believe mayors would make good governors, notably that they work close to the citizens, that, as Kriseman suggested, they have no place to hide, and that they are, virtually by job description, problem solvers, and that they are more likely to collaborate and fight for local control. They also shared the basic Democratic tenants on such things as gun law reform, LGBTQ equality measures, Medicaid expansion, and dramatically increased spending in public education, as well as their own records of business development.
As election politics has increasingly divided Americans among several lines, not the least of which being between city people and those of small towns and rural areas, Buckhorn stated the case for cities like Tampa, St. Petersburg, and Orlando leading the state's future, with progressive residents and progressive visions.
"It's the cities of Florida that have pulled this state out of the recession," Buckhorn said. "It's the cities where the jobs are being created, where entrepreneurs are going, where high-tech is growing and being funded, where young people are flocking. It is the cities of Florida that are making a difference in this state. And what matters to us is we have a partner in the Governor's office."
They also took a couple of quick shots at Republican gubernatorial candidate Ron DeSantis, who Kriseman accused of showing no interest in mass transit.
"The big city mayors all agree that the more connected we all are, the stronger we all are," Kriseman said. "Now Ron DeSantis has a different view. He said he is skeptical of state investment in mass transit, and that we need to work on expanding our roadways. That's not exactly visionary, and that's not what Florida needs.
The press conference outside of Orlando's Amway Center was occasionally disrupted by Republican protesters shouting anti-Gillum chants and once by Orlando-area conservative activist Jacob Engels shouting at Gillum about one of his former staffer's offensive remarks. Kriseman, Buckhorn, Dyer, and Gillum took turns both welcoming the protesters and suggesting they were part of a problem of divisive politics that Democrats seek to overcome.
"The other side is mastering in politics of division, of hatred, of derisiveness, and what we are majoring in is politics of the future, politics of the people, politics that put the regular working-day people ahead of everybody else," Gillum said. "Not the high-paid interests, not the special interests, not even paid protesters."