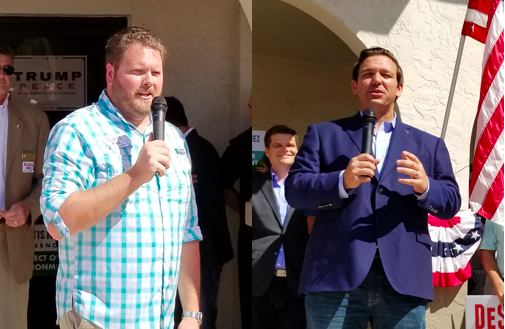 Lee County Republican Executive Committee Chairman Jonathan Martin says Democratic judges rule based on "what you look like."
The controversial remarks came before a meet-and-greet with gubernatorial candidate Ron DeSantis in Cape Coral. After decrying the controversial Brett Kavanaugh confirmation process, Martin said if Democrats appoint judges, "your lives will be affected."
"What's in the statute book no longer matters," said Martin. "That doesn't matter. What you look like matters. We know how the Democrats play the game. If you look like one of us, you don't get the benefit of the doubt."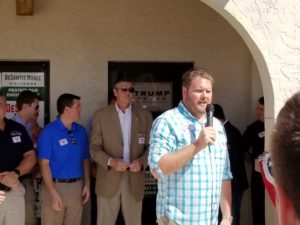 The comments were made to a crowd gathered at the party's Victory Office in Cape Coral to meet DeSantis and running mate Jeannette Nuñez.
Florida Democratic Party chair Terrie Rizzo called it the latest example of DeSantis associating himself with purveyors of toxic, divisive and racially charged rhetoric.
"Ron DeSantis' campaign has once again used racist dog whistles to try and divide the people of this state," Rizzo said. "This is disgusting rhetoric that should not be tolerated by anyone. Over the past few weeks, DeSantis has made clear that he will never stand up for women and that he is committed to fanning the most ugly and toxic forces in our politics in order to win. As a Floridian, I am ashamed by the campaign he is running and believe it is hurting the people of our state."
The words came the same day the U.S. Senate narrowly confirmed Kavanaugh to a seat on the U.S. Supreme Court after two weeks of contentious hearings centered around accusations he sexually assaulted Christine Blasey Ford while both were in high school.
Martin told Florida Politics after the event it was in that context he made his remarks.
"It's becoming more evident, and through the Kavanaugh process strikingly evident, that if you're a certain gender or you make a certain amount of money, you're not going to get the benefit of the doubt from liberals in this country or from the judges liberals are appointing in this country," Martin said.
"That's what a lot of people are seeing. That's what their frustration with the whole Kavanaugh process was. It wasn't whether or not he had the temperament or whether he was going to be a good judge or whether or not he was educated enough or what his experience was.
"It was that he was a man, and someone who is not a man was accusing him of doing something. Automatically, you couldn't take him at his word and his qualifications no longer mattered."
Several speakers at the event raised the Kavanaugh hearings, including DeSantis.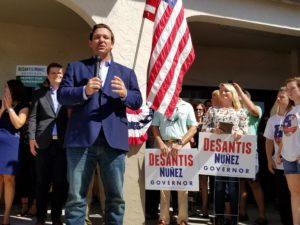 "What they did in the Kavanaugh hearings was a disgrace and a sham," DeSantis said. "Him being confirmed today will show that their smear campaign and their campaign of character assassination does not work in this country."
Martin in his speech also noted three justices on the Florida Supreme Court will soon retire.
"If we don't have a Republican Governor in place, the judges that the Democrats put in, they don't play by the same rules that we play by."
DeSantis declined to address Martin's remark and referred questions to the chairman.
"Ron has been very clear that he intends to appoint judges that will uphold the constitution and apply the law fairly to everyone and as he often says, 'Justice should be Blind,'" said DeSantis spokesman David Vasquez.
Read Martin's quote in complete context below:
"We have judges that are retiring in Florida in a couple months, and if we don't have a Republican Governor in place, the judges that the Democrats put in, they don't play by same rules that we play by. They don't play by the rules in the constitution. They play by their own rules. The ends justify the means. If we have a Democrat appointing judges, not just on the Supreme Court but in our local district courts of appeal, in our circuit courts, in our county courts, your lives will be affected.
"What's in the statute book no longer matters. That doesn't matter. What you look like matters. We know how the Democrats play the game. If you look like one of us, you don't get the benefit of the doubt.
"If you are a Republican, if you worked too hard and just make more money than they think you should have, you don't get to play by same rules in our constitution."