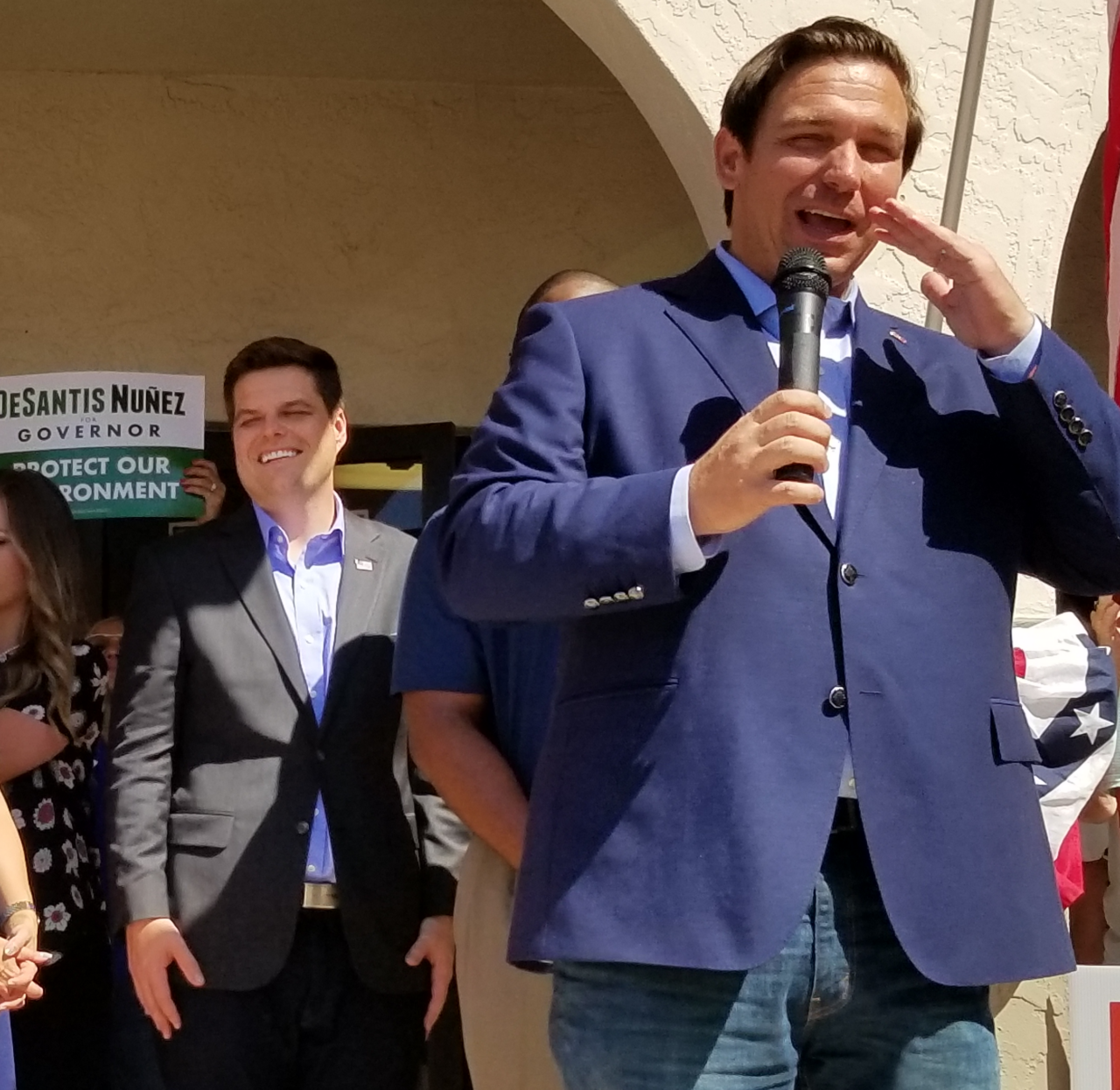 U.S. Rep. Matt Gaetz criticized Democratic gubernatorial candidate Andrew Gillum for overseeing a rise in crime as mayor of Tallahassee.
"I don't know whether to call him Andrew Gillum or 'Andrew Kill-'em,' " Gaetz said.
Gaetz suggested the nickname during a campaign swing through Southwest Florida with Republican gubernatorial candidate Ron DeSantis on Saturday.
Democrats almost immediately decried the attacks as racially charged.
"Congressmen Gaetz should be ashamed of himself," said Sean Shaw, Democratic Attorney General candidate. "Language of that type has no place in our state. This is more of the same inappropriate language that has become all too common from Donald Trump and Ron DeSantis."

Florida Democratic Party Chair Terrie Rizzo similarly criticized the attack.
"Ron DeSantis' closest political ally, Matt Gaetz, today made a racist and despicable attack on Mayor Andrew Gillum," Rizzo said. "Ron DeSantis seems intent on exploiting the ugliest and most toxic forces in our society in order to win this election. If DeSantis' campaign doesn't stop speaking so irresponsibly, they could destroy the very fabric of our state and cause irreparable harm. Floridians' safety is literally at risk. Ron DeSantis must immediately condemn this racist attack on Andrew Gillum and stop weaponizing race."
Gaetz and other DeSantis surrogates lambasted Gillum's tenure as mayor of Florida's capital city at a campaign event in Cape Coral on Saturday. It showed DeSantis plans to focus more attention on Tallahassee's crime as Election Day nears.
The FDLE in May announced crime rates in Leon County had dropped but remained the highest in Florida for the fourth year in a row, according to the Tallahassee Democrat. The bulk of crime in the county happens within Tallahassee.
DeSantis noted the issue himself, capping off a stump speech at the Victory Office before a candidate meet-and-greet.

"Andrew Gillum cannot keep communities safe. It's part of his ideology," DeSantis said. The Republican noted Gillum's calls to abolish ICE, and he said Gillum wanted to make Florida a "sanctuary state." Notably, when Agriculture Commissioner Adam Putnam leveled a similar accusation, Politifact rated the state as "half-true."
Jeannette Nunez, DeSantis' running mate, said as her child considers what college to attend, the crime rate impacts where she wants her son going to school.
"The safety and security of a city like Tallahassee weigh in on that decision," she said. "Why would I want to send my child to the murder capital of Florida?"
Gaetz said weak immigration policy from Gillum would worsen things for all of Florida.
"Andrew Gillum thinks we should abolish ICE and have open borders and have MS-13 on our streets," Gaetz said.
Candidates als0 dinged Gillum's own brush with the FBI, an ongoing investigation of corruption in the city. Gillum maintains he is not the subject of the investigation, but DeSantis has noted donors to Gillum have been subpoenaed.
DeSantis called himself the only candidate "who could credibly say he was not under investigation by the FBI."
And Gaetz tossed another nickname the Democrat's way.
"Maybe we ought to call him Andrew 'Guilty,'" Gaetz said.
Democrats, though, said the divisive attacks showed desperation.
"This latest comment proves that Ron DeSantis doesn't have a plan to move Florida forward," said Dianne Hart, a Democratic state representative candidate in District 61. "Floridians are tired of DeSantis' divisive politics and that's why they're rallying around Andrew Gillum for Governor — a candidate with a record of putting Florida families first. I look forward to his victory on November 6."
And state House Democratic Leader Janet Cruz said Gaetz's comments completely crossed the line.
"The remarks made today by Representative Matt Gaetz are an abomination and have no place in our politics," Cruz said. "Ron DeSantis should immediately condemn this attack on Andrew Gillum and stop the slash-and-burn tactics that have defined his campaign.
"For the past month, Ron DeSantis and his allies have appeared intent to do whatever they could to divide the people of our state. Our next Governor should be someone who brings Floridians together and runs on a positive vision to lift all of us up. It's time for DeSantis and his allies to end the name-calling and divisiveness and start treating Florida voters with respect."