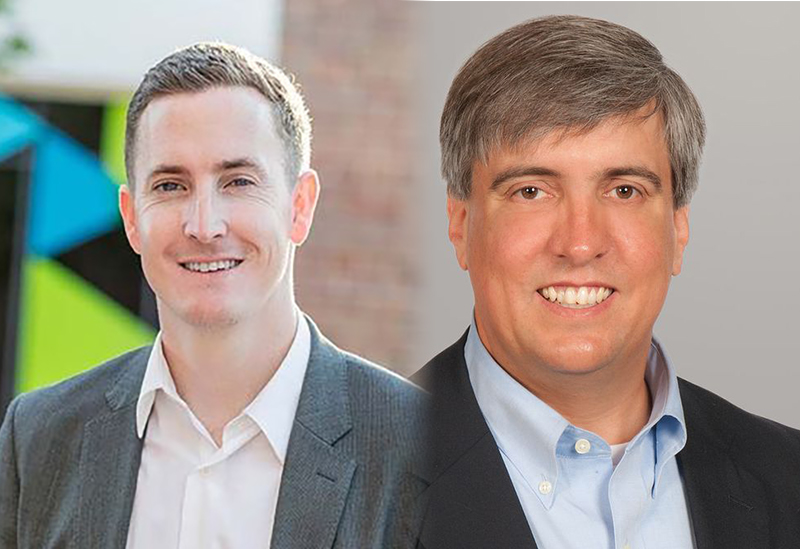 For a city of more than 50,000 people, Pensacola politics feel more like those of a small town.
As a mayoral runoff plays out, rumors of illicit promises have made headlines, putting two candidates on the defensive — just as the region braces for a devastating Hurricane Michael.
Political leaders today widely believe early front-runner Grover Robinson made an illegal job offer to minor candidate Drew Buchanan in exchange for his endorsement.
While both men deny this, Buchanan alleges another candidate, Brian Spencer asked him directly to drop out of the race, something virtually no one believes.
Without hard evidence of anything, candidates have little reason to admit such shenanigans considering any endorsement made in exchange for personal enrichment would violate state law.
Nevertheless, the accusations are shaking up the conversation in a community that has already suffered through its share of corruption scandals.
An open election for Pensacola Mayor this year drew out a range of candidates. Six ran in the August election where Robinson, an Escambia County Commissioner, took just over 34 percent of the vote. Spencer, an architect and business leader, earned about 21 percent, allowing those candidates to advance to a Nov. 6 runoff
Buchanan came in fourth, with just under 13 percent of the vote, not too surprising for a first-time candidate running on an outsider message. Buchanan, an openly gay liberal 27-year-old in a Republican town who promised not to take PAC money, posted a message on his website after boasting that even those results bode well for the future.
"We brought thousands of regular working Pensacolians together and set an example of what politics could be — what our future will be," he wrote.
A few weeks later, he surprised the political world again and endorsed Robinson.
Throughout the campaign, he attacked the good ol' boys' neighborhood, establishment politicians and officials who listened to the business community over neighborhoods.
"I was one of a couple of political outsiders running," Buchanan says. "And the insiders won, mostly due to money."
But he says Robinson approached him after the campaign about an endorsement. Ultimately, he issued one on Sept. 20 saying his former opponent was "prepared to collaborate, unify, and expand opportunity for all Pensacolians at this critical time."
Robinson confirms he did approach Buchanan, and the other three eliminated candidates, about an endorsement.
"Of course I tried to get their support, and their supporters' support," Robinson states.
But rumors soon began swirling: Why would a political outsider who chided the system suddenly back the long-time elected official running for office?
Multiple sources tell Florida Politics that Buchanan admitted to people after the endorsement he'd been promised a job in the administration in an outreach capacity. The rumors spread around town rapidly.
This weekend, The Pensacola News-Journal columnist Andy Marlette reported being besieged by anonymous tips.
"There was one question from several readers that I had to check up on. 'Is it true that Grover Robinson promised Drew Buchanan a job in exchange for the endorsement?'" he wrote.
"Surely not. Surely, no candidate would do something like that. Especially not the candidate who was specifically campaigning as a contrast to the [outgoing Mayor Ashton] Hayward administration. Surely, that candidate wouldn't promise taxpayer-funded public employment in exchange for political support from a former Hayward loyalist."
Buchanan and Robinson both say no promise of a job was ever made.
"Whatever happens happens when we move forward," he tells Florida Politics.
Buchanan insists he's focused on winning the election right now, not on staffing. The only hire he's given any thought over is a potential city administrator; the only person he's talked to about that job lives outside the city, he says, and hasn't made an endorsement in the race.
Buchanan also points out that no discussion took place about a job, and that he wasn't offered anything in exchange for his endorsement.
He does say Spencer seemed surprised to hear the news, but should not have been. Further, Buchanan says Spencer asked him to drop out of the race entirely before the first vote.
Buchanan pointed to a blog post by Derek Cosson on The Pensacolian alleging as much, including a text message asking "What positions are a going to be perfect fits for you and Drew?"
Spencer did not return calls on this story.
But few in Pensacola put much weight to that story, noting Buchanan lacks credibility for a number of reasons.
First, when Buchanan entered the city election, he claimed to be a nephew of Reubin Askew, the former Escambia County politician who served as Florida Governor from 1971 to 1979. In Pensacola, the Askew name alone helps generate contributions.
But it turned out Buchanan was really a great-nephew; he says the ex-governor was his grandmother's brother.
Buchanan also professed a long connection to Pensacola but actually grew up in Fort Walton Beach, never living in Pensacola until 2014. He'd once registered to vote with the American Independent Party (the party of George Wallace). And the self-described progressive made an enemy of Occupy Pensacola in 2014.
What's more, Buchanan never owned a home in Pensacola. A search shows he owns no property in Escambia County. (After this article published, he posted a 2012 deed on a lot within the city)
Of course, all this leaves many people — even those who are taking for granted that Robinson did make a job offer to Buchanan — questioning why he would even covet an endorsement in the first place.
As rumors grew, Robinson asserts he has called up Buchanan just to make abundantly clear that he never meant to even imply a place in the administration awaited the candidate in exchange for an endorsement.
"We never talked about that or what may happen in the city moving forward," Robinson says.
Buchanan concurs; he ultimately backed Grover because he was the more progressive of two conservative options, and was more likely to work with neighborhoods once in office.
"I honestly wasn't a big fan of both of the candidates," Buchanan says. "But Grover Robinson is the one who reached out to me proactively. I didn't get a call or a message from the other candidate or his campaign.