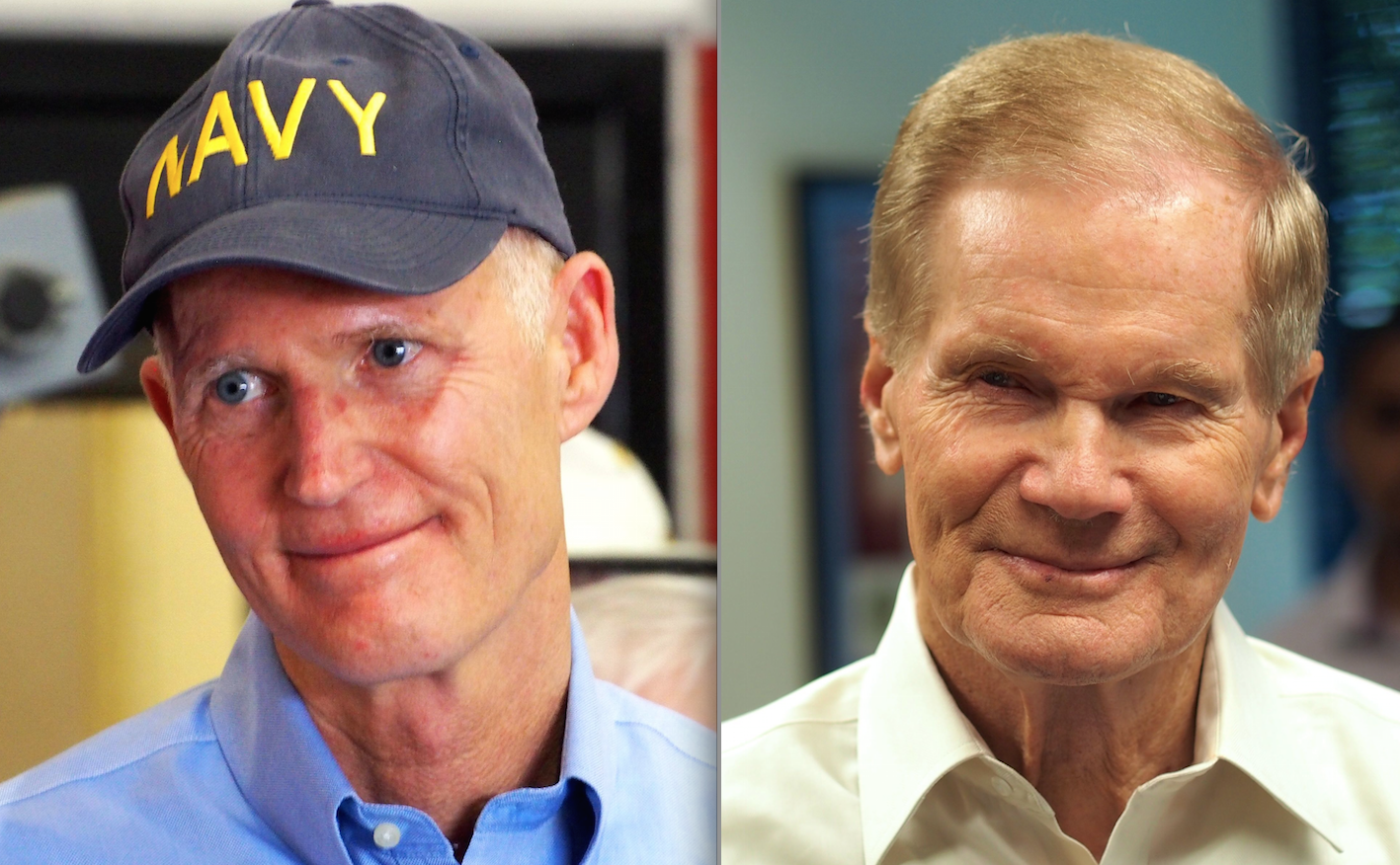 Republican Gov. Rick Scott is pulling out of the U.S. Senate debate with Democratic U.S. Sen. Bill Nelson set for next Tuesday, with Scott's campaign saying he is needed to focus on response to Hurricane Michael and is asking the host network CNN to reschedule it for two weeks later.
"Due to the catastrophic destruction caused by Hurricane Michael, Gov. Scott will be solely focused on response and recovery efforts. Ensuring Florida's Panhandle and Big Bend communities can rebuild and return to their homes and jobs is top priority. We are sure Sen. Nelson agrees. So, today, the Scott for Florida campaign has asked CNN to postpone the debate between Gov. Scott and Sen. Nelson for two weeks," Scott's Campaign Manager Jackie Schutz Zeckman stated in a press advisory.
Nelson's campaign appears to be preparing to follow suit, though it was waiting Thursday afternoon to hear back from CNN.
"We appreciate CNN understanding the dire situation in North Florida," she continued. "Floridians deserve the chance to see candidates debate so they can judge their leadership skills, experience, and differences. Gov. Scott looks forward to debating, but will have no time for campaigning in the next few weeks as he focuses exclusively on recovery efforts for the foreseeable future.
CNN had arranged for a 10 p.m. debate next Tuesday between Scott and Nelson, to be hosted by Wolf Blitzer at the WEDU PBS studio in Tampa.
Scott and Nelson debated earlier this month at the studios of Telemundo 51 in Miramar. In that debate, their first face-to-face of the campaign, the two men traded barbs on immigration, misleading campaign ads, gun control legislation, health care, minimum wage hikes as well as the red tide and algal blooms currently wreaking havoc on Florida's coasts and waterways.
Nelson on many occasions sought to tie Scott to President Donald Trump, including on the administration's family separation policy and Trump's statement questioning the death toll in Puerto Rico following Hurricane Maria last year. In each instance, Scott noted that he had distanced himself from the President. In June, Scott said he does not support families being separated, and in September he said he disagreed with Trump and defended Puerto Rico's estimates, citing his seven visits to the U.S. territory in the aftermath of the storm.
Nelson one of 10 Democratic U.S. Senators running for re-election in a state that voted for Trump two years ago, and his battle against Scott has been lopsided, spending wise, since the term-limited Governor entered the race in April. Scott's media blitz and high name ID translated into polling leads in the early phase of the race, but recent polls have seen Nelson bounce back.
A recent St. Pete Polls survey, commissioned by Florida Politics, found Nelson, Florida's only statewide elected Democrat, and Scott essentially tied with 47 percent support apiece. Polls published by the University of North Florida and Public Policy Polling have also indicated Nelson has closed the gap since the general election began in earnest.
An aggregation of public polls produced by RealClearPolitics asserts that Nelson is up 2.4 percentage points in his re-election battle. However, Scott's handling of Hurricane Irma gave him a boost in the polls, and depending on voters' perception of his performance ahead of and after Hurricane Michael, he could be in for a rally.