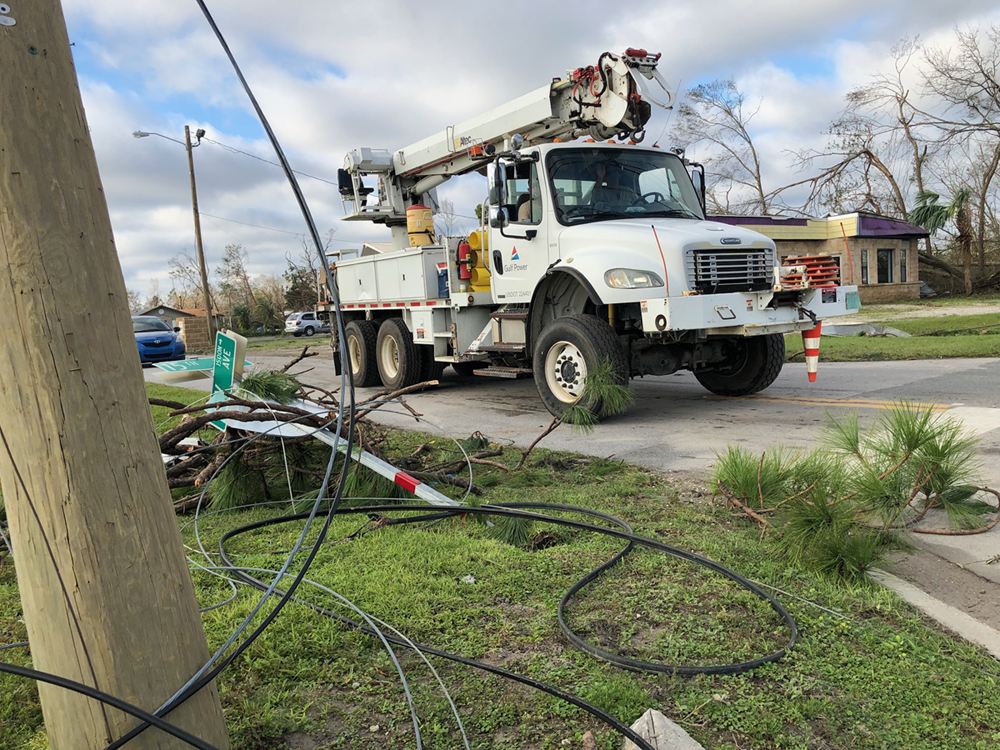 Utility company Gulf Power said Thursday that it's already restored power to 25,000 customers affected by Hurricane Michael, but nearly a quarter of its 457,000 customers are still waiting for their lights to come back on.
Gulf Power said between its own workers and personnel flying in from across the country, it has 3,000 boots on the ground working to chip away at the power outages, but the company cautioned customers that it might be a little bit before their bigger bucket trucks can get in place.
"Our process following the storm begins with our evaluation teams arriving in smaller trucks that can more easily navigate through debris and damage," said Gulf Power spox Jeff Rogers. "Those teams are working to determine the damage to our grid in Panama City, but roads must be cleared and made safe before crews can get their larger bucket trucks in to begin the restoration and rebuilding process."
The utility said it won't be twiddling its thumbs while it waits for the roads to be cleared — it has dispatched planes and drones to assess the damage in inaccessible areas so once the clean-up effort has progressed it will have a more informed game-plan for utility workers.
Gulf Power created a video detailing the power restoration process and added that it will have line crews inspecting the infrastructure while other crews will be inspecting and repairing damage to substations, which step down the voltage of the electricity from the power plants to a level that powers homes and businesses.
As the utility warned ahead of the storm, the rebuild and restoration process may take weeks in the hardest hit areas.
"Gulf Power is committed to restoring power to customers in every community we serve across Northwest Florida," said Rogers. "We're in this together, and this is why our crews do what they do — restoring power and hope for our customers."
The company also reiterated the safety tips it put out before the storm, and said customers can monitor progress in their areas through the company's Facebook, Twitter and Instagram accounts as well as its outage map.
As of noon central time, 101,276 of the 113,563 customers without power where in Bay County. There are 6,252 customers without power in Washington County; 2,572 in Holmes County; 2,087 in Walton County; 1,344 in Jackson County; and 16 apiece in Escambia and Okaloosa county. There are no outages in Santa Rosa County.