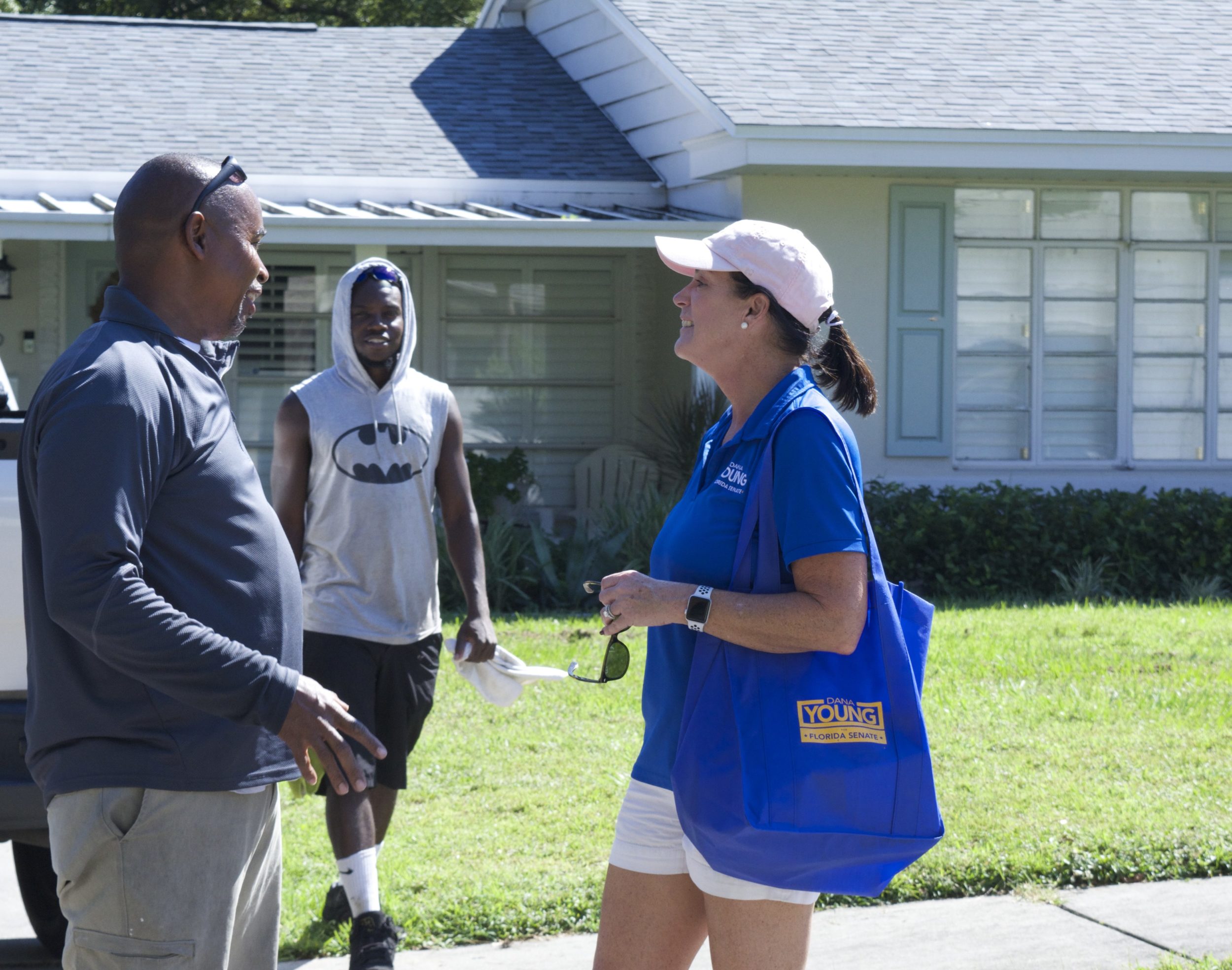 A steep staircase leads to Dana Young's quaint Hyde Park campaign office. The space isn't striking, but it doesn't need to be.
She points out that call station cubicles had been installed by the previous tenant, an added bonus for the temporary investment.
Young, a Republican state Senator seeking re-election in 2018, says she wasn't expecting a challenge from Janet Cruz, her Democratic opponent who's helmed nearby state House districts for the past eight years.
It's a surprising but familiar political trial for Young. She says she's well-equipped to do the same thing she did two years ago, when she carried the swing seat by nearly seven points while Democratic presidential candidate Hillary Clinton finished plus-five in the same area.
How's that? By walking and talking to voters, one door at a time.
After crowding around a conference table, volunteers and campaign staffers split ways to canvass different parts of Senate District 18, which reaches from South Tampa's peninsula to the northern border of Hillsborough County.
It's Saturday morning, and the cool October weather is a reprieve for the team that's been knocking on doors since May. Young — who grew up hunting and fishing and displays a tournament-winning tarpon in her Capitol office — leads a small convoy in a doorless Jeep Wrangler to Davis Islands. 
As its name suggests, the affluent neighborhood is surrounded by Bay waters, bordered on one side by the mouth of the Hillsborough River. A sea green shine is visible through some of the large-paned homes lining the water.
Young is joined by her political director, Nick Alvarez, and fellow state Sen. Travis Hutson, the latest cameo from the Republican-controlled upper chamber. Last week, retiring state Sen. René García accompanied Young on the trail. Incoming Senate President Bill Galvano is a frequent companion. The list goes on. 
"They do it on their own time," Young says of her Senate colleagues. "We're all very close."
Alvarez, who's fluent in Spanish, is using an app called CampaignSidekick. Fueled by Census and voter registration information, the tool allows campaigns to record information on voters at different addresses. They've already canvassed the area, but now Young is circling back to remind some voters to return their mail-in, or absentee, ballots. She calls it the "A-B chase."
"It's very targeted," Alvarez says of the technology, but there's room for "soft" Democrats. "If we have information that someone is an older Hispanic Democrat that may have just registered Democrat — just because, which happens — we might target them."
Young and company are keenly aware of the district's demographics. Twenty-eight percent of the voting age is Hispanic, and registered Democrats outnumber Republicans. There's a Spanish-speaking team, and plenty of bilingual volunteers and staffers to help convey the campaign's platform, Young says.
Alvarez points out that the Spanish speakers on staff have been invited in homes to share cafecito with voters. Young admits she isn't fluent but knows enough to introduce herself.
Alvarez suggests Young should hit the houses with more cars in the driveway. Her average time spent at the door is much higher than the typical two-minute-long interaction shared by volunteers and staffers.
"People take a lot of time to research candidates," Young says. "They vote for the person more than the party, and so I've spent a lot of time getting to know my voters."
Roughly 20 percent of doors knocked results in an answer, she notes, but it adds up in the long run. The campaign has knocked on north of 110,000 doors. By the day's end another 1370 would be recorded, with Young personally clocking seven miles.
Those who do answer typically recognize Young immediately, sharing words of encouragement for her campaign. When a small group canvassing for Republicans at the top of the ticket stops to say hello, Young poses for a quick selfie. It's important to run your own race, Young says, though she's firmly backing the party's choices for statewide offices and the U.S. Senate.
Soon afterward, two men operating a car-detailing service beckon Young over. One says he's seen her commericals and thinks she's the "right woman for the job." He's from the Bahamas and lives in Ybor. Unfortunately, that's outside my district, Young tells him. Still, they swap business cards as he offers her good luck in the race. 
Almost every interaction is a warm welcome in Davis Islands in part because of the targeting technology, but there are outliers.
One man answers and immediately asks Young why she left the Senate chamber ahead of a vote on an assault weapons ban amendment during a rare Saturday session earlier this year. He's referencing deliberation over the Marjory Stoneman Douglas Public Safety Act, spawned after the Parkland school shooting in February. Young's brief absence has served as fodder for Cruz' campaign. 
Young, who holds a law degree from the University of Virginia, embraces the conflict. She explains to her adversary that she had a legitimate reason to leave the floor and was gone for longer than 45 minutes. She tells him she voted in favor of the complete bill — which resulted in significant changes to the state's gun laws — and that Cruz hadn't because the bill didn't provide enough gun control.
Young, who during college had interned for a Democratic congressman, opts to continue to talk to the man, who identified himself as a registered Democrat, for nearly 15 minutes. It wasn't until she attended one of former President Ronald Reagan's State of the Union addresses that she made the switch to Republican.
She describes the transition as "the first exercise of true political free will," especially after growing up in Leon County in a Democratic household. (She attended high school with former Democratic gubernatorial candidate Gwen Graham and was close friends then with Graham's younger sister, Cissy.)
The Democrat at the door eventually warms up to Young and they begin sharing their thoughts on the issues the day. The conversation ranges from the environment to education to local tax initiatives, while the tone shifts from hostile to friendly. The exchange ends with a promise to reconsider the candidates — even an offer of water to help fend off the impending afternoon heat.
"That's a vote that I'll probably get," reflects Young, smiling, as she makes her way to the next house.