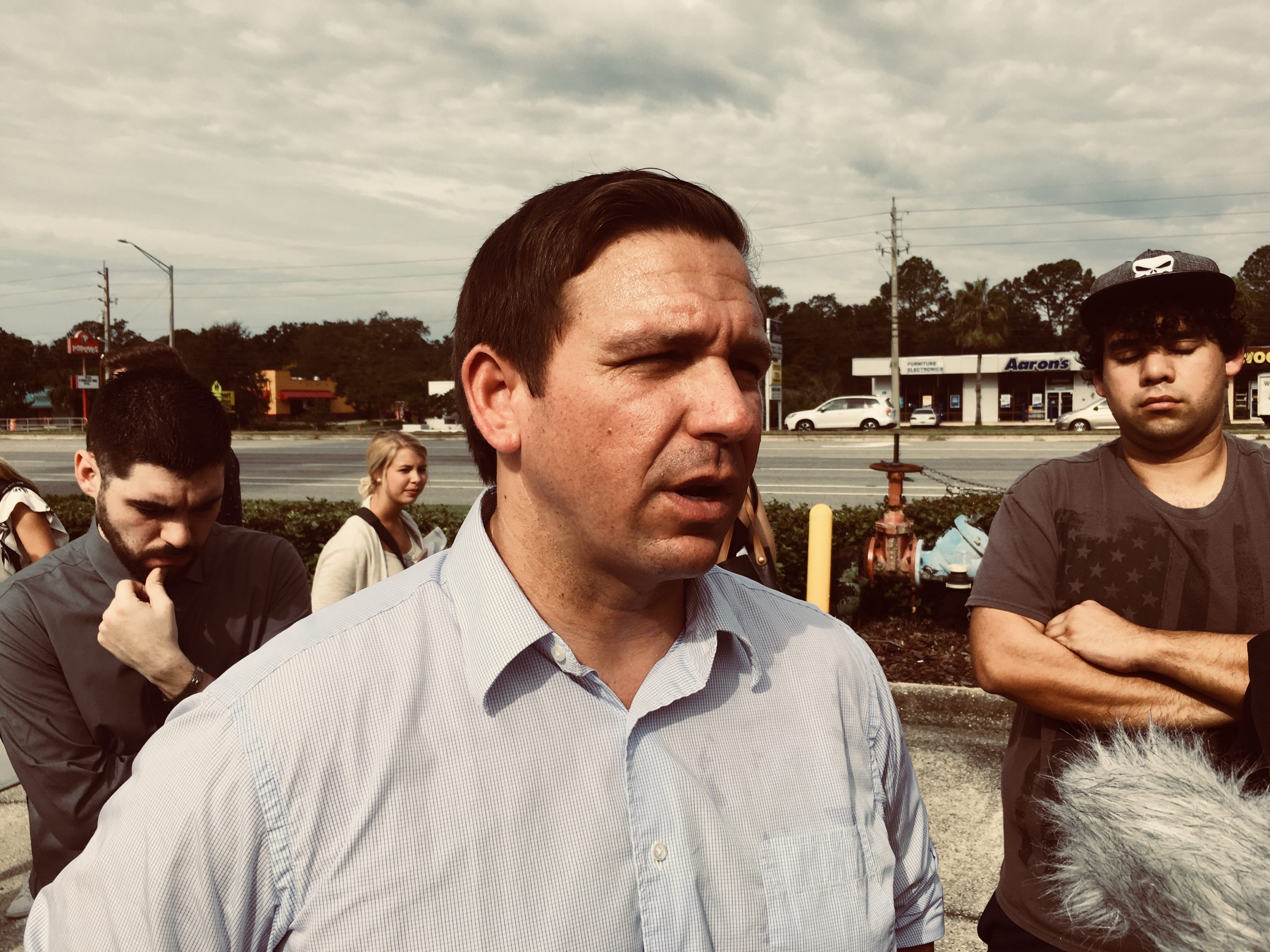 A group of Republican Sheriffs from Central Florida endorsed Republican Ron DeSantis for Governor on Tuesday, spotlighting the alleged "anti-police" radicalism of Democrat Andrew Gillum in the bargain.
Polk County Sheriff Grady Judd distilled the pro-DeSantis case neatly: "When I looked at this election, I asked myself a simple question that every voter should ask themselves: Do you want a governor who is a decorated veteran and former prosecutor, or a governor who ignored pleas from police for more support and more officers while crime skyrocketed in his city?"
Seminole Sheriff Dennis Lemma echoed these themes: "Andrew Gillum's Tallahassee has become the most dangerous city in Florida four-years in a row, that's not the kind of record that deserves a promotion. His anti-law enforcement way of thinking has made it more dangerous for the people of Tallahassee."
The Gillum camp disputes that characterization, a Republican staple. Leon County Sheriff Walt McNeil, a Democrat, noted that "violent crime is down 24 percent, and overall crime is down 10 percent with crime at a five-year low in Tallahassee."
Brevard's head lawman, Sheriff Wayne Ivey, said, "When I found out that Andrew Gillum pledged his allegiance to the 'Freedom Papers,' an anti-police manifesto from the Dream Defenders organization, I was appalled.
"I am tired of this rhetoric that demonizes our law enforcement officers. It makes the jobs of our deputies harder and more dangerous," Ivey lamented.
(Worth noting: The Freedom Papers case extends beyond the police, with such insights as "billionaires use Florida as a playground because 20 million of us live on little to nothing." The DeSantis campaign has already spotlighted the Dream Defenders in advertising.)
The other Sheriffs endorsing the candidate include: Carmine Marceno (Lee), Sheriff Al Nienhuis (Hernando), Sheriff Bill Farmer (Sumter), Sheriff Arnold Lanier (Hardee), Sheriff Steve Whidden (Hendry), Sheriff Wayne Padgett (Taylor), Sheriff Rick Staly (Flagler), and Sheriff Billy Woods (Marion).
Ahead of the primary, Adam Putnam was the runaway choice of most Sheriffs and police unions. Since late August, however, their support has largely (with the exception of a handful of Democratic Sheriffs) fallen in behind DeSantis.
For his part, DeSantis sounded like Gov. Rick Scott when accepting the lawman backing.
 "I am proud to have the support of this group of Florida's finest here today, along with the support of law enforcement officers from across this state. There is nothing more fundamental to the job of the next governor than ensuring safety for our residents and our visitors. And as I stand here today, I stand where I will as governor, next to our law enforcement and in support of them," DeSantis vowed.
"Crime is currently at a 47-year low thanks to these Sheriffs and the work of law enforcement officers from across the state who are on the front lines. However, they don't just need our praise, they need support, they need resources, and they need a governor who will stand alongside them at every turn. So, while I am honored to have their support, I want to take this opportunity to restate my commitment to them and to ensuring Florida has the safest, most well-enforced communities in the country," DeSantis added.