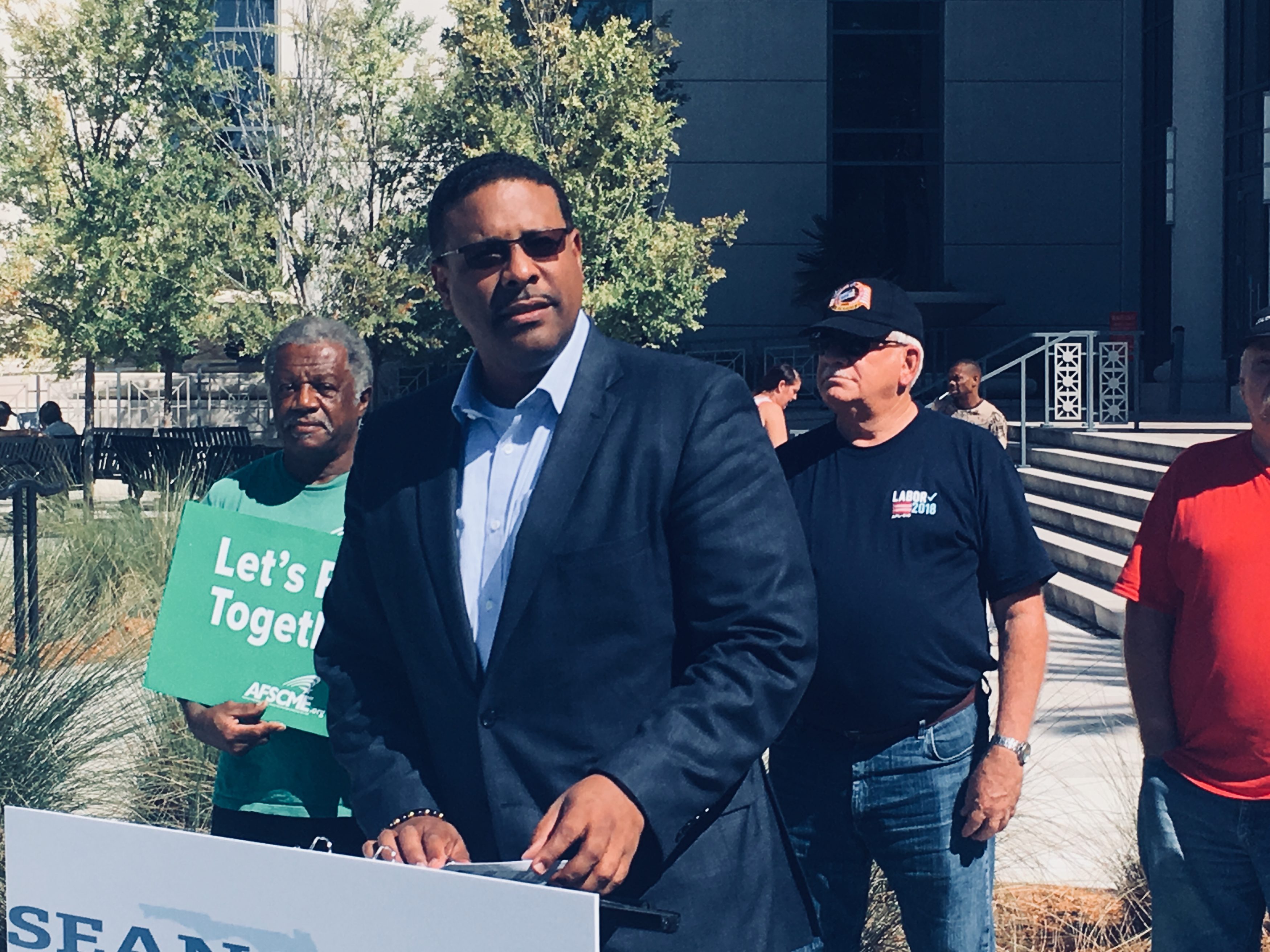 Democratic Attorney General candidate Sean Shaw excoriated Republican opponent Ashley Moody Wednesday, saying she should be disqualified from the race over donations he believes are dubious.
At issue: Moody accepting money from private prison contractor GEO Group.
In a news release Tuesday, Shaw deemed taking the money as "disqualifying," vowing to take steps as Attorney General to investigate abuse that resulted from Trump-era immigration policies.
At high noon Wednesday, under a merciless mid-October Jacksonville sun, Shaw hammered home similar points.
Shaw charged Moody with allowing GEO Group — "one of Ashley's biggest donors," to "bankroll her campaign."
The company, per Shaw, "houses thousands of immigrant detainees in private prisons all around this country," with allegations of forced unpaid labor and sexual assault in those facilities.
"Ashley likes to say she has experience. If decision making like this is proof of her experience," Shaw said, "it's no wonder our criminal justice system is broken."
"A prison firm funding the state's top law enforcement officer's campaign should raise all kinds of questions," Shaw said, including her ability to investigate alleged GEO Group misdeeds.
GEO Group, unsurprisingly, disputes Shaw's read as "misguided and unfounded."
"GEO does not manage, and has never managed, facilities that house unaccompanied minors, nor has our company ever provided transportation or any other services for that purpose. GEO also does not take a position on nor have we ever advocated for or against immigration enforcement or detention policies," asserts Pablo Paez, executive vice president of corporate relations.
"We strongly dispute allegations related to the care provided at the ICE Processing Centers we manage. On a daily basis, our dedicated employees deliver high-quality services, including around-the-clock medical care, that comply with performance-based standards set by the federal government and adhere to guidelines set by leading third-party accreditation agencies. Our employees are proud of our record in managing ICE Processing Centers with high-quality, culturally responsive services in safe, secure and humane environments," Paez added.
GEO Group was an early Moody backer, donating $3,000 in Oct. 2017. GEO gave $25,000 to the Friends of Ashley Moody political committee this month.
Florida Politics asked Shaw if that $28,000 was a big deal given the scale of campaign finance. He deemed it "significant money."
Shaw would like to see an end to privatized prisons in the state entirely, even as he allows that the state prison system is underfunded and has issues of its own.
"The solution is not to outsource to a group that has the kind of history GEO Group has. The solution is to fund [the state prison system] adequately," Shaw contended.
"Ashley has no experience when it comes to the budget process," said Shaw, a state legislator from the Tampa area. "None."
"She's never protected a consumer before. She's never helped someone that's been price-gouged before. She's never helped someone with a BP claim get the money they deserved. She's never passed a bill, or gone before the Legislature to advocate for somebody before," Shaw said.
"She sounds like she'd make a great State Attorney," Shaw said.