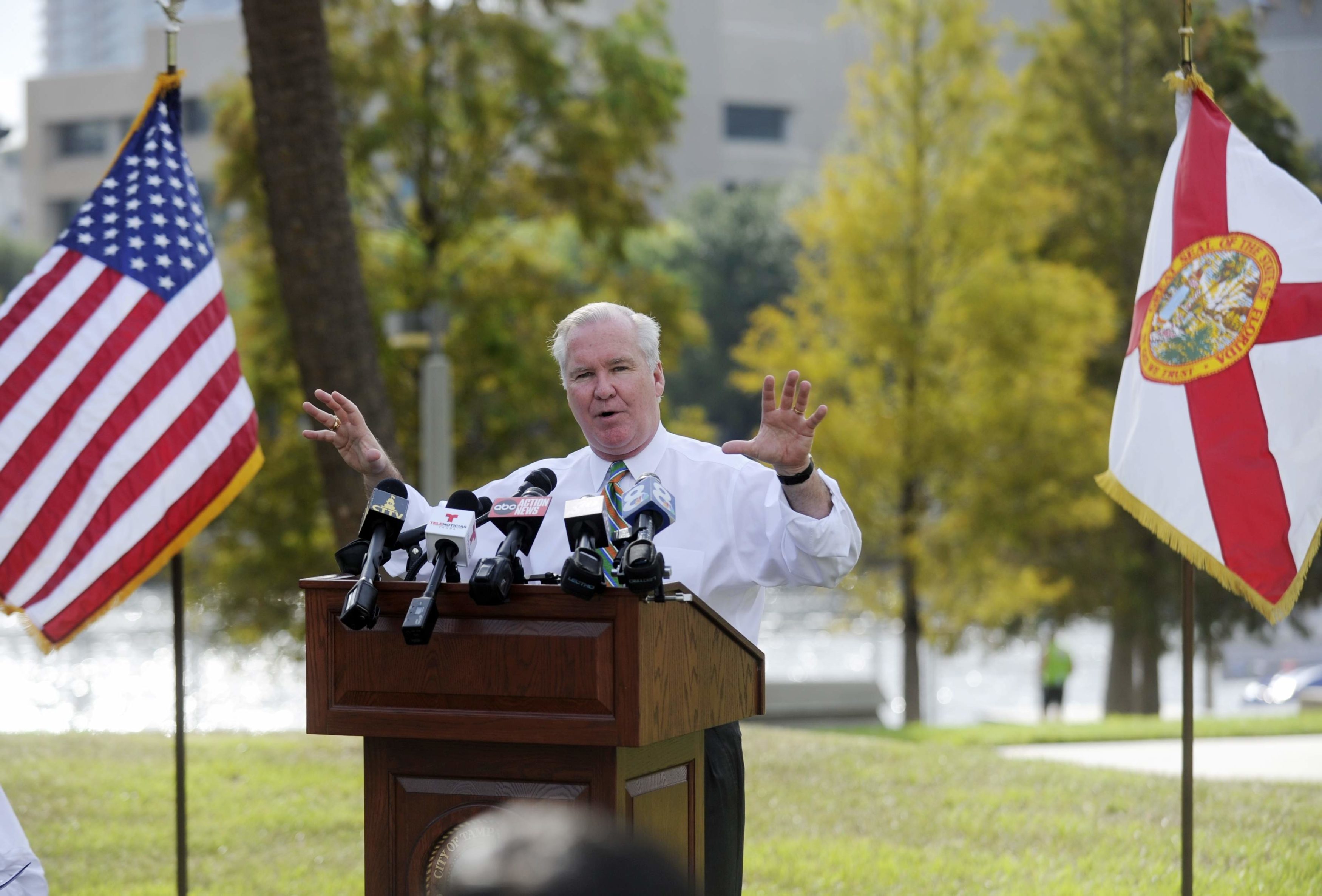 Tampa Mayor Bob Buckhorn is going all-in for the All For Transportation plan, which seeks to raise sales tax 1 percent to fund transit and transportation improvements.
"The lack of investment in our core transportation infrastructure has reached a crisis point," Buckhorn said in his endorsement Wednesday. "We need funding for projects that reduce congestion, make our streets safer and provide new and reliable transit options for people to get to and from work."
The All For Transportation plan would raise $280 million annually. Of that, 45 percent would go to the Hillsborough Area Regional Transit Authority for enhancements to Hillsborough County's existing bus service and for new transit options.
One percent would fund oversight on how revenue is spent while the rest would go to the cities of Tampa, Temple Terrace and Plant City for road and bridge projects including new roads, pothole repair, repaving, traffic congestion relief as well as pedestrian and bicyclist safety.
The referendum would raise about $9 billion over its 30-year life.
Money raised cannot fund new highways, however; those projects that are typically funded by the Florida Department of Transportation.
Buckhorn joins a long list of endorsements from community leaders that includes Tampa City Council members Harry Cohen, Charlie Miranda, Mike Suarez, Yolie Capin and Guido Maniscalco in addition to Hillsborough County Commissioner Les Miller and Florida State Senator Darryl Rouson.
Several local chambers of commerce have also backed the plan including the Greater Tampa, Upper Tampa Bay and South Tampa Chambers and the local tourism arm, Visit Tampa Bay.
Through a recent op-ed in the Tampa Bay Times, Tampa Bay Lightning owner Jeff Vinik also endorsed the plan. 
All three local major league sports teams, the Tampa Bay Rays, Tampa Bay Buccaneers and Tampa Bay Lightning, each contributed $100,000 to the campaign in favor of Hillsborough County Referendum No. 2. The teams noted transportation was a vital part of ensuring the quality of life for employees and provide better options for fans attending games.