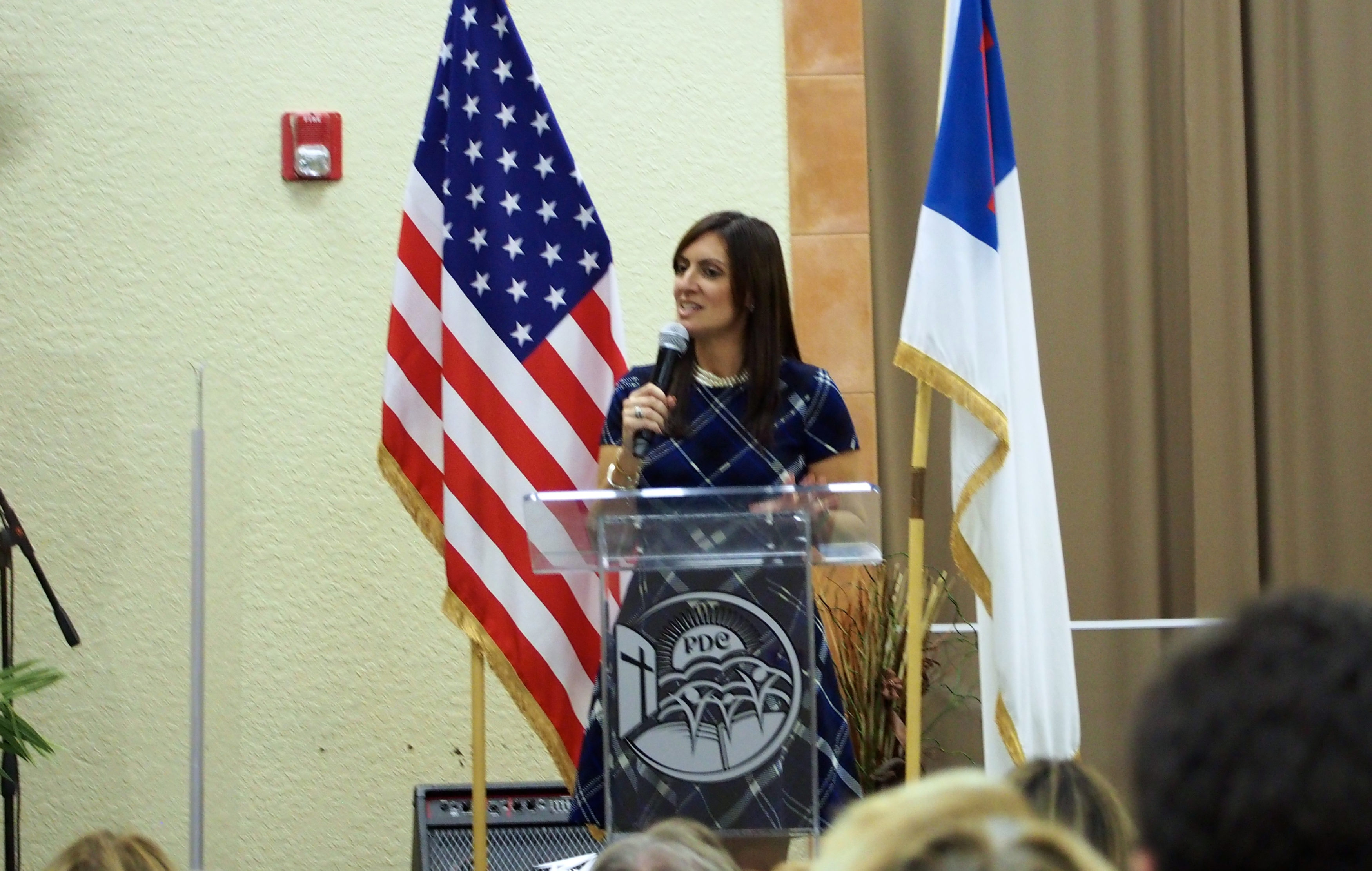 As Democratic lieutenant governor nominee Chris King pushes Andrew Gillum's health care proposals while attacking Ron DeSantis for not having one, Republican lieutenant governor nominee Jeanette Núñez is pushing DeSantis' economics plan while blasting Gillum's in a DeLand gathering.
Hurricane Michael has brought out the running mates working double-time in attack mode, as Democratic gubernatorial nominee Gillum took off more than a week to focus on hurricane recovery efforts, and Republican gubernatorial nominee DeSantis turned much of his focus into relief supply drive efforts.
If the running mates traditionally play the campaign pitbulls, then King and Núñez are running loose, doing four, five, six or more events a day, mostly in front of relatively small crowds, now and probably through Nov. 5.
"Never in the history in the state of Florida has a candidate for governor run on a platform to increase taxes 40 percent. It is mind-blowing that we could even consider giving Andrew Gillum our vote when all he wants to do is overburden us with more taxes," Núñez said at a small Spanish-language church, Iglesia Puertas Del Cielo, full of energized Republicans in DeLand Wednesday.
Núñez has sharpened her slicing and dicing skills through eight years in the Florida House.

"His plan would be a disaster for the state of Florida!" she declared.
King sharpened his plan in 18 months in a sometimes nasty Democratic gubernatorial primary.
"Ron DeSantis has been running for governor for 261 days. We're 20 days from the election, and he still doesn't have a plan for health care! Can you imagine that?" King charged during his talk to about 100 riled-up people at an Orlando picnic for the District 1199 Service Employees International Union. "Two-and-a half-million people without health care and we have a Republican nominee for governor who doesn't have a plan. Ron DeSantis has no vision for health care for the state of Florida!"
King's role for the moment may be larger than Nunez's in the sense that as Gillum has turned full-time to his day job as Tallahassee mayor since Michael devastated the central Panhandle and caused significant damages in the Capital city. That starts changing soon: he has a TV appearance set in Jacksonville Thursday, and then a town hall event in Tampa Friday.
"Right now the priority for Mayor Gillum is to rebuild the city after a catastrophic storm. That's where he's been. He's doing a fabulous job. But we've got 20 days left. This is a historic election. And I'm focused on casting his vision across Florida," King said.

DeSantis has been more active in the days after Michael, appearing at hybrid campaign/hurricane relief drive events; but even in his primary campaign, he has never been as publicly active as other candidates.
"Obviously over the next three weeks he's going to be relying on me heavily to obviously be in every corner of the state that he's not," Núñez said. "His wife Casey has also has been very active on the trail as late. I think we're going to hit as many communities and talk to as many voters as possible."