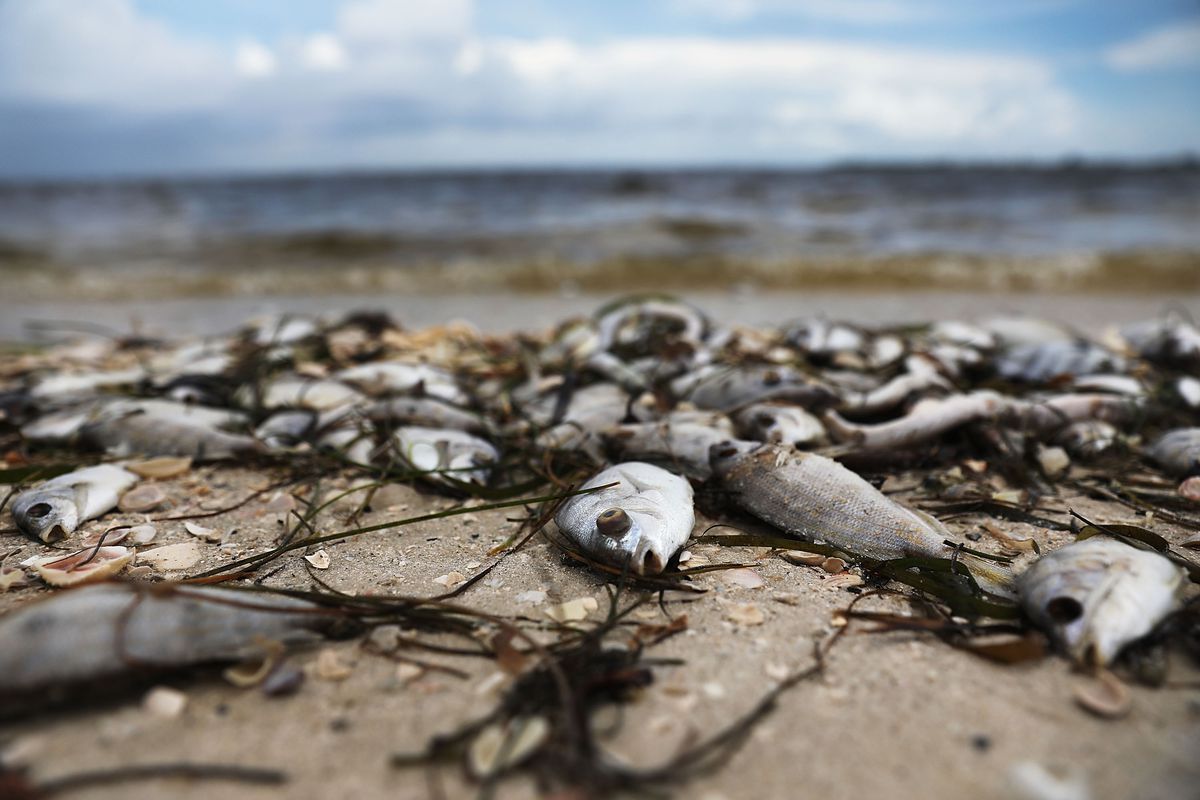 Floridians (and visitors) now have a way to know how much red tide is affecting the state's beaches.
The National Oceanic and Atmospheric Administration, in coordination with other state and local groups, launched a new tool Friday that predicts the levels of respiratory irritation present on beaches affected by airborne toxins associated with red tide.
The Gulf of Mexico Coastal Ocean Observing System, Florida Fish and Wildlife Conservation Commission Fish and Wildlife Research Institute and Pinellas County Environmental Management also worked to create the tool, which is funded by the NASA Health and Air Quality Program.
Updates will typically be available on Tuesdays, Thursdays, Saturdays and Sundays, providing beach-by-beach forecasts that are updated every three hours. Residents/visitors can find indicators of greater or lesser likelihood of negative conditions based on predicted wind and ocean currents.
Current conditions on the tool show all Pinellas County beaches with either very low or low concentrations of harmful airborne toxins that cause respiratory discomfort. Friday winds are forecast east-northeast, taking respiratory irritants away from the shore.
Pinellas County updated its evaluation of red tide presence in waterways near Pinellas County Beaches. County water quality monitoring on Thursday found high concentrations of Karenia Brevis, the scientific term for red tide, at the Gulfport Fishing Pier, Redington Shores Beach Access, Redington Beach, John's Pass, Treasure Island, Belleair Beach and in the Intracoastal Waterway off Keegan Clair Park north of Indian Shores.
On Thursday, the County's contractor focused cleanup efforts on the Intracoastal Waterway. Fifteen inshore boats with deckhands worked from Clearwater Pass south to Tierra Verde, with an emphasis on Boca Ciega Bay, where many fish kills were reported. The county used a beach rake to clean dead fish and debris from Indian Shores Beach.
As of Wednesday, the County had collected 1,032 tons of red tide-related debris.
Red tide concentrations for Pinellas beaches are as follows:
— Honeymoon Island North Beach — Low
— Honeymoon Island South Beach — Low
— Ft. DeSoto Gulf Pier — Medium
— Ft. DeSoto Ferry Pier — Medium
— 22nd Ave Beach Access, Pass-A-Grille — Low
— Gulfport Fishing Pier — High
— City of Treasure Island Beach Access — Medium
— John's Pass Channel North Side under Bridge — High
— Madeira Beach Archibald Park Beach Access — Medium
— Redington Beach La Contessa Pier- Medium
— Redington Shores Pinellas County Beach Access — High
— Clearwater Beach Pier 60- Low
— Indian Rocks Pinellas County Beach Access — High
— Sand Key Park at Clearwater Pass — Medium
— Belleair Beach 6th St. Beach Access- Medium
— 20th Ave Parkway Bay, Indian Rocks Beach — Low
— Keegan Clair Park — Medium
— Belleair Beach City Hall — Medium