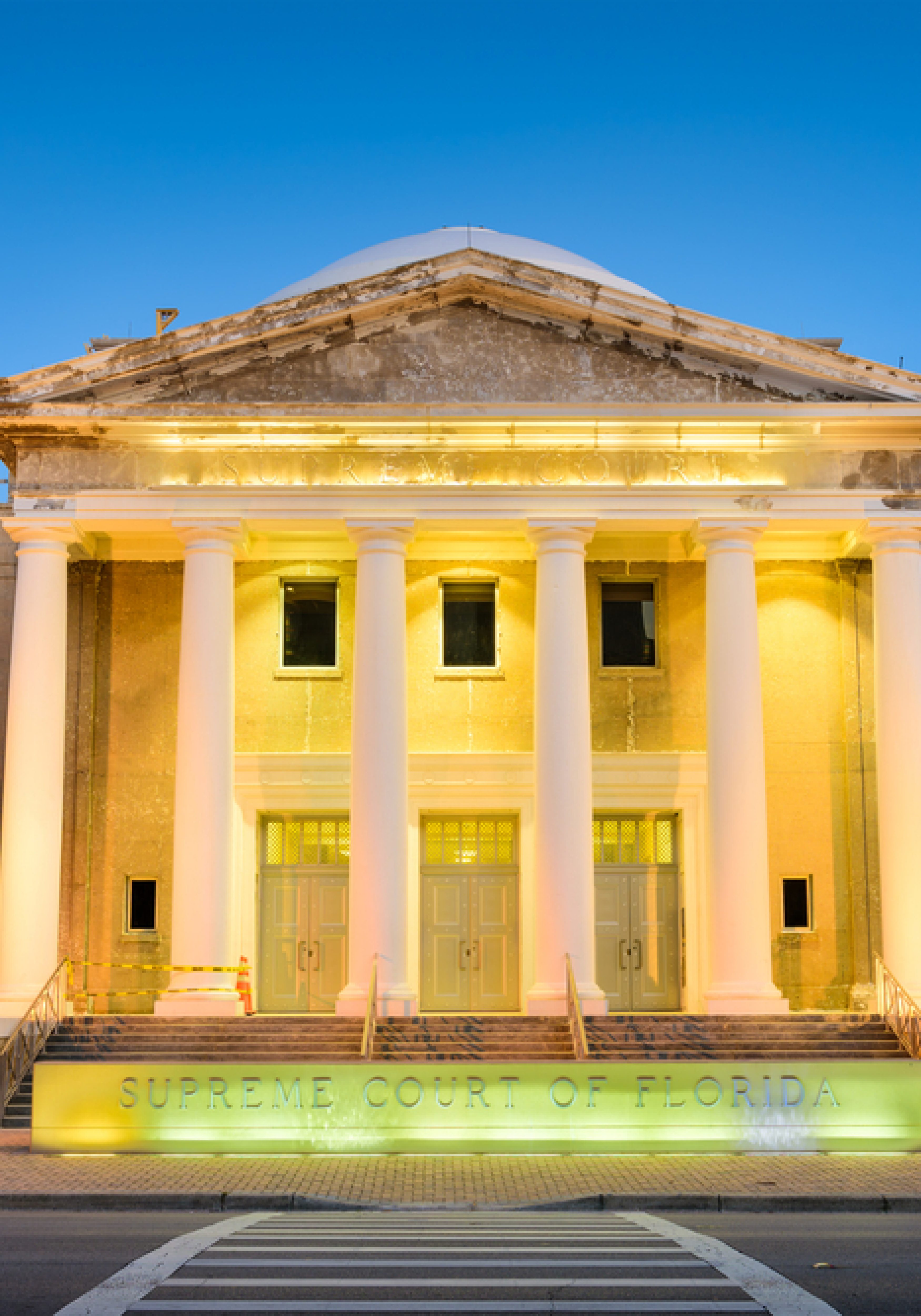 The Florida Supreme Court has explained why it removed Dana Marie Santino from the Palm Beach County trial bench — and it looks like the days when judges could remain on the bench notwithstanding egregious campaign ethics violations are over.
The high court stripped Santino of office in July amid complaints she'd engaged in ugly, "Donald Trump-like" tactics — as the Palm Beach post put it — against her runoff opponent in a 2016 election to fill a vacancy on the Circuit Court.
The court promised a written ruling later. It landed Friday.
Over two dissents, a court majority declined, in an unsigned ruling, to let Santino off with even a hefty fine. That's what the court did in a similar case against Escambia County Judge Patricia Kinsey in 2003, imposing a $50,000 penalty.
The court noted that Santino had declared following the election, while under threat of sanction, that her discipline would "probably be a fine" and would be "no big deal."
"Simply stated, Santino's conduct does not evidence a present fitness to hold judicial office," the majority said.
"We refuse to endorse a 'win-at-all-costs-and-pay-the-fine-later' strategy, especially in light of our past warnings and stated intolerance for the kinds of campaign violations at issue here. By her own admission, had we imposed a fine as a sanction, it would confirm that Santino's violations were 'not a big deal,' the opinion says.
"Moreover, if this court imposed a suspension, it would send a message to all attorneys campaigning for judicial office that they may commit egregious violations of Canon 7 during their campaigns and, if they win, a suspension or a fine or both will be the only result. They will be allowed to reap the benefits of their misconduct by continuing to serve the citizens of this state."
The court did take note of "significant mitigation" in the case, including testimonials from colleagues.
Canon 7 spells out judges' and judicial candidates' ethical responsibilities. The Judicial Qualifications Commission concluded in March that Santino had violated five sections of the canon, plus Florida Bar rules, during her campaign against Gregg Lerman.
Her Facebook page, for example, said "attorney Gregg Lerman has made a lot of money trying to free Palm Beach County's worst criminals. Now he's running for judge!" It also included a photo of Lerman surrounded by words such as "identity theft," "rape," "sexual assault," "pedophiles" and "murder," according to court records.
"Santino's numerous statements during her campaign evidenced a bias against criminal defendants, toward whom she imputed guilt; against criminal defense attorneys, whom she implied had some character fault because they 'choose' to represent criminal defendants; and in favor of victims, whom she boasted that she worked to protect during her legal career," the court said.
"Such statements are sufficient to create fear on the behalf of criminal defendants — who are entitled to a presumption of innocence under the basic tenets of our judicial system — that they would not receive a fair trial or hearing."
Signing the opinion were justices Jorge Labarga, Alan Lawson, Barbara Pariente, and Peggy Quince. Justice Fred Lewis agreed with the result, but wrote a concurring opinion complaining that the majority hadn't gone far enough in denouncing Santino's behavior.
"Today, the majority has chosen to sanitize and soften the facts surrounding the campaign misconduct committed in this case, apparently in the interest of political correctness or for some other reason," he wrote.
"The circumstances of this case, however, are so egregious and so reprehensible that any attempt to refine them does a disservice to the bench and to our judicial system as a whole, and further diminishes the citizen's trust in the judiciary beyond what Santino has already inflicted," he added.
"I simply cannot endorse the sanitized rendition of the facts with the omission of the actual published material along with the analysis the majority adopts," Lewis continued — and he appended copies of her Facebook page to his opinion.
Lewis complained that the court has been going too easy on such behavior.
He noted that Santino had blamed her campaign adviser for the wrongdoing, but had signed an oath attesting that she was familiar with her ethical duties when, she later conceded, she hadn't read the case law.
And that she had apologized to her defeated opponent only in the face of an ethics investigation.
Such behavior is "is exactly the behavior that I cautioned would arise" when the court settled for the fine for Kinsey, a case in which he'd dissented from the sanction.
"Now, the court is yet again addressing campaign violations similar to those in cases past," he wrote.
"Moreover, the campaign violations that Santino committed are the most flagrant to date, and her lack of remorse is the most blatant yet. Thus, I reemphasize this court's previously stated no-tolerance practice in these situations and conclude that the only result worthy of yet another case involving conduct that ignores our judicial canons on campaign misconduct was removal."
Justice Ricky Polston wrote a dissent, joined by Chief Justice Charles Canady. He argued that the same precedents that Lewis lamented compelled removal only when campaign misbehavior is married to additional misconduct.
Those precedents included the case of Judge Scott DuPont of the 7th Judicial Circuit, comprising Putnam, Flagler, St. Johns and Volusia counties. The Supreme Court removed him in June for publishing false allegations against his 2016 election challenger and other actions while on the bench.
"Because Judge Santino committed serious campaign misrepresentations without some additional misconduct establishing present unfitness, the recommendation of removal is not the appropriate discipline," Polston wrote.