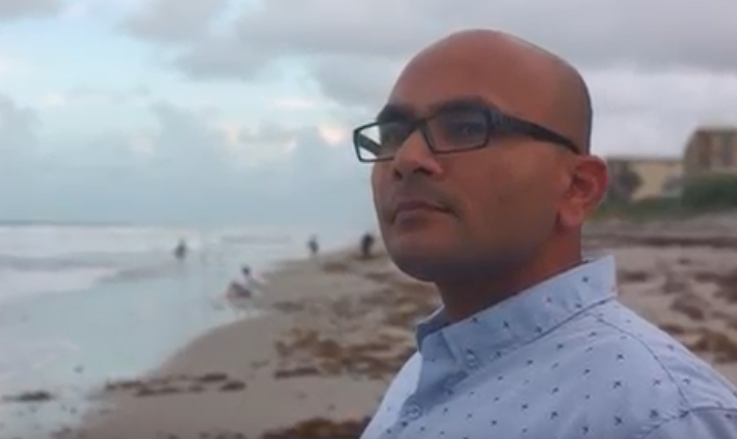 Democratic congressional candidate Sanjay Patel has launched his first video commercial, a digital ad that talks about how his brother's death from cancer has inspired him to seek better, and how for him that includes affordable health care, a fairer economy, environmental protection and investments in schools and infrastructure.
The two-minute, 17-second video, released on the internet Friday, offers a montage of images of Florida's Space Coast and Treasure Coast from Kennedy Space Center rocket launches to beaches;  of struggles, of someone suffering health problems in a bed, dead fish, and toxic algae; and also of Patel himself, in contemplation, and meeting with voters.
The video has a distinctive progressive Democratic theme of the powerless against the powerful, summed up with his observation, "It's time to prove that the power of the people is stronger than the people in power."
A grassroots organizer and business consultant with an economics degree from UCLA, Patel is facing five-term Republican U.S. Rep. Bill Posey in the Nov. 6 election. Patel has managed to raise hundreds of thousands of dollars and still has most of that left to spend. In addition to the digital ad, his campaign intends to begin television advertising next week, and to run it through the Nov. 6 election.
The district covers Brevard County and parts of east Orange County and north Indian River County.
The digital ad covers a lot of ground, starting with Patel recalling how his brother spent most of his last days at the beach. "After my brother died, I knew how fleeting our lives were," he says. "It can all change in the blink of one diagnosis. Health care should be a human right. Folks who are struggling shouldn't have to worry about how they are going to pay those bills while they're going through some of the hardest ordeals of their lives."
From there he introduces himself, and then goes on to talk about those left out of the economy, declaring, "Money in politics has poisoned our political system. The people in power aren't listening to or representing us. They're representing the big businesses and billionaires who donate to their campaigns, to big banks who led us to the brink of economic collapse."
The video then moves on to his views on the environment, public education, infrastructure, sustainable energy, and struggles of the middle class.
"I'm doing this for my brother. For my family," he says. "If we can reach the stars, I know that we can deliver hope, freedom and opportunity for all Americans."