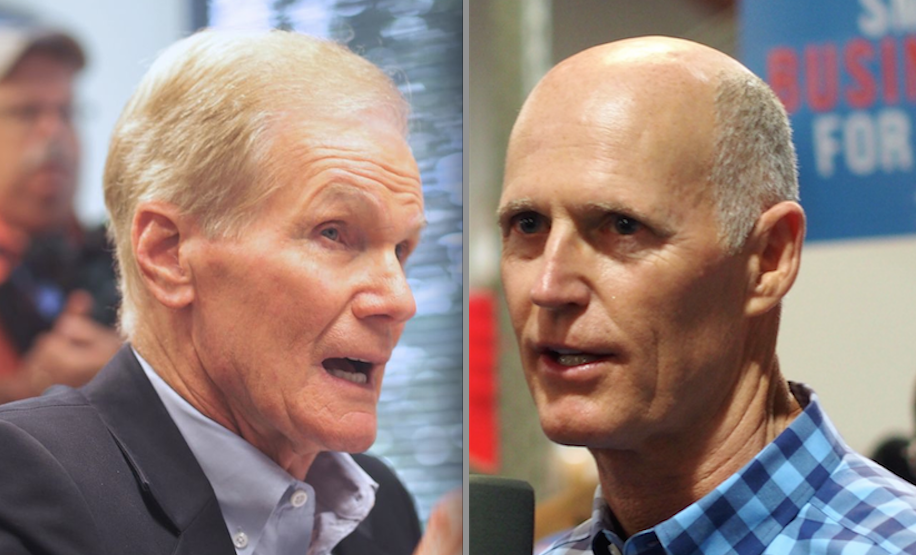 Republican Gov. Rick Scott and Democratic U.S. Sen. Bill Nelson are again in a dead-heat in Florida's U.S. Senate election contest, according to the latest survey from St. Pete Polls, with each drawing just over 48 percent.
Scott has a slight edge in the poll when broken down into tenths, 48.6 percent to 48.3 percent, but that margin is well within the 2.5 percent margin of error the pollsters offer.
Though there have been a couple of recent polls that showed Nelson with much larger leads, the vast majority have shown the race within the margins of error the pollsters allowed. The last St. Pete Poll, taken early last week, had Scott with a two-point lead, rather than the current slim lead.
The survey, taken Saturday and Sunday of 1,575 Florida voters, also gives Democratic gubernatorial nominee Andrew Gillum a 1-point lead over Republican gubernatorial candidate Ron DeSantis. The poll was taken before completion of Sunday night's nationally-televised debate between the Tallahassee mayor and the former U.S. congressman on CNN.
In the U.S. Senate race, Nelson has a strong early advantage, leading among those interviewed who said they already have voted by a 52-47 percent margin. Scott leads among those who said they still intend to vote 49-47 percent, and they composed the much larger sample, more than 70 percent of those interviewed.
In the new poll Nelson continues to have a strong advantage with independent voters, leading in that group 55-40 percent. Scott has a more solid lock on the Republican vote than Nelson does on the Democratic vote, making up that difference.
Nelson holds a 10-point lead among voters aged 18 to 29; a 1-point lead among 30- to 49-year-old voters; and a 5-point edge among those aged 50 to 69. Scott, however, rings up a 15-point lead among voters over 70. The term-limited Republican Governor also has slight advantages with male voters, who prefer him 51-47 percent, while women are leaning toward Nelson by a 2-point margin, 49-47 percent.
By race, Scott holds a 57-41 percent lead among white voters and a 50-47 percent lead among Hispanic voters. Nelson's lead among black voters outpaces his lead registered Democrats, with 80 percent of black voters preferring the third-term U.S. Senator over Scott, who was the pick for just over 13 percent.
In the gubernatorial election, the splits between Gillum and DeSantis pretty much mirror those in the U.S. Senate race.
In the governor's race, Reform Party nominee Darcy Richardson pulled almost 2 percent. That leaves 4 percent undecided.