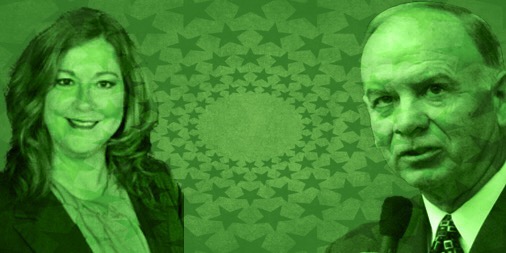 Republican Ed Hooper continues to out-raise his Democratic opponent, Amanda Murphy, in the battle to replace former state Sen. Jack Latvala for Senate District 16 (north Pinellas County).
Hooper has raised more than $1.1 million between his campaign and affiliated political committee.
Murphy has raised just $445,000 between her campaign and Taxpayers for Responsible Government political committee.
That's not including fundraising from Working Toward Florida's Future, an inactive political committee whose funds were used for campaign activities benefiting Murphy and distributions to the Florida Democratic Legislative Campaign Committee that support Murphy.
From Oct. 6-12, the most recent campaign reporting period, Hooper's campaign raised $72,000 and his committee raised $6,500. Murphy's committee out-raised Hooper's with $30,000 in contributions. Her campaign raised just $15,000 during the most recent campaign period.
Fundraising trends among Democrats and Republicans continue to hold true in the SD 16 race with Hooper raking in cash from outside groups and special interests including from the sugar, pharmaceutical and insurance industries.
Hooper's campaign collected 57 individual contributions averaging more than $800 each. Murphy brought in 44 contributions averaging $341 each.
Hooper's campaign spent more than $160,000 during the most recent report with most of that going to Strategic Media Placement for ads and $22,000 to Direct Mail Systems for mailers.
An outside group supporting Hooper, the Republican Senatorial Campaign Committee, put out an ad earlier this month calling Murphy a "spoiled child." Some Democrats criticized that ad for being sexist. Hooper declined to comment on the ad.
His campaign has spent $577,000 to date.
Murphy's latest spending mirrors her fundraising lag compared to Hooper with $28,000 spent from her campaign coffers this report. Most of that went to Deliver Strategies for campaign mailers.
The district includes Clearwater, Dunedin, New Port Richey, Oldsmar, Safety Harbor and Palm Harbor.
The race is considered competitive. A St. Pete Polls survey in June put the race at 47-45 percent with Hooper holding the advantage, though his edge falls within the poll's 3 percentage point margin of error.
SD 16 is, however, a "red" district. Republicans make up about 38 percent of the district's electorate while Democrats account for about a third. The district went plus-12 for Trump in 2016.
Murphy lost her previously held House district by fewer than 700 votes to now-Republican Rep. Amber Mariano. The race was considered a huge loss for Democrats despite the narrow majority in a district that went against Hillary Clinton in 2016 by double digits.
Hooper left the house to run for Pinellas County Commission in 2014. He lost to Democrat Pat Gerard who was re-elected this election cycle unopposed.