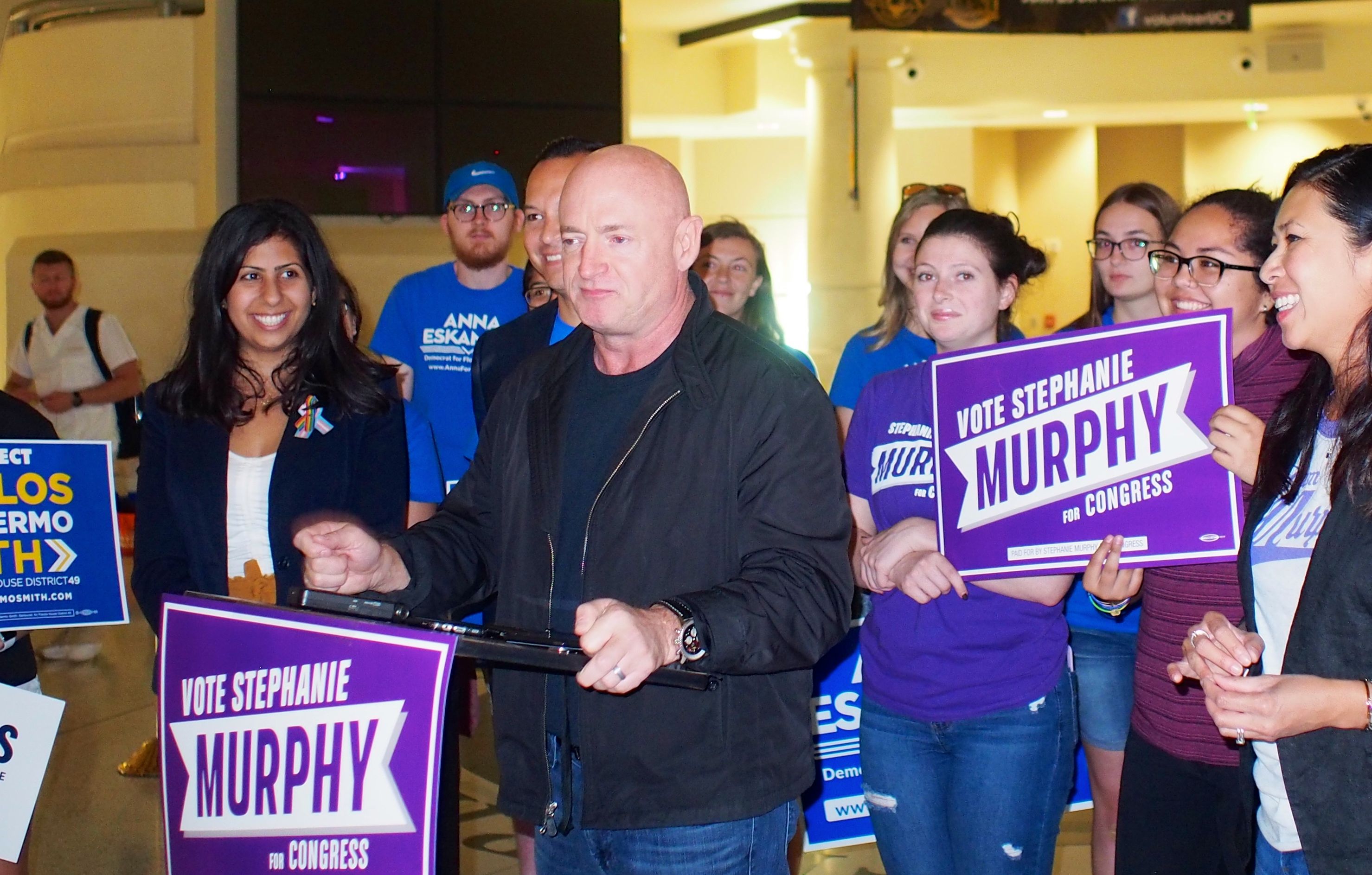 Former astronaut and retired U.S. Navy Capt. Mark Kelly, who started a gun law reform political action committee "Giffords PAC" with his wife, Democratic former U.S. Rep. Gabrielle Giffords, after she was shot in a 2011 assassination attempt, said in Orlando Monday night that believes he has seen the country's and Florida's political mood moving toward reforms.
Kelly, speaking at the University of Central Florida with several Democrats that his group has endorsed, recalled the mood before and in the first years after Giffords was shot by a gunman who also shot 18 others at her rally, killing six, and how that has evolved after the subsequent massacres at Sandy Hook Elementary School, Orlando's Pulse nightclub, Las Vegas, and Marjory Stoneman Douglas High School in Parkland.
"It took a change of politics, which has happened, right? You go back to 2009, even the Democrats didn't want to do anything on this. There were no meaningful pieces of legislation that were debated on the floor of the House and the Senate. Really nothing," Kelly said.
Kelly said the mood has changed in Washington to the point where Winter Park's Democratic U.S. Rep. Stephanie Murphy drew bipartisan support for her effort to end the 22-year ban on gun violence research and got it signed into law. And he said the mood has changed in Tallahassee to where Republican Gov. Rick Scott and Republican leaders in the Legislature shepherded through Senate Bill 7026, the Marjory Stoneman High School Public Safety Act, bringing in gun law reforms Kelly praised Monday.
"Look what happened after the Pulse nightclub shooting. We'd been working on this for five years. Pulse was two years ago. So after about three years, it got to the point where even then," no one in Congress wanted to talk about gun law reform, Kelly said. "Look what [Georgia's Democratic U.S. Rep.] John Lewis did after Pulse. They had a sit in on the floor of the House of Representatives because they wanted some meaningful legislation."
Kelly's intention Monday at UCF was largely partisan, to encourage more political activism and to promote the election candidates who support Giffords' organization and its political action committee agenda, which includes regulating semi-automatic weapons and requiring universal background checks for gun purchases.
"The problem is, we've got to get the leadership. So, you've either got to change [Republican House Speaker] Paul Ryan's mind and change [Senate Majority Leader] Mitch McConnell's mind, which probably isn't going to happen, or you've got to flip control of the House and Senate," he said.
Kelly was joined Monday night by three Democratic candidates his group has endorsed: Murphy, who is running for re-election against Republican state Rep. Mike Miller in Florida's 7th Congressional District, covering Seminole County and north and central Orange County including UCF; state Rep. Carlos Guillermo Smith, who is running for re-election against Republican Ben Griffin in Florida House District 49, covering northeast Orange County including UCF; and Anna Eskamani, who is running against Republican Stockton Reeves for the open seat in Florida House District 47, covering north and central Orange County.
Murphy, too, spoke of change in mood, and she credited the activism of Marjory Stoneman Douglas High School students for helping bring that about. She cited her bill seeking to end the ban on federal support for gun violence research which drew zero interest from Republicans and consequently was dead from the start, and "it was after Parkland happened that Republicans started joining on to the bill. I got Republican co-sponsors.
"It moved it right into negotiations for the budget. And because we were able to demonstrate Republican support in addition to Democratic support, we were able to get that bill inserted, language similar, inserted into the appropriations bill, the budget bill," she said. "So I think that is an indication that there are Republicans willing to have a common sense gun safety conversation."