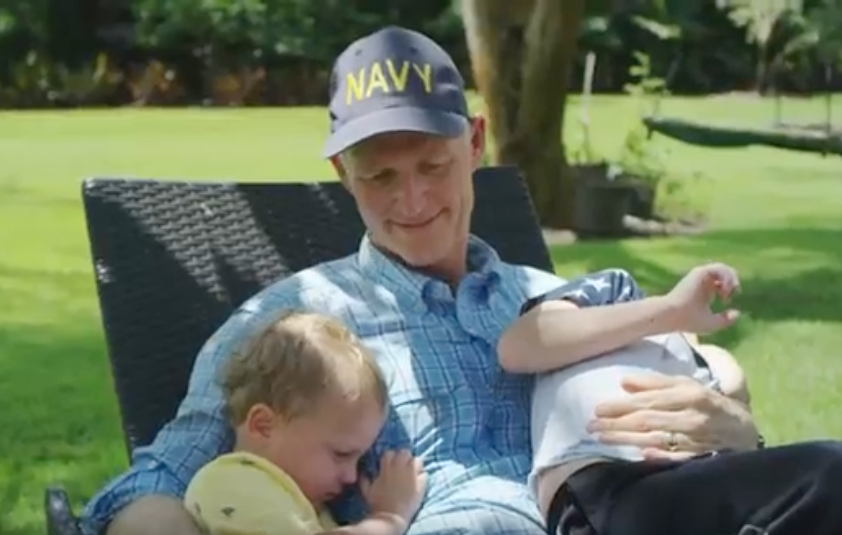 The campaign of Republican U.S. Senate nominee Gov. Rick Scott is unleashing the softer side with Ann Scott in a new ad, where she and he tell the story of their marriage.
The story is told as the couple sit on a couch, starting with how they met, how he joined the Navy, how she worked full-time as he went to law school, and how they started out living in a home with furnished with sleeping bags, a Coleman cooler, and apple crates.
The one-minute ad, "Our story" also shows them engaging in mild marital banter, and ends with video clips of them with their grandsons.
"I spotted him across the library," Ann Scott begins.
"Love at first sight," Rick Scott says.
"That's what he says," she replies.
And then, as they talk about their two children and six grandsons, he observes, "We'd have had more kids if we weren't broke."
There are no issues, contentious points, charges or counter-charges, just a soft-spoken recollection of their lives together.
Yet the back-and-forth memories serve as indirect rebuttal to the attacks from Scott's opponent, Democratic U.S. Sen. Bill Nelson, and Democratic groups who've been trying to paint Scott as someone filthy rich, caring only about making more money and about other rich people.