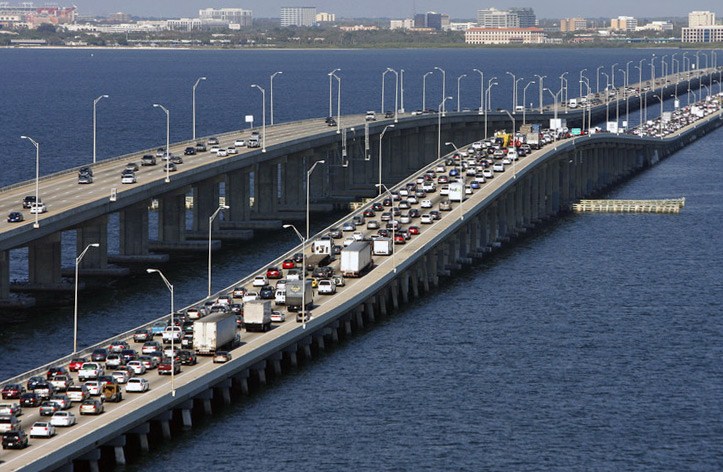 The anti-tax, anti-rail group No Tax for Tracks showed up late to the game last week, sending voters mailers condemning Hillsborough County's transportation initiative as a giant waste of money.
Now two images are floating around social media making outlandish accusations about the proposed 1 percent sales tax increase that would fund both – yes, both – transit and transportation enhancements.
The most glowing fabrication in the media, paid for by the Tea Party group, is that the tax would not fund new roads or widened roads.
Fake news.
The tax would raise $280 million annually for 30 years. Of that, 54 percent would go toward exactly what No Tax for Tracks wants voters to believe it wouldn't – roads.
The wording is careful. The group writes there is no money "dedicated" for roads or street widening. That's a tricky little word game. The referendum doesn't "dedicate" funds for any specific project.
Instead the money goes into pots, with the largest one funding anything from new and bigger roads to resurfacing, pothole repair, pedestrian and bicyclist safety and traffic technology aimed at reducing traffic congestion.
The only thing that pot precludes in terms of road projects are highways – jobs that are typically funded by the state.
Less than half would go toward transit and there, like anything else, is no money dedicated to the group's despised rail, which its media also falsely claims by saying it would fund "billions for costly rail downtown that no one will ride."
Further, the No Tax for Tracks images indicate the referendum would raise $16 billion over its 30-year life. Also wrong.
If nothing changed – the population stayed the same and consumers didn't change their spending habits – it would raise $9 billion.
Of course, Hillsborough County's population is expected to grow, which means the projected annual revenue will gradually increase as more people flock to the region.
But even using the Hillsborough County Metropolitan Planning Organization's estimate that the county's population will increase by 700,000 people in 30 years, the $16 billion number is still a stretch.
The county's current population is 1.4 million, according to Census data. That means the population is expected to grow 50 percent within the next 30 years. If you increase the present day estimated tax burden of $9 billion by 50 percent, it comes to $13.5 billion – and that's using some pretty basic math that assumes the population increases right away.
One of the group's pieces shows the downtown Tampa skyline with Tropicana Field plopped onto the Ybor City site proposed for a new Tampa Bay Rays Baseball stadium. Tropicana Field is located in St. Petersburg. The Rays would build a new stadium, not the Trop 2.0.
The group claimed in another mailer that money would go toward a new baseball stadium, which could explain their Tropicana Field Photoshop job.
The referendum language prohibits use of funds on a stadium.
The No Tax for Tracks talking points also ignore the fact that 77,000 Hillsborough County residents signed petitions to put the referendum on the November 6 ballot. That's 77,000 people who are so sick of sitting in traffic or having a serious lack of transit access they were willing to ask the rest of the county's electorate to up the county's sales tax.
It also ignores that Hillsborough County's business community is soundly behind the plan. The Greater Tampa, Upper Tampa Bay and South Tampa chambers of commerce publicly endorsed it along with several other groups and notable names.
And on paper, it doesn't look like No Tax for Tracks is all that serious.
They didn't start raising money until September 29, Hillsborough County Supervisor of Elections reports show, and they've raised less than $8,000 with the fundraising deadline for this election just one week away.
Of that, $5,000 came from someone who doesn't even live in the county.
All For Transportation, the group behind the referendum, has raised more than $2.5 million.
The No Tax for Tracks media does get two things right. If approved, it would make Hillsborough County's sales tax the highest in the state and, sales taxes are regressive, which means the hit lower income people harder than higher earners.
Voters should vote their conscience, but they should do so with facts – not fabrications.