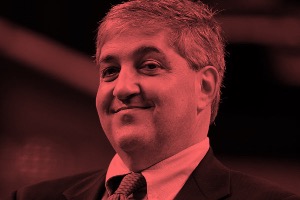 Tampa Bay Lightning owner Jeff Vinik brought his total contributions from his personal account and business interests to $600,000 for Hillsborough County's transportation referendum, Supervisor of Elections reports show.
Vinik's Strategic Property Partners, which is behind the $3 billion Water Street Tampa development, contributed $150,000 during the most recent campaign fundraising period of Oct. 13-19.
SPP already donated $100,000 to the All For Transportation campaign committee. Vinik personally donated $250,000 and the Tampa Bay Lightning, which he owns, kicked in $100,000 previously.
The group backing a 1 percent sales tax referendum to fund transit and transportation improvements for 30 years has now collected more than $3 million.
Contributions continue to roll in from large donations from local businesses and investors. The fundraising trend is both good news and bad for the transportation group.
The piles of cash flowing into the campaign are funding a wide variety of public outreach. During the latest fundraising period, All For Transportation paid nearly $450,000 to Multi Media Services in Alexandria, Virginia for media placement.
They also paid $138,000 to Mercury Public Affairs in New York City for direct mail.
But the checks from deep-pocketed entities is also raising eyebrows among critics of the tax increase that worry the campaign is a ploy to fund new transportation infrastructure for Vinik's downtown development.
The opposition group No Tax for Tracks sent out a mailer earlier this month blasting Vinik for buying the campaign to benefit his own financial interests.
While there is no doubt Vinik's Water Street Development and his National Hockey League team will benefit from improved transit and transportation infrastructure, the referendum targets the entire county.
Of the $280 million raised annually, 54 percent would go to the cities of Tampa, Temple Terrace and Plant City and Hillsborough County for road, traffic and safety projects while 45 percent would go to the Hillsborough Area Regional Transit Authority for transit enhancements.
One percent would fund oversight to ensure revenue was spent in accordance with the implementing referendum and avoided any political pet projects.
The New York Yankees joined this list of professional sports teams backing the referendum. The team kicked in $100,000 to the initiative to approve Hillsborough County Referendum No. 2. The Yankees have offices in Tampa and play their Spring Training games across the street from Raymond James Stadium at George Steinbrenner Field.
Adventist Health Systems also contributed $100,000 to the campaign.
Other notable contributions came from Tampa investor Bob Gries, Colliers International Central Florida CEO Arnold Lee, the Tampa Electric Company, Moffitt Cancer Center and Franklin Street Financial Partners, which each donated $50,000.
Columbia Food Services, the company behind the iconic Columbia Restaurants, kicked in $25,000 and the law firm of Gray Robinson donated $15,000.
The campaign has about $600,000 left to spend with about a week and a half until the November 6 election. Recent polling showed the referendum sailing to an easy victory.
Campaigners aren't taking any chances though. Two similar transportation referendums died at the ballot box in 2010 and 2014. The more recent Greenlight Pinellas initiative tanked at the ballot box despite polling well before the 2014 General Election.