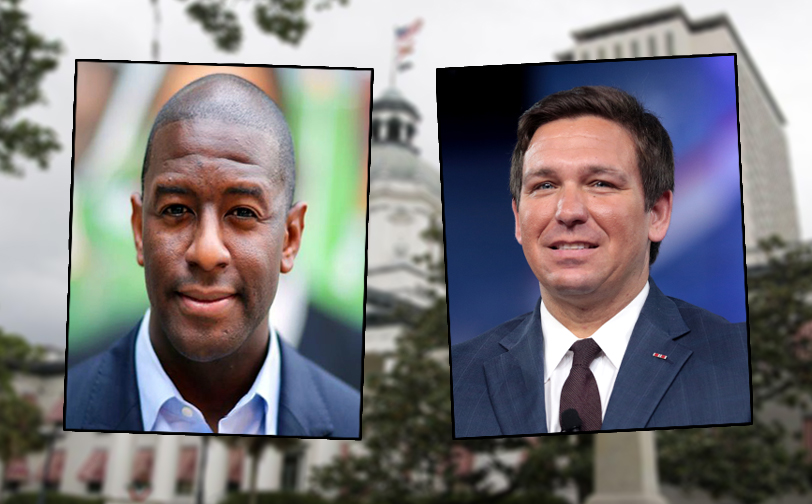 A NYTimes/Siena poll released Sunday had good news for Democrat Andrew Gillum and bad news for Republican Ron DeSantis.
Gillum had a five point lead (48-43 percent), and he led in every turnout scenario except for one: an electorate that looked like 2014.
In that instance, DeSantis was up by one point. Otherwise, if voter pools reflected a 2016 electorate, historically likely voters, people who claim to be certain to vote, and every registered voter, Gillum was up (and by nine points with historically reliable voters).
Likewise, no matter how results were weighted, including education and census data, the Democrat led.
Gillum's lead is especially remarkable given that President Donald Trump is above water by a point, 47 percent favorable to 46 percent unfavorable, in this survey.
Gillum holds a nine point lead with women here, and has massive leads with voters under 45 as well as members of ethnic minorities. DeSantis's strongholds: a 55 to 38 percent lead with white voters, 25 point lead with whites who didn't graduate college, and a seven point firewall with voters aged 45 to 54.
Both candidates are at 91 percent with voters from their own parties, but Gillum shows a 48 to 36 percent lead with Independents.
The NYTimes/Siena poll dropped on the same day as a new CBS News/YouGov poll  showing a much tighter race. Gillum still led in that measure with 47 percent support closely followed by DeSantis at 46 percent, with another 2 percent supporting someone else and 5 percent still unsure.
The current polling average compiled by RealClearPolitics splits the difference between the two Sunday polls, showing Gillum up 3.2 percentage points.
With only a handful of days until it's pencils down on the 2018 cycle, elections forecaster FiveThirtyEight says Gillum has 7-in-9 odds of breaking the GOP's 20-year monopoly on the Governor's mansion.