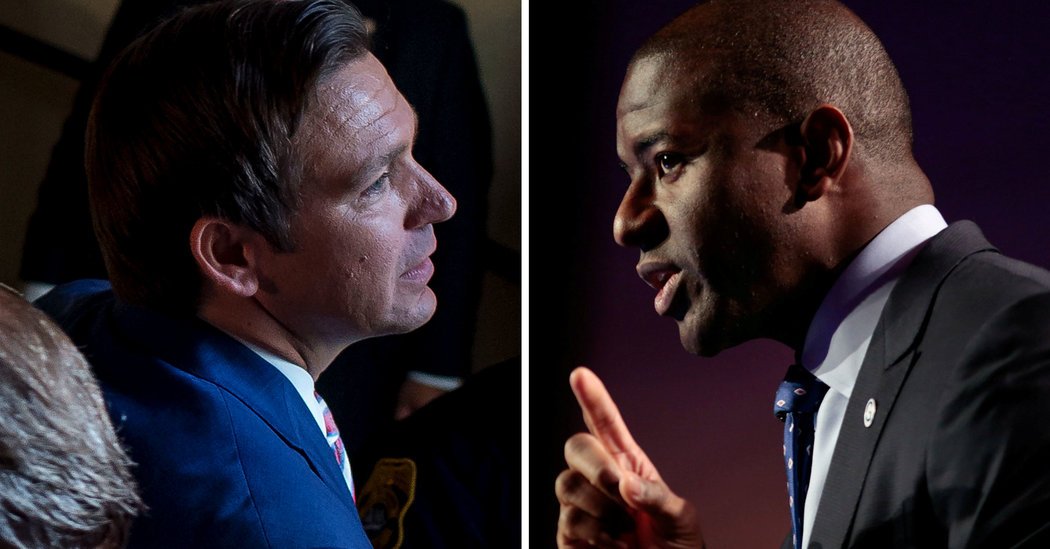 Hillsborough County State Attorney Andrew Warren is condemning what he describes as a misleading and inaccurate attack ad against gubernatorial candidate Andrew Gillum.
The television ad in question features several county sheriffs accusing Gillum, a Democrat, of siding with "radicals" and supporting plans to gut law enforcement and prisons.
"The [Ron] DeSantis campaign is playing dirty politics to distract from the fact that he spent the last two years criticizing federal law enforcement and undermining the rule of law," Warren said.
Warren didn't elaborate on what he meant, but the claim could stem from reports last year that DeSantis wanted to defund Special Counsel Robert Mueller's investigation into Donald's Trump's campaign and potential collusion with the Russian government. 
"As Mayor, Andrew Gillum worked with local law enforcement to reduce crime in his community, and as Governor he will work with law enforcement and prosecutors to reform our criminal justice system to make Florida safer," Warren continued. "DeSantis' desperation shows he has no plan, no vision, and no understanding of how to improve public safety. His misleading attacks won't make our communities safer."
The ad includes Brevard County Sheriff Wayne Ivey, Flagler County Sheriff Rick Staly and Seminole County Sheriff Dennis Lemma — all Republicans.
"Law enforcement professionals are worried about Andrew Gillum," Ivey begins in the 30-second spot.
"Andrew Gillum is connected to the most radical forces in Florida," Staly says.
Staly was referring to claims that Gillum signed a pledge with the group Dream Defenders that seeks to reduce law enforcement presence and scale back prisons. Gillum did sign a pledge with the group, but argues he did not sign on to the "Freedom Papers" the ad references in a graphic during the spot. 
Gillum's pledge, according to Dream Defenders, was to not accept campaign funds from the National Rifle Association or from private prisons. The more controversial "Freedom Papers" are more radical, stating "police were never meant to serve me and you" and that "police and prisons since their founding have always been about safety for the haves while wreaking havoc for the have-nots."
The political ad, paid for by the conservative Florida Facts PAC, also shows an on-screen graphic quoting Democracy Now in August that "Andrew Gillum is part of their movement," again referring to the Dream Defenders.
That claim is true. Phillip Agnew is co-director of Dream Defenders and appeared on Democracy Now with Amy Goodman following Gillum's surprise primary win in August. Then, Agnew said Gillum was part of the movement. However, Agnew was not talking about the "Freedom Papers." He was referring to Gillum's longtime work on civil rights.
The ad also cites an article from Tallahassee Reports to support their claim about Gillum's support for what they call radical ideas. The article in question is part of a tab on the group's website dedicated to mostly negative coverage of Gillum's campaign.
The Florida Democratic Party is rallying support for Gillum and offered a "fact check" of the anti-Gillum ad. FDP claims Gillum is pro-cop because he led efforts to hire 33 new police officers as Mayor of Tallahassee. They reference a WFSU report on a budget item funding the new positions.
Democrats also point out Gillum has endorsements from five former and current sheriffs.