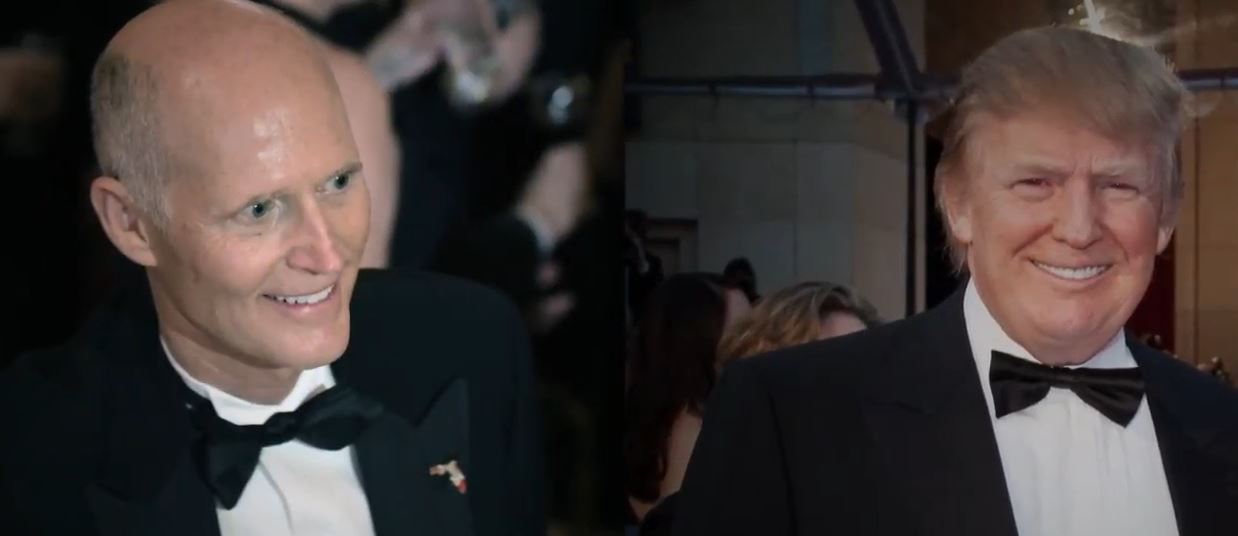 The Senate Majority PAC (SMP) is out with a new ad arguing Republican Rick Scott will be another Donald Trump "yes man" if he makes it to the U.S. Senate.
SMP aims to elect Democrats to the Senate and is supporting the re-election bid of incumbent U.S. Sen. Bill Nelson.
The group's new spot, titled "Same," tries to hit Scott and Trump over their similarities before asserting the Scott will do Trump's bidding should he wrestle the seat from Nelson next week.
A request for comment on the ad to the Scott campaign is pending.
"They're both 'hat guys,' " the ad's narrator says of Scott and Trump, referring to their 'Navy' and 'Make America Great Again' ball caps.
"Both have ethics problems. Both gave big tax cuts to rich people like themselves. Both want to defund Planned Parenthood.
"So if we send Rick Scott (to Washington), he will keep putting Trump and his party over you … cutting health care, threatening Social Security and Medicare, and yes, more tax breaks to people who don't need them.
"At a time when we need a check on Trump, Rick Scott is just one more vote for Trump."
Hannah Hurley, a spokesperson for SMP, elaborated on the group's concerns in a statement released along with the ad.
"Rick Scott and Donald Trump are a dangerous, ethically-challenged pair that together will give tax breaks to the rich while threatening Floridians' Social Security, Medicare and health care," Hurley said.
"Floridians need a leader that will always fight for them, putting their needs before the desires of a political party or party bosses. Rick Scott will never be that leader. With Rick Scott in Washington he would be another vote for Trump 100 percent of the time and Floridians deserve better than that."
Scott has appeared to distance himself from Trump during his run for Senate.
That's after Scott backed Trump "bigly" in the 2016 presidential election.
However, Trump is campaigning for Scott and GOP gubernatorial candidate Ron DeSantis at a Halloween night rally in southwest Florida.