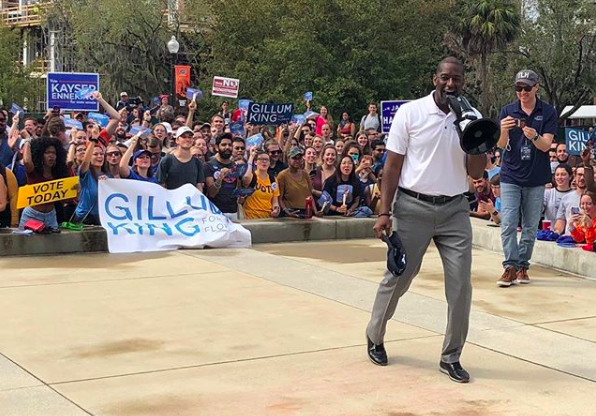 Democratic gubernatorial candidate Andrew Gillum is pushing back against allegations he's soft on crime, releasing a new ad where several sheriffs tout their support for Tallahassee's "leadership mayor."
Gillum's Republican opponent, Ron DeSantis, has hit Gillum over his city's crime rates. Gillum has in turn pushed back.
His new ad, titled "Oath," details endorsements from Sheriffs Russell H. Gibson of Osceola County, Walt McNeil of Leon County, Sadie Darnell of Alachua County and Jerry Demings of Orange County.
All four, like Gillum, are Democrats. Demings also is set to become the next mayor of Orange County, after clearing the 50-percent hurdle to avoid a runoff in the election back in August.
In the ad, the sheriffs take turns reading the same script, pumping up Gillum's ability to combat crime.
"I took an oath to protect the public," the sheriffs say.
"So will the next governor of Florida. As mayor of Tallahassee, Andrew Gillum brought the police and the community together to crack down on violent criminals and gangs, and he reduced violent crime by 24 percent.
"And Gillum is the only candidate who will take on the gun lobby to reduce gun violence because he's done it before. I trust Andrew Gillum to protect the people of Florida."
Fact checks have disagreed about the veracity of DeSantis' allegations regarding Gillum's record on crime.
PolitiFact slotted DeSantis' claims under "needs context." That piece notes Leon County, which includes Tallahassee (the county's only incorporated city), has often topped the state in its crime rate, but numbers for Tallahassee proper are down in 2018.
The Associated Press had a harsher look at DeSantis' statements, calling them "incorrect."
Looking just at Tallahassee, rather than Leon County, the AP's Brendan Farrington found that "Tallahassee is not even in the top 25 when it comes to city per-capita crime rates in Florida."