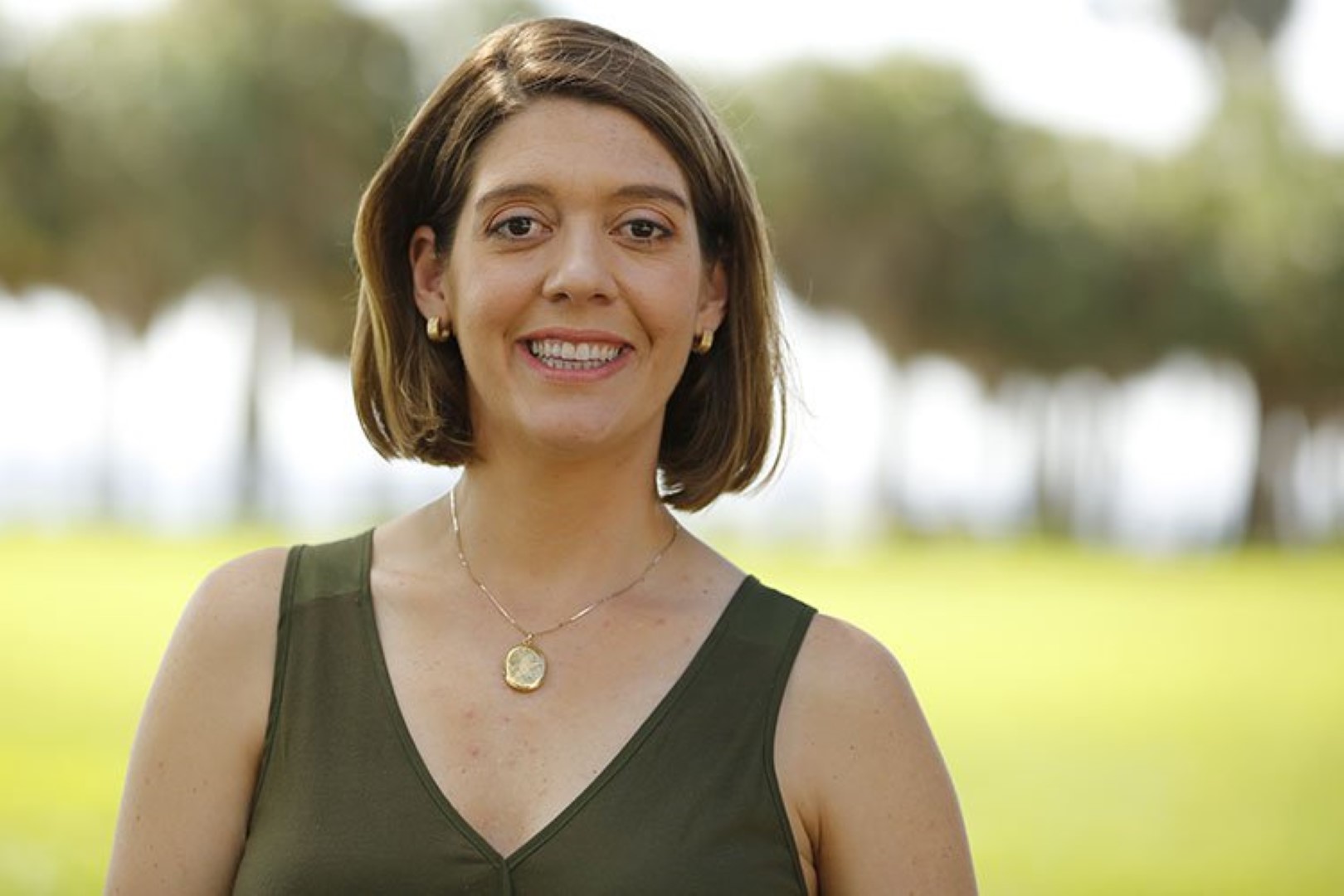 Outside groups continue an onslaught of attack ads against Democrat Jennifer Webb as she faces Ray Blacklidge in Florida House District 69.
This week alone, two direct mail pieces hit voters mailboxes accusing Webb of supporting anti-school choice policies and tying her to Bernie Sanders.
One mailer features a photo of Webb on a red background with blazing bright yellow lettering that accuses her of lying and personal attacks.
"Why is liberal, radical Jennifer Webb lying about Ray Blacklidge and attacking him personally? Because Jennifer Webb doesn't want you to know the truth about her support for socialist policies and efforts to raise your taxes by billions," the piece reads.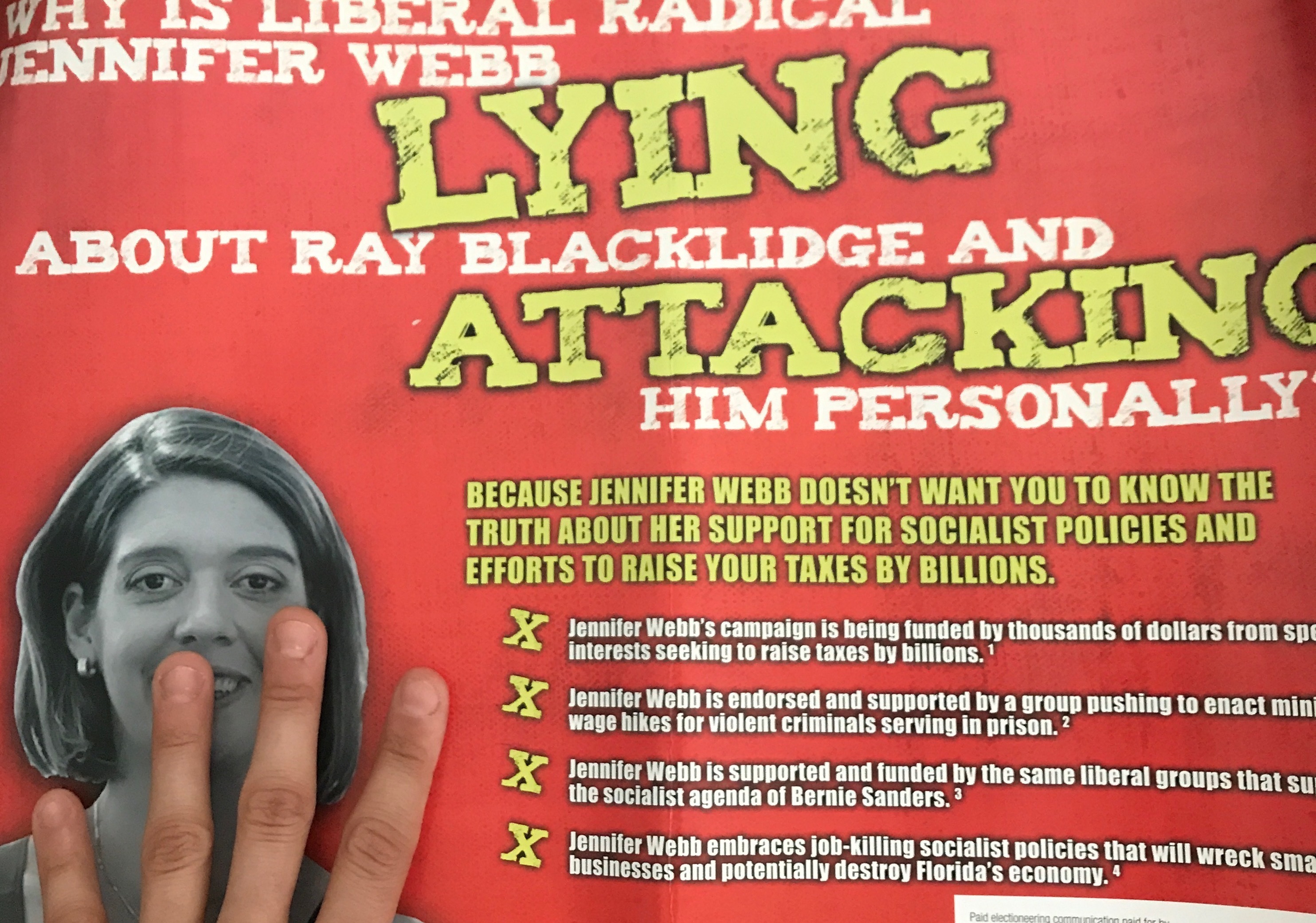 It goes on to say Webb's campaign is funded by "special interests seeking to raise taxes by billions," is supported by a group pushing for minimum wage increases for prison inmates, is supported and funded by group's backing "the social agenda of Bernie Sanders and "embraces job-killing, socialist policies."
The piece makes no reference to support its claim that she has lied or attacked her opponent. Both candidates agreed early in their campaigns to avoid negative attacks and steer clear of this year's political vitriol.
But outside groups in recent weeks have sent several attack mailers to voters and funded an attack ad on television. The same mailer that condemns Webb for personal attacks is an attack on her.
The Republican Party of Florida paid for the mailer. Its claims are rooted in partisan campaign trends this election cycle weaponizing the word "socialism" and using Bernie Sanders as a symbol of radical politics.
Webb supports Andrew Gillum for governor. The Democratic candidate received an endorsement from Sanders. Gillum is pushing an education platform that includes raising corporate income tax to fund a $1 billion plan to raise teacher salaries and increase per-pupil spending.
Democratic groups helping to fund Gillum's campaign are also cutting checks to Webb, which loosely ties her to claims that Gillum supports the Dream Defenders, a civil rights group conservatives refer to as "radical." That group wants prison inmates compensated fairly for work performed. Those inmates currently receive a pittance for work ranging from janitorial services to electrical work.
Another mailer funded by the group Florida Federation for Children, a pro-charter school organization, claims special interests "that put our children's safety at risk" are funneling cash into Webb's campaign.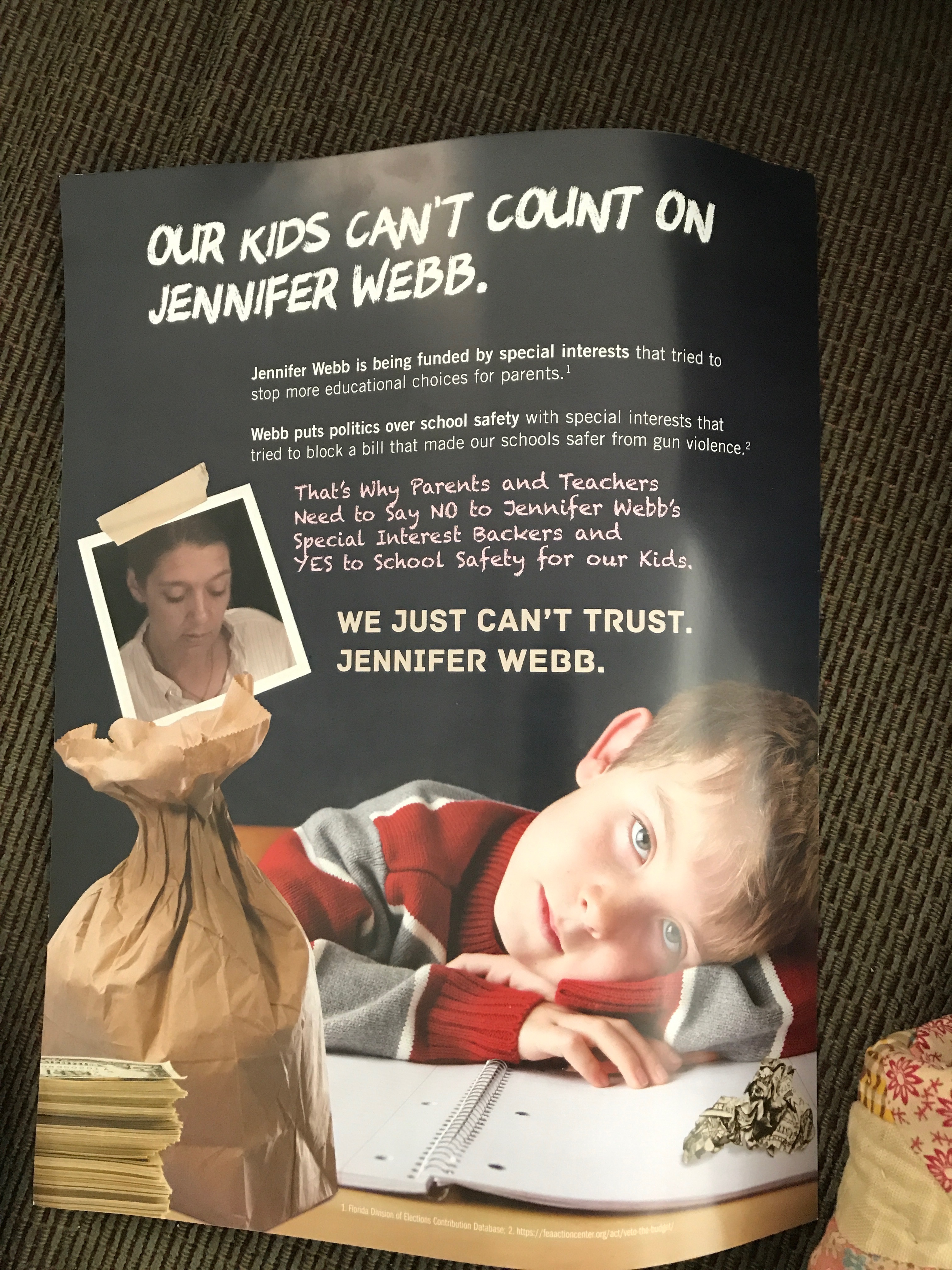 That claim is based on Democratic opposition to the school safety bill passed earlier this year that raised the age limit for owning a firearm from 18 to 21 and provided more money for mental health and school safety. Many Democrats were critical of the bill because it didn't go as far as banning military-style assault weapons.
The mail piece also blasts Webb for financial ties to groups that oppose school choice programs like charter schools and voucher programs.
Many of the group's cutting checks to her campaign are vocally opposed to inequitable state spending on charter schools. Such schools are for-profit but funded with state tax dollars. Charter schools educate about 10 percent of Florida's school children.
"That's why parents and teachers need to say no to Jennifer Webb's special interest backers and yes to school safety for our kids," the mailer reads.
Webb's campaign platform on education calls for innovation and accountability in education. She stands against the 2017 House Bill 7069 that forces public school districts to share construction money with charter schools. Most of Florida's school districts and teachers opposed that bill.
Webb and Blacklidge are running to replace Republican Kathleen Peters, who is leaving state office to run for the Pinellas County Commission. She leads Blacklidge by double digits, according to a recent poll.
The district covers mid- and south-Pinellas beaches, Seminole and west St. Petersburg.