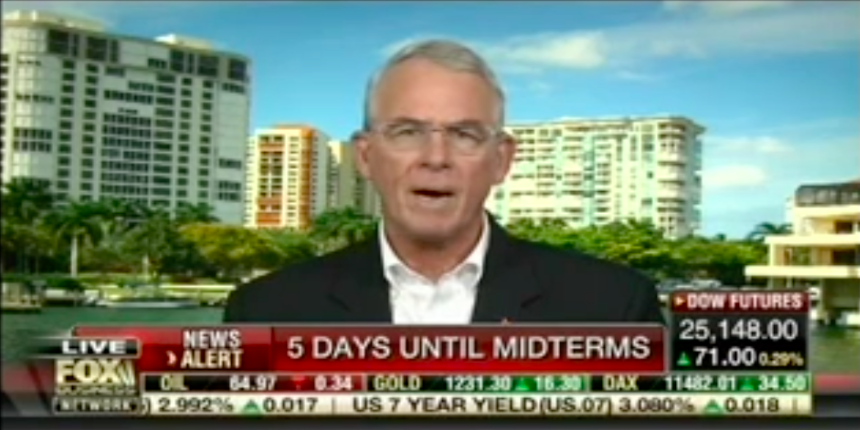 Democrats say U.S. Rep. Francis Rooney went too far calling Democratic gubernatorial candidate Andrew Gillum an "existential threat" to Florida and suggesting voters will realize it in the voting booth.
Rooney appeared as a guest today on the Fox Business show Varney & Co. In a clip flagged by Media Matters, the Naples Republican called into question polls that show Gillum leading Republican Ron DeSantis.
"There's a lot of people that are going to that voting booth and realize that Andrew Gillum is an existential threat to the future of Florida and the people that live here," Rooney said.
Democratic leaders pushed back immediately and said Republicans were the ones introducing danger into the election process.
"It's reckless and grossly irresponsible to call Andrew Gillum, a committed public servant to his community for fifteen years, an 'existential threat' to the people of Florida," said U.S. Rep. Ted Deutch, a Boca Raton Democrat.
"The real threat in these last few days of this campaign is this fear mongering and inflammatory language from Congressman Rooney, President Trump and other politicians bent on dividing our community and our state."
Rooney spoke yesterday at rally with President Donald Trump. There, Trump spoke of caravans on illegal aliens heading toward the boarder and of the need to eliminate birthright citizenship for children of foreigners born in the United States.
Terrie Rizzo, Florida Democratic Party chairwoman, said Rooney's comments reflected poorly on the entire DeSantis campaign.
"Instead of debating the urgent challenges facing our state, Ron DeSantis and his allies are shamelessly dividing our state," Rizzo said.
""Congressman Francis Rooney's comments this morning are just the latest example of DeSantis' surrogates launching offensive and disturbing attacks on Mayor Gillum. Over the past few weeks, we have all painfully learned that words matter—and that heated rhetoric can have dangerous consequences."
Rooney's comments came after Fox Business host Stuart Varney asked how Gillum could be leading polls when Florida's economy has grown.
After Rooney's statement, Varney suggested Gillum's agenda could only move forward if he instituted a state income tax. Rooney agreed.
"Inevitably," Rooney said. "Talk about killing golden goose. I think you all figured out that if he spent all the money he wants to spend, the taxes have to go up like 41 percent or something."
Gillum has proposed increasing Florida's corporate business tax but has not proposed instituting a state income tax.