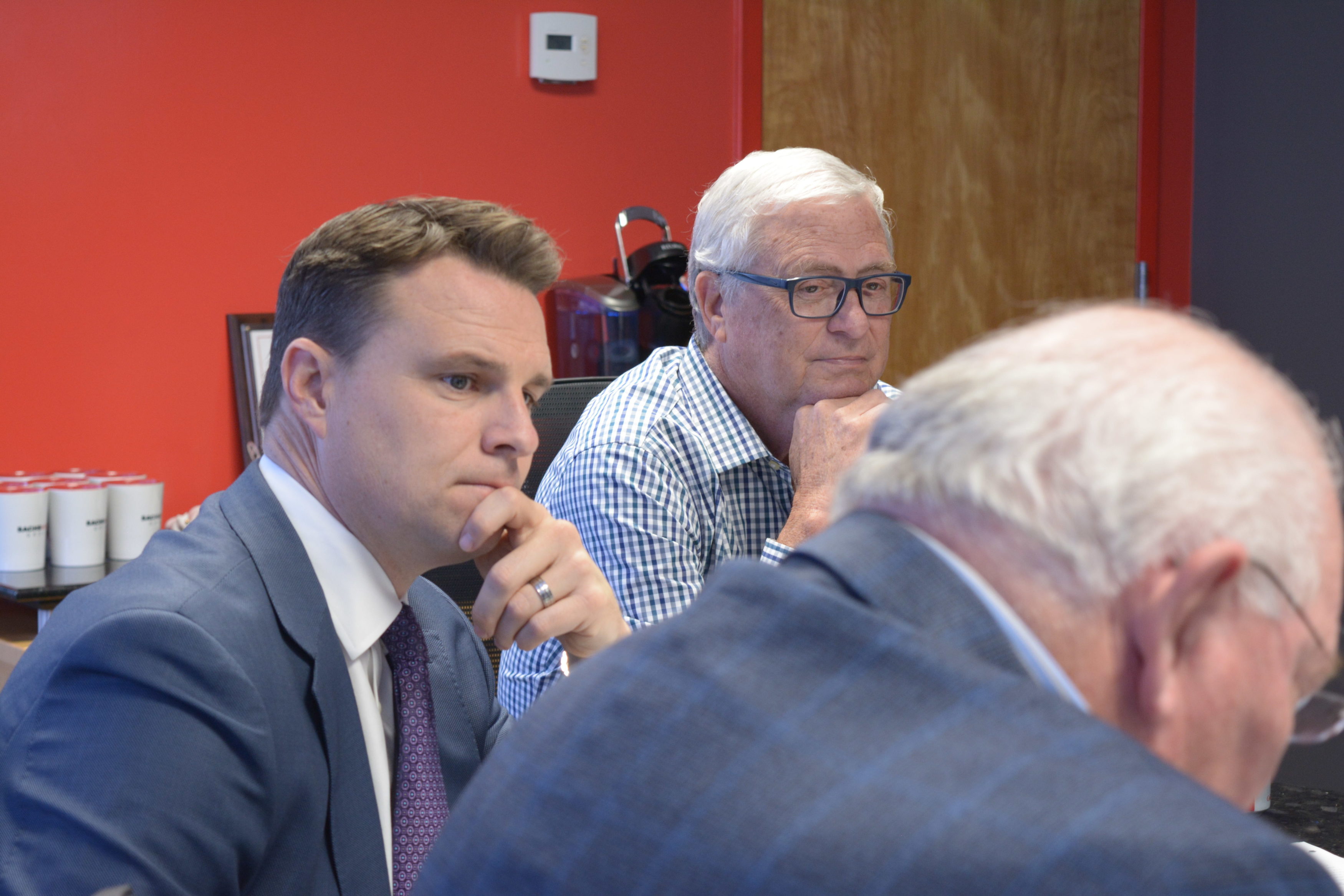 Communities affected by Hurricane Michael will in part rely on the goodwill of others to bounce back to normalcy.
And that's why a coalition of influential names and organizations is making sure that the current and impending issues facing the Big Bend and Panhandle counties affected most by the powerful Category 4 storm remain in the fore.
During a public conference on Thursday at Tallahassee-based Sachs Media Group, members of the newly formed REBUILD 850 Initiative unveiled their plan to enlist private businesses, citizens and philanthropists to the aid of the 12 Florida counties that suffered extensive setbacks when the storm swept through North Florida on Oct. 10.
The cooperative, a brainchild of former Republican Florida House Speakers Will Weatherford and Allan Bense, challenges other entities and people to "donate, volunteer, visit and invest" in the affected region.
"We can't wait for the politics to work itself out," Weatherford said. "There is enough need today that people need to act. We can't wait for the politicians — who we have respect for and I was one of — (but) we can't wait for the Legislature. I think the business community needs to step up and help out the folks that are suffering."
In just a short time, Bense and Weatherford with the aid of Sachs Media corralled together a group of organizations each diverse in their own mission, equipping the effort with representatives who will leverage their interests and skills in order to accomplish the multi-pronged goal.
Volunteer Florida, for example, administers the Florida Disaster Fund, to which the proceeds of the Initiative will funnel. Other partners in 850 REBUILD include the Florida Chamber and Florida Chamber Foundation; the Florida League of Cities; the Florida Association of Counties; the Florida Association of District School Superintendents; United Way of Florida; the American Red Cross; Get Ready, Florida! and FAIR Foundation; and the Florida Press Association.
Also on tap is Visit Florida, the state's tourism-marketing agency, which is undertaking an $8.9 million campaign to combat perceptions that all of Florida has been impacted by Michael and by red-tide outbreaks in Southeast and Southwest Florida. Also expected to play a role is Triumph Gulf Coast, which was set up by the state Legislature to direct settlement money from the 2010 Deepwater Horizon disaster into regional-economic development projects in eight Northwest Florida counties.
The group's launch comes during the heat of the 2018 midterm election. But that's intentional.
With people focused on Tuesday's elections and the hurricane not causing a crisis outside the Panhandle, Weatherford said attention even in Florida has already started to shift away from the impacts of the Oct. 10 storm.
Awareness of Michael's lasting effects, according to Bense, is dependent on the news cycle. But when "other news dominates the headlines," things like donations can "ebb."
"As time ticks away and the election gets closer, I think we might be falling off of people's radar screen in terms of needs," Bense, who kicked off the fundraising component of the initiative with a $25,000 contribution, said.
"This effort, REBUILD 850, is about making sure the Panhandle is not forgotten," added Weatherford, who's married to Bense's daughter Courtney.
Weatherford commended Gov. Rick Scott — who had for a period suspended his campaign for the U.S. Senate to focus on relief — for his post-Michael efforts. 
Still, "we can't just rely on government to solve this problem," Weatherford said.
Businesses and citizens "have to step up to bring the relief," added Weatherford, adding that after Election Day, politicians too can and should chip in their leftover campaign funds. 
"We're encouraging them as an act of leadership to step out, take those leftover campaign funds [and] donate them to this effort," said Weatherford. 
Both federal and state agencies aren't going to ease recovery efforts, said Bense, who put up $25,000 to get the project rolling.
"But we need to make sure the leaders, businesses and individuals throughout Florida help us because we're hurting right now," he said.
To help get the word out, former Federal Emergency Management Agency Administrator Craig Fugate will host a televised special encouraging Floridians to contribute the effort.
Ron Sachs, founder and CEO of Sachs Media Group, said he expects to place the half-hour program on a network station in every one of Florida's 10 media markets between Thanksgiving and Christmas.
With respect to legislative concerns, the consensus among the coalition — which recruited Tallahassee Democratic state lawmakers Sen. Bill Montford and Rep. Loranne Ausley — is that it may be too early to tell what's needed.
That sentiment is affirmed by others in the Legislature as well. Incoming legislative leaders, Republican Sen. Bill Galvano and Rep. Jose Oliva, have indicated that they're ready to launch a special session to address the effects of Michael, if needed. But the damage still is unfolding, so bringing lawmakers back to Tallahassee might be premature. 
Bense, whose tenure as Speaker overlapped the famed 2004-2005 hurricane seasons, said he expects similar problems to face the Legislature when it does reconvene in March for the 2019 Session.
Asked whether he thinks lawmakers should fund the Hurricane Housing Recovery Program (HHRP), an optional affordable housing carve out that can be funded when Floridians are displaced by hurricanes, Bense responded affirmatively.
"My instincts tell me leadership will take that up from a funding perspective," Bense said. "I sure hope so."
In the 2018 Legislative Session, legislative leaders opted not to fund HHRP citing a budget shortfall created by the $400 million school safety bill passed after the Feb. 14 Parkland school shooting.
Bense also said he hopes the Legislature will continue to fund the Florida Hurricane Catastrophe Fund, a "hard decision" that faced lawmakers in the 2006 Legislative Session following the 2005 Hurricane Wilma.
__
The News Service of Florida contributed to this post.