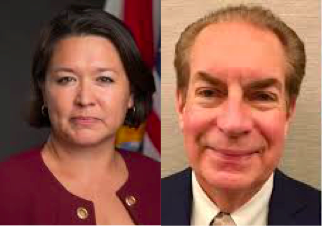 A barrage of Republican advertising in state Senate District 14 offers input on Democrat Mel Martin's political agenda — whether real or imagined.
Mailers picture comparisons of Martin's platform to government funding for cougars in treadmills, and assign views on term limits Martin never stated.
But one thing largely absent from political discourse in the race? The name or face of GOP candidate Tommy Wright.
Republican Party leaders on Oct. 12 tapped the donor as a replacement nominee for the late Dorothy Hukill, who withdrew from the race for health reasons and died on Oct. 2.
Since that point, Republicans continue to post Hukill political signs, and messaging has been focused on Martin.
"They apparently are very desperate," said Martin. "They are trying to throw anything that would stick on a wall, but nothing is sticking right now."
Of course that's hard to say until votes get tallied on Tuesday. The district spans portions of Brevard and Volusia counties, and in 2016 Hukill won the district with more than 68 percent of the vote.
Tragedy recasts this race today, and Martin's profile in the wake of Hukill's death has risen statewide.
MCI Maps' Matthew Isbell recently moved District 14 from the "Safe Republican" column to the "Leans Republican" column in his own state Senate rankings.
As of this morning, 64,959 Republicans had voted in Brevard and 46,990 had done so in Volusia, while 46,898 Democrats in Brevard and 41,484 in Volusia had cast ballots. The Division of Election breaks down those early returns by county but not by Senate district.
Wright, meanwhile, has been completely mum. Florida Politics caught up with Wright when he attended a rally for President Donald Trump in Fort Myers on Wednesday.
Wright declined to speak about the race, and stressed he isn't talking to any media.
Martin said she met Wright for the first time on Friday, when both attended an economic development meeting.
She mentioned the negative mailers, she said. His response: "Well, none of it's coming from me."
Wright to date has posted no fundraising beyond a $1,000 donation by the Fire Safe Florida political committee, a $50 in-king donation by the Brevard County Republican Party, and $2,500 of his own money.
To be fair, that means he's raised more in October than Martin, who reported about $2,600 in new contributions since Oct. 6. But the Democrat has been raising money since August of 2017, and reports more than $44,400 in contributions, plus a $2,000 candidate loan.
To an extent, the race shows the difficulty for replacement candidates.
Hukill's departure from the race came after ballots already printed, so her name appears on all ballots. Votes for Hukill will count for Wright, and notices will be posted in polling locations explaining as much for SD 14 voters.
Martin said she's been upset, though, that mailers would attribute that she supports eliminating term limits on lawmakers, or that she supports a $15 minimum wage for prisoners. She does not, in either case.
Her hope, though, is that the negative campaigning raises her recognition, especially when there appears no intent to ever promote Wright's name.
"Honestly, it only benefits me," she says. "The level of absurdity is just pervading everything. It's a credibility issue in my eyes."